Exhibiting Creative Behavior
Art collectives are a beautiful thing for the Emerald Coast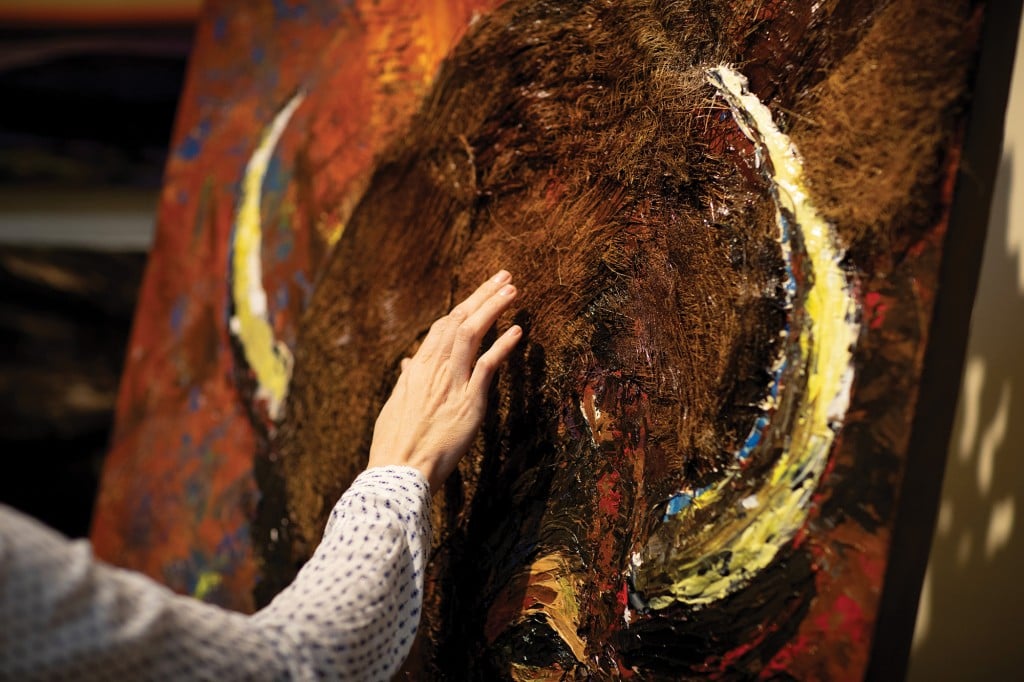 Today, the cement block building (circa 1964) they affectionately call a "bunker" is now painted a light, cheery cream.
What used to house an insurance company, a waterproofing business, a doll store and some say a church, is now a cache of 200-plus works of original art in a range of mediums created by 27 local artists … with four more on a waiting list.
"It was my husband's idea, and I'm happy he did it," owner/artist Helen Harris says. "It's been rewarding."
HH Arts is an example of an art collective — a gallery space that showcases and retails the artwork of a variety of artists in exchange for a nominal exhibit fee (in Helen's case it is $40 per month for a three-month commitment), a commission (Helen does not charge one) and gallery time (Helen asks each artist to "mind the store" on a rotation basis.)
Since opening, HH Arts has retained nine of the original 31 artists from the first year whose work ranges from traditional acrylic paintings and photography to pearl jewelry, clay pottery, zentangle paper, recycled mixed media and more.
Artists rotate in and out on a regular basis. Sharon LaPine and her life-size mystical mermaid and fairy mannequins recently became "homeless," when her Fort Walton Beach space was sold, and so Helen recently "took her in."
Nearly one entire wall is filled the work of "new artists." Harris points to a grouping of vivid portraits by Marjorie McIntosh — one is of a heroic woman with flowing red hair and a green cape and is captioned Be Fearless, Release Your Inner Warrior.
"I love that new artists are coming in; that they are getting out there and overcoming their fear of showing their work," Helen says. "If you don't try, you're never going to sell it.
"I understand. I opened this gallery to showcase my own work — I get it."
So does Jennifer Steele, executive director of the Cultural Arts Alliance of Walton County.
When an opportunity presented itself, she fast-tracked the opening of Foster Gallery in 2015. After moving to a couple different locations, it is now anchored next to Fusion Glass Art in Grand Boulevard at Sandestin.
It provides a 60:40 commission split with artists who work 10-hour shifts based on how much work they have on display.
"It brings an opportunity for the artist to get their work in the public eye without having to open their own gallery or struggle to find a place to sell their work," says Steele.
"It benefits CAA because we have another way to interact with the community and get our story told. I think it provides the community with a great meeting place to come to and be together and appreciate arts and culture, plus it helps grows the economy."
To date, Foster Gallery has showcased the work of 275 artists.
One of them is Jenna Varney of Freeport, the 2019 South Walton Artist of the Year, known for hyperrealistic coastal-inspired paintings. (See Art p. 51).
"When someone asks you to be in a gallery, it means your art means something. It doesn't come along every day. It's a validation," she says.
For Varney, who hopes to open a local gallery one day, collectives are a win-win for both artists and art lovers. "I think to run a gallery successfully is to have a bit of everything for everyone," she says. "And someone has to take a chance on new artists. Someone has to take that risk."
Artist Lori Drew was that someone when she established a Santa Rosa Beach-based collaborative called Lowkylzart in 2014. (See Champions p. 22).
"You need to have someone encourage you before the sales come, because when they come, they give you confidence," Drew says. "Until then, that support gives you courage, so you can inch your way out and say, 'I am an artist.'"
That's exactly what Jayson Kretzer found at the City Arts Cooperative (CAC) in Panama City. Before he became the executive director of the Bay Arts Alliance, he honed his skills as a commercial illustrator and cartoonist as a due-paying member of the CAC.
As a member, he could exhibit his artwork and take art classes.
"It helped me. It got me out of my home office, and I was able to collaborate with and learn from other artists — all around it was a very positive experience," he says.
Too, multi-artist spaces offer consumers positive experiences.
Davis Meadors, a 27-year-old Hoosier, discovered HH Arts while visiting his brother who lives on Okaloosa Island in Fort Walton Beach.
"I was riding my bike by and I stopped to check it out, because I love art," Meadors says.
When he learned HH Arts was home to nearly 30 local artists his face lit up.
"Wow! Fun to know I'm going to see more than one type of art and visiting something that is an active part of the community, because I think art should be a closer part of community and a part of how we organize ourselves," he says.
Tourism leaders seem to be "getting it," too. Visit Pensacola touts the city's nearly 500-year-old cultural heritage to coax millions of visitors a year.
What began as Art Week in South Walton has expanded the entire month of May to lure art-loving visitors, who according to Visit Florida, have higher household incomes, spend more and stay for longer durations.
And Kretzer is certain the "therapeutic" nature of art is the perfect salve the Panhandle needs to bounce back from the wrath of Hurricane Michael.
But some arts advocates don't want to leave locals behind.
Allison Wickey of Blue Mountain Beach, who is an artist and president of the CAA, is among them. "What many don't understand is art is what has made this place the destination it is," she says. "Who creates the authentic local art that visitors seek out? Locals do."
Steele says she knows just the thing to make this coastal destination picture perfect for visitors and locals alike.
"My long-term vision is to have a cultural arts center — a building for all of our activities including the gallery, classes — a real arts center for people to gather that's accessible and open to the public. That's my dream."
Such a creative center may help fulfill Helen Harris' aspirations, too. "My hope is that more and more people understand how many artists we have here and support us."
Visit, browse and buy art at these collectives, co-op galleries and retail boutiques that showcase dozens of local artists and artisans year-round.
As a response to the pandemic, shops and pop-up galleries may not be open. Please check with the artist or gallery directly for inquiries on business hours or operations during this time.

Artistry 98
1993 Highway 98, Navarre
(850) 543-1338
Mon–Fri, 10 a.m.–5 p.m.
Arts & Design Society
17 First St. SE , Fort Walton Beach
(850) 244-1271
Tue–Fri, 2–4 p.m.
Artel Gallery
223 Palafox Place, Pensacola
(850) 432-3080
Tues–Sat, 10 a.m.–4 p.m.
Artful Things
1087 E. John Sims Pkwy. Niceville
(850) 729-2600
Tues–Fri, 10 a.m.–5 p.m. Sat, 10 a.m.–2 p.m.
Artesano Boutique
180 Miracle Strip Pkwy SE Fort Walton Beach
(850) 244-4222
Tues–Fri, 10 a.m.–6 p.m. Sat, 10–5 p.m. Sun, 10 a.m.–4 p.m.
Blue Morning Gallery
21 S. Palafox St., Pensacola
(850) 429-9100
Mon–Wed, 10 a.m.–5 p.m. Thu–Sat, 10 a.m.–8:30 p.m. Sun, 10 a.m.–6 p.m.
Blue Giraffe
13123 E. Emerald Coast Pkwy, Inlet Beach
(850) 231-5112
Mon–Sat, 10 a.m.–5:30 p.m.
Big Mama's Hula Girl Gallery
303 Ruskin Place, Seaside
(850) 231-6201
Tues–Sun, 11 a.m.–5 p.m.
City Arts Cooperative
318 Luverne Ave. Panama City
(850) 769-0608
Mon–Fri, 7–11 a.m. Sat, 10–4 p.m.
East End Gallery
10952 E. County Hwy. 30A, Inlet Beach
(850) 252-5150
Mon–Sat, 10 a.m.–4 p.m.
Emerald Coast Gallery
37 Harbor Blvd, Destin
(850) 460-8644
Mon–Sat, 10 a.m.–5 p.m.
Foster Gallery
585 Grand Blvd. Miramar Beach
(850) 837-3037
Daily, Noon–7 p.m.
HH Arts
100 Beal Pkwy. SW, Fort Walton Beach
(850) 218-2155
Tues–Sat, 10 a.m.–3 p.m.
Lowkylzart
Emerald Coast Theatre Company Lobby Gallery
560 Grand Boulevard at Sandestin, 2nd Floor Miramar Beach
Tues–Fri, 10 a.m.–1 p.m.
And open one hour before curtain during performances.
Quayside Art Gallery
17 Zaragoza St., Pensacola
(850) 438-2363
Mon–Sat, 10 a.m.–5 p.m.
Sun, 1–5 p.m.