For All Who Adore Cigars
Humidors (of all sizes) spell the difference for cigar aficionados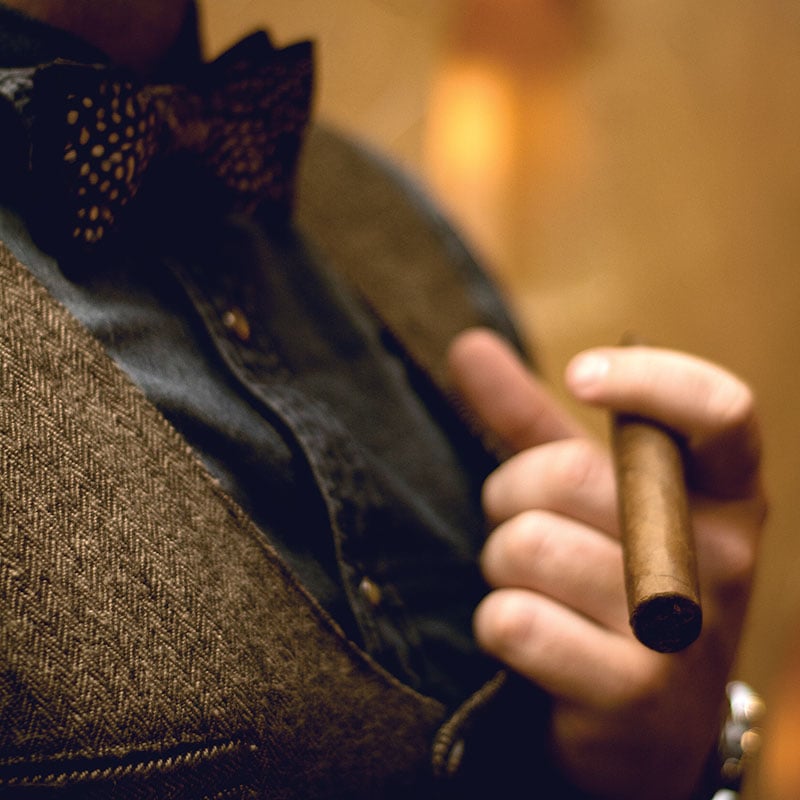 When you walk into Shore Thing Cigars along Scenic Highway 30A, you are greeted by a bright, open space that's accented with white leather furniture, wood finishes and impressive tile flooring.
"It's a high-end wine and cigar bar," co-owner Paul Copeland will tell you. "We designed the space to be clean, classy and chic. There is nothing in here that says 'cigars' — there are no cigar posters or any of that. We wanted photography about fishing, modern country music playing and things that say 'lifestyle lounge.' "
Shore Thing Cigars opened its doors at The Hub in July, and Copeland hasn't looked back since. The former Tennessee resident is a self-described OCD perfectionist; so when it came to designing the space and crafting the perfect inventory, the process was very deliberate. Not only did Copeland have to live up to his own high standards, he has to live up to those of his buddy and co-owner, Luke Bryan, who just so happens to be one of the hottest names in country music.
Copeland and Bryan came together through a passion for cigars, as Copeland helped the musician set up a humidor in his home. 
"The thing that cigars do is they allow someone who is a tow truck driver, a ditch digger or a banker to sit down, light up a cigar and have a conversation," Copeland says. "It doesn't matter who you are."
The humidor inside the 1,500-square-foot space is majestic and is entered through a 9-foot-tall solid mahogany door.
"When you open the door, it feels like a Mercedes," Copeland says.
As for the humidor itself — it breaks tradition. 
"There is no Spanish cedar, there are no wood walls, there are no wood ceilings or fluorescent lights or tons of cigars from different brands, countries or regions jammed in it," Copeland says. "I wanted it to look like Nordstrom's had just opened up a cigar shop."
The humidor's floors are Georgia pine, and it boasts custom-built white cabinetry, which was done to showcase the cigar boxes' natural beauty and intricate details.
"It's just the perfect canvas to pop," Copeland says. "All of the lighting is LED, to help with the temperature controls."
Given the fragile nature of cigars, the humidor at Shore Thing is set up on its own air conditioning system, which features its own purification system as well as a reverse osmosis machine that's hooked up to a humidifier which evenly circulates air across the product. The humidor is stocked with a variety of hand-rolled cigars from the Dominican Republic and Honduras. They range in price from $7-$50. 
Shore Thing Cigars also sells a variety of personal humidors, whether you are looking for something smaller to hold 10-15 cigars or a larger chest-like piece that can accommodate hundreds of cigars. 
Cigars are delicate, so when it comes to caring for them, a humidor is essential. 
Peter Shah, the owner of PCB Cigars in Panama City Beach, has been in the cigar business since 2001 and opened his current location eight years ago. He agrees that ideal conditions for a humidor are 70 degrees and 70 percent humidity, which are the exact conditions his store's 800-square-foot walk-in humidor maintains through electronic controls. 
"Without the humidor you cannot keep the cigar moist," Shah says. 
When a cigar loses moisture or is not stored properly, it can burn too quickly, have a harsh or bitter taste, crack and break or mold. 
PCB Cigars carries between 2,000-3,000 cigars, mostly from Nicaragua, Honduras, Costa Rica and the Dominican Republic. As for storage options, PCB Cigars offers humidors from Diamond Crown, with prices ranging from $250 (for the Drake 40-count) to $550 (for the Drake 160-count).
It doesn't matter whether you are a doctor or a trash collector, a cigar aficionado or an amateur; enjoying a cigar is about the experience and conversation.
"It's a celebration," Copeland says. "It's about savoring memories and experiences."
---
Cigar Care 101
When it comes to storing your cigars, the humidity inside your humidor should be between 65 and 72 percent, according to the team at Neptune Cigars (neptunecigar.com). Ideal conditions are 70 degrees and 70 percent humidity. Improper storage can lead to a variety of issues, such as uneven or too rapid burn, harsh or bitter taste, broken wrapper, difficulty lighting or keeping the cigar lighted, mold and tiny holes in your cigars, which is a sign of tobacco beetle infestation. Humidors come in a variety of shapes and sizes, depending on whether they are for commercial use or for personal storage at home or in an office. When visiting your local retailer or cigar bar, a walk-in humidor is the most common. This will typically be a large, room-sized area where an entire stock of cigars is stored. Cabinet-style humidors tend to resemble a piece of furniture and typically will hold 1,000-1,500 cigars. The personal humidor, which is generally found in the home or office, usually holds between 20-75 cigars, and a portable or travel humidor will hold 2-10 cigars.
---
Cigar Stops Along the Emerald Coast
Looking for a great cigar in your travels from Pensacola to Panama City? Here are a few options to check out:
Cordova Cigars 
6050 N. 9th Ave., Pensacola
(850) 473-0080 cordovacigars.com
Hot Spot Cigars & Coffee 
642 Beal Parkway NW, Fort Walton Beach
(850) 243-9040 hotspotcigar.com
Harry Heady's 
180-1 Miracle Strip Parkway, Fort Walton Beach
(850) 461-9727 harryheadys.com
Harbor Cigars 
4424 Commons Drive E. #2, Destin
(850) 650-3111 harborcigars.com
Cigar Factory Social Club
12272 U.S. Highway 98, Miramar Beach
(850) 650-2235 cigarfactorysocialclub.com
Shore Things Cigars
37 Hub Lane, WaterSound Beach
(850) 502-4050 shorethingcigars.com
PCB Cigars
17329 Panama City Beach Parkway
(850) 249-6282 pcbcigars.com
Florida Cigar & Tobacco
12029 Panama City Beach Parkway
(850) 233-1833 floridacigarshop.com