Dr. Jeff Livingston Thrives Despite Parkinson's
You'll never guess the activity keeping him healthy and engaged.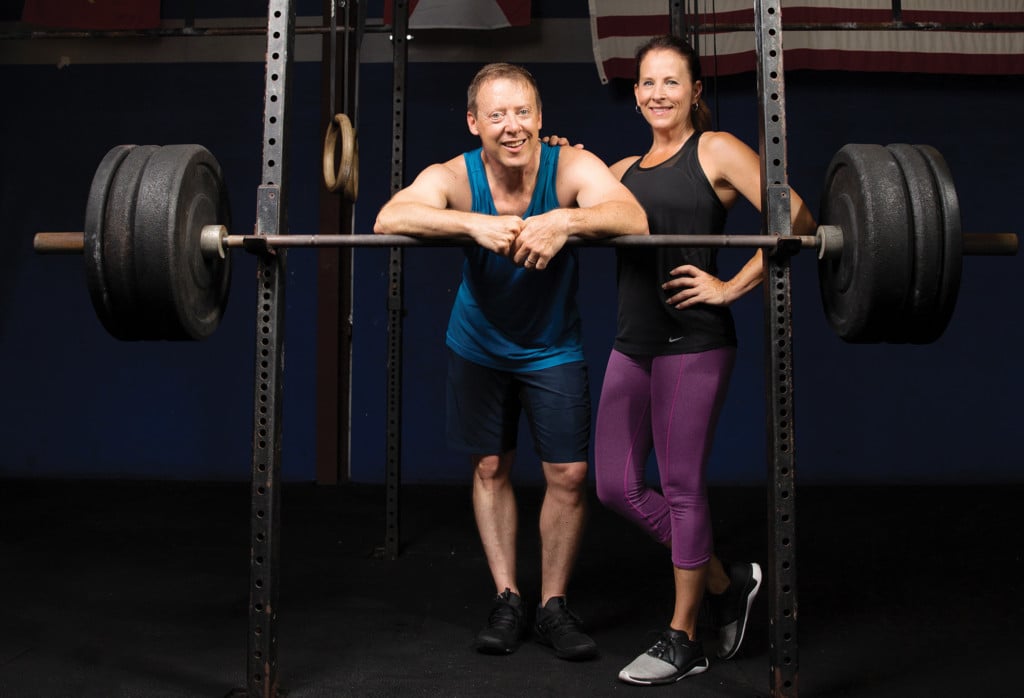 One might expect that a physician, upon receiving a serious diagnosis, would immediately set about studying his affliction, treatments, sources of relief from symptoms, the status of research seeking a cure.
Nineteen years ago, Dr. Jeff Livingston was troubled by a tremor in his right hand. He consulted a neurologist and, at age 35, learned that he had Parkinson's Disease, unusual in a person that young.
The diagnosis was devastating and, in response, Livingston, for a time, counter to what you might think, did … nothing.
"About all I knew was that life expectancy following diagnosis was typically 10 years," Livingston said in the course of an interview conducted at his Panama City Beach home.
"I was not a good patient. I didn't do any reading. I accepted the diagnosis. And, I ignored it. I hoped it would go away."
Eventually, however, that inactivity would be replaced by an old friend: exercise.
In high school and in college — as an undergraduate, Livingston attended the University of Richmond in Virginia for two years and then Franklin & Marshall College in Pennsylvania — he ran track.
Middle distances, the 400 and the 800. He coached a high school track team while studying at the Medical College of Virginia. In 1996, he completed an Ironman Triathlon in Switzerland.
But he would later abandon exercise until, he said, nodding toward his wife, "Lisa kicked me in the ass."
Lisa was working out with a personal trainer and found a trainer for her husband, but he didn't much like the experience.
Not long thereafter, he moved (in April 2014) to Florida from Greenville, North Carolina, where he had been vice chairman and a tenured professor in the Department of Obstetrics and Gynecology at East Carolina University.
Lisa and the couple's three children would join Jeff in Bay County three months later, following the conclusion of the school year.
Meanwhile, Lisa had instructed Jeff to find her a trainer in Florida.
"I wanted to transition smoothly," Lisa said. "I didn't want to stop what I had started."
Livingston, seeking to carry out orders, stumbled across Emerald Coast CrossFit near Naval Support Activity Panama City, then Battleship CrossFit, located amidst a collection of non-descript commercial buildings on Holley Circle off Thomas Drive in Panama City Beach.
"I just saw it was a gym," he said. "I didn't even know what CrossFit was. I had to look it up."
Upon doing so, he discovered that CrossFit is a branded fitness regimen created by Greg Glassman and launched as CrossFit Inc. in 2000.
It is both an approach to exercise and a competitive sport that incorporates elements from high-intensity interval training, powerlifting, gymnastics and other disciplines. It is practiced by members of affiliated gyms throughout the United States and beyond.
Those gyms, because they are so spartan, are called "boxes." But they contain all of the equipment required to complete workouts of the day or "WODs," in CrossFit parlance.
And, the Battleship box is also home to a less tangible something that Livingston has found to be especially helpful: a supportive, engaging community.
"Part of the problem with Parkinson's is that it is a very isolating disease," Livingston said.
"All neurological diseases are isolating. You experience problems with speech. You can become hard to understand. Your movements become awkward.
"All of this adds up to a debilitating self-consciousness. I isolated myself for a long time to my detriment. Everyone with Parkinson's becomes depressed.
But CrossFit has helped me to become much more engaged with my own life and more open about my condition."
Said Livingston, softly, "Even if I don't have a voice, that doesn't mean I shouldn't have a say."
Lisa, who had never been a "gym person," has, like her husband, been infected by her CrossFit experience. Versus working out alone, which can be "boring," she said, "CrossFit holds my attention — and a lot of people say that.
"You have a whole group of people and you are all doing the same workout and it is very hard. You're accountable. You've got people watching you and making sure you are following through."
For Livingston, in particular, CrossFit has had the effect of slowing the progression of his disease. He is unique at Battleship — he is the only member of the gym battling Parkinson's.
Most people who contract Parkinson's do so at an age when CrossFit is not a good fit for them. They may opt for other forms of exercise: dancing, bicycling or boxing.
Dance classes catering to people with Parkinson's were being conducted in Panama City, Livingston said, but as a result of Hurricane Michael, the music stopped.
Parkinson's disease is a degenerative, progressive neurological disorder that affects nerve cells in deep parts of the brain called the basal ganglia and the substantia nigra.
Nerve cells in the substantia nigra produce the neurotransmitter dopamine and are responsible for relaying messages that control body movement.
As the disease progresses, dopamine-producing nerve cells of the substantia nigra begin to die off. When 80 percent of dopamine is lost, Parkinson's symptoms such as tremors, slowness of movement, stiffness and balance problems occur.
Vigorous activity or resistance that Livingston calls "forced exercise" increases the release of dopamine and, he explained, "the resulting increase in dopamine and its positive effects last longer than the exercise period."
CrossFit has allowed Livingston to decrease medication levels and limit his prescriptions to one, which is remarkable among Parkinson's patients.
And, he added, "There are not a lot of people who are working 19 years into a diagnosis, especially in a high-stress job like I have."
Livingston works full time as a physician. His practice, North Florida Perinatal Associates, is focused on maternal fetal medicine.
Livingston is nothing if not competitive and, early in his career, he challenged himself to master a medical sub-specialty moving beyond more general obstetrics and gynecology.
He said that upon his arrival in Bay County, he was the only doctor between Pensacola and Tallahassee doing what he does.
He departed the Carolinas for the coast in part because the move was an opportunity to occupy a niche that was standing wide open.
Too, Lisa hastened to add, "We had the chance to live on the beautiful water." The Livingstons' home is located on Grand Lagoon, a short run by boat to the pass uniting St. Andrew Bay and the Gulf of Mexico.
"It's all about assigning and mitigating risk," Livingston described his practice, in which he has no partner doctors, meaning that he is on call around the clock, every day of the year.
In order to take the occasional vacation, he brings in a doctor from out of state to mind his practice.
Many of Livingston's patients have joined a trend by delaying childbearing until their late 30s or 40s and have risk factors that may include diabetes and hypertension.
Interviewed on a Friday, Livingston was looking ahead to a week that would include appointments with 22 new patients and 70 patients in total.
He no longer takes on "big cases" involving surgeries and has stopped delivering babies, but does perform minor "needle" surgeries. Prior to his move to Panama City Beach, he did fetal surgeries.
Livingston, himself, submitted to surgery designed to rid him of his Parkinson's-related tremor by providing deep brain stimulation.
In a six-hour procedure, electrodes that regulate abnormal impulses were placed in his brain.
The electrodes are controlled by a device, similar to a pacemaker, which is implanted beneath the skin in the upper chest.
A subcutaneous wire connects the "brain pacemaker" to the electrodes.
The device, which is "not pretty," Livingston said, "must be charged up nightly." It has worked as intended — the tremor has gone away — but there is a downside to it. Walking and speaking become more difficult.
CrossFit, meanwhile, deals in "functional movements" and "that's what I have trouble with," Livingston said.
He cited a workout of the day that includes bench presses, jumping rope, barbell exercises and rope climbs. Other movements may include flipping tires, pulling a weighted sled or even walking on hands.
Livingston said he "falls all the time" while striving to complete CrossFit workouts, "but I pick myself up and keep going." He lost teeth in one fall, he said. "I have good days and bad."
Al Burgermeister, a member of Battleship CrossFit, said Livingston "has the respect of everyone at the gym. He has inspired every one of us. No exceptions.
"Jeff is an enthusiastic supporter of community-based programs and causes in which we share an interest," Burgermeister said.
"He's inspired me — in my 71st year — to become more physically active by joining the CrossFit program. He's a great friend."
For his part, Livingston bench presses 185 pounds and dead lifts 285. And, after four years at Battleship, he was able to do a muscle-up, said to be one of the most difficult CrossFit moves.
It involves doing a pull-up, rolling the chest over the bar and then driving the body into a vertical position by pressing down with the hands.
It's hard.
In 2018, Livingston, exercising the community mindedness that Burgermeister cited, organized and conducted the inaugural FoxWOD, an awareness and fundraising activity held at Battleship.
More than 100 CrossFitters, representing six boxes in Bay County, joined in a group workout and learned something about Parkinson's Disease.
The event raised $7,000 that was donated to the Michael J. Fox Foundation for Parkinson's Research and the Parkinson's Foundation.
This year's FoxWOD was scheduled for April 27. Livingston estimated that approximately 700 athletes would participate, representing local boxes and boxes in Florida, Georgia, Nevada, Tennessee and England, and all joining in a workout comprising big movements such as lunges and burpees appropriate to people with Parkinson's.
(Learn more about FoxWOD by visiting push4parkinsons.org.)
Livingston is encouraging the Parkinson's Foundation to recognize CrossFit as a modality helpful to people dealing with the disease.
Progress in research is being made, he said, but it's slow. Fundraising is difficult in a volatile period of uncertainty in which many causes are competing for limited dollars.
There is evidence suggesting that FoxWOD is doing well with its awareness goal.
After the 2018 event, CrossFit flew Jeff, Lisa and their oldest son, Jack, to California, and Jeff received his Level I coaching certificate.
CrossFit founder Glassman treated the Livingstons to dinner at his house in Watsonville, near San Jose.
Livingston was pleased to hear this year from an English woman with Parkinson's who said she was inspired to visit a CrossFit box after watching a FoxWOD video.
"That made me feel very good," he said.
He hesitated not one second when asked what advice he would give people newly diagnosed with Parkinson's.
"Become engaged," he said. "Ask a lot of questions. Research what you're up against. Don't isolate. We are all social animals, and we don't do well on our own."
All three of Lisa and Jeff Livingston's children were born after he received his diagnosis.
Jack is a jazz musician and also does CrossFit. Nick is an accomplished gymnast and kid sister Mattie Lou, 12 at this writing, loves hip-hop and ballroom dancing.
"Parkinson's has always been a part of their lives," Livingston said. "They have seen the progression. It's not a shock. They are understanding and supportive."
The family adheres as a group to a healthy diet: meats and vegetables, nuts and seeds, some fruit, a little starch, no sugar. Well, maybe the occasional doughnut.
It may be illuminating about Jeff Livingston to know that he once received two live chickens as a Christmas gift at a party he threw for his office staff.
The gift, surely, was a presumptuous one and Livingston was given initially to a "Who does that?" reaction.
But Livingston did not re-gift the chickens. He decided instead to give chicken husbandry a try. Today, the family eats a lot of eggs.
On the day of the interview, the Livingstons had eight chickens roaming their backyard — and occasionally dodging owls and hawks — and seven chicks that were beginning to escape a makeshift pen inside their home.
Nineteen years ago, Jeff Livingston received terrible news. He was given initially to a "Why me?" reaction. But he got past that.
Today, he is not retreating, but continuing to advance, to try new things, to set personal records in the CrossFit box.
His prescription might work well for all.
Stay engaged.
Throw some weight around.
When times are troubled, raise a bird and carry on.