Downsized Desserts Are The Newest Sweet Tooth Trend
Tastes trend toward smaller sweet treats that are still big on flavor.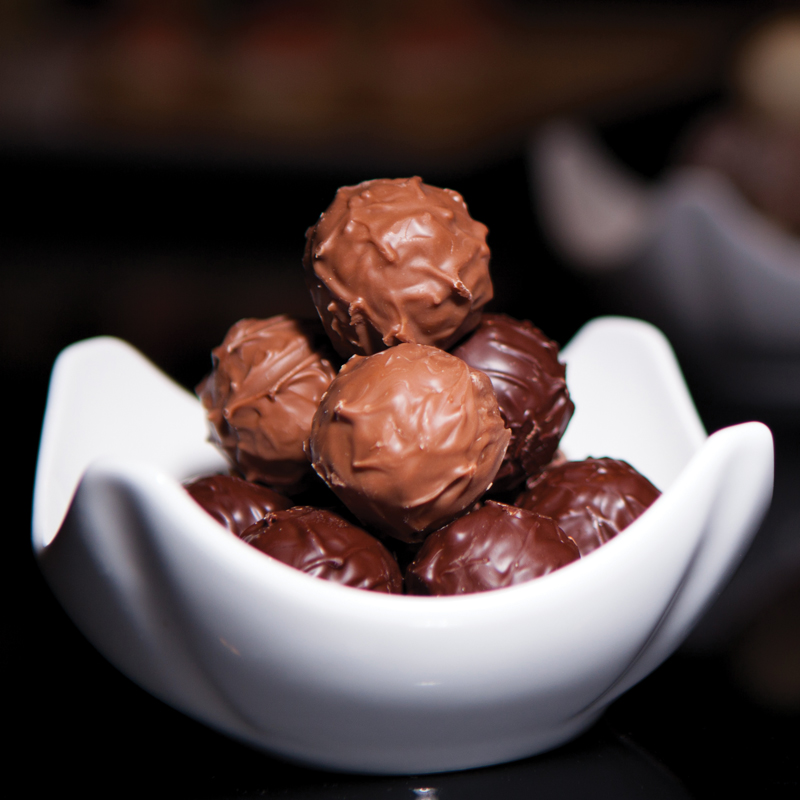 Sometimes all we want is a bite — of everything.
Pastry chefs have noticed this, and lately they've tried to accommodate us by making tiny temptations out of practically any confection.
"Small desserts are definitely a trend," says Chef Yasha Becker of the Hilton Sandestin Golf Beach Resort and Spa. "I'm not sure who is making the trend, the people making the desserts or the people eating them. But they're great to look at, and almost anything can be turned into a miniature dessert."
Becker is not alone in realizing that diners have started setting their sights small. Ordering whole cakes and pies for a birthday party or special event is becoming a thing of the past. Today, sweets lovers are asking chefs to make little versions of their favorite desserts.
"Unless it's a sit-down dinner party, I'm trying to do smaller desserts," says Christopher Holbrook, owner of Signature Catering of 30A. "And I could see this trend sticking around for a lifetime."
Jacqueline Ward Images
Miniature Keylime pie, coffee ice cream and red velvet cake "shooters" concocted by Christopher Holbrook with Signature Catering of 30A. 
Though diminutive desserts may seem to have come on the scene only in recent years, people have long savored teensy treats. France, with its historically adventurous culinary tradition, popularized petit fours more than 200 years ago. A petit four — the name means "small oven" because the bite-sized morsels were originally baked in a smaller oven next to the big one — is a small, often beautifully decorated, pastry.
Vanessa Pock, owner of A Cupcakery by the Sea in Fort Walton Beach, says petit fours — as well as many other types of scaled-down desserts — have been making a comeback.
"Also, our French macarons are really popular, they're bite sized," Pock says. "I think people want to have that indulgence, have crème brûlée, a cupcake or something, that satisfies sweet cravings. But they don't want to have to buy a large cake and have to eat it for four days just because they don't want to throw it out."
Holbrook says his clients love mini crème brûlées, which he makes in about 80 different flavors and serves in 2-ounce shot glasses. Crème brûlée flavors, such as key lime pie cheesecake, Death by Chocolate, triple chocolate brownie, lychee and ginger, raspberry white chocolate Grand Marnier, Irish coffee, tiramisu and Bananas Foster are huge hits with the people he serves.
Becker also does several types of desserts in shot glasses because, he says, people love seeing what's in the dish.
"I think it's fun to take the classic items and turn them into a bite-sized dessert," Becker says. "A 's'mores gateau' or a tiramisu can be stretched in many different directions, and you can't get away from cupcakes or cake pops. Who can pass up food on a stick?"
The rising popularity of small desserts is partly due to how much easier they are to eat. At events such as weddings and cocktail parties, where guests are likely to be mingling and eating at the same time, a small dessert is much more manageable than a large one.
"With two-bite desserts, you look good while you're eating," Holbrook says. "You aren't walking around with a big bowl of ice cream looking like a hog. It's a more elegant dining experience."
Brides and event planners now favor dessert bars at their events, featuring an assortment of small desserts such as mini cupcakes, larger cupcakes, French macarons, Linzer torte cookies and cake pops, Pock says.
Mari Darr~Welch
Cupcakery by the Sea has more than 75-plus flavors to choose from.
"They'll make a whole dessert table for a wedding reception," Pock says. "It makes a pretty display and gives guests a big variety. They can have a cupcake, or a cookie or a French macaron. It's just a variation."
French macarons, which are not to be confused with your grandma's macaroons, are a sweet, meringue-type sandwich cookie that only recently became popular here, Pock says, though they've long been popular in Europe. She says they can be stacked into a wedding cake shape as well, and they have the added benefit of being gluten-free.
Pock adds that brides are also moving away from large wedding cakes and embracing pull-apart cupcakes and mini cupcakes, iced to look like a large cake, and they're doing it for reasons of convenience, cleanliness and cost.
"With cupcakes, they don't need additional help for cake cutting or serving pieces, and they can have several varieties and layers," she says. "They're easy, convenient and easier to eat, and they're a better value. You can have a hand-decorated cupcake for a lot less than a chunk of wedding cake. A basic wedding cake is about $3.50 per slice, but it goes up to $8.50 or $9 a slice depending on the decoration. Our cupcakes are $3.95 — and they're hand-decorated."
Whether small-like cupcakes or mini-like cake pops, folks can stroll into their favorite bakery or eatery and find petite versions of their favorite desserts on the menu or displayed behind the glass cases.
"We have a large variety of mini desserts which are sold by the pound," says Publix spokesman Dwaine Stevens.
According to Stevens, downsized treats make up just over one-third of the dessert sales at Publix. Chocolate-dipped strawberries are one of the most popular, along with petit fours, mini éclairs, cream puffs, cannoli and bite-sized brownies.
Heather Johnson, marketing director for a 15-unit franchise of Applebee's Bar and Grill, says the restaurant, like several other restaurant chains, acknowledged that guests "were craving just a little something sweet to top off their meal." Now, for $2.29 each, diners can choose from three tasty shooters — strawberry cheesecake, chocolate mousse and hot fudge sundae.
"Delicious options like dessert shooters and brownie bites with ice cream for $1 are a huge hit with guests, because smaller portions with a lower price point make it easy to say yes," Johnson says.
Coffee lovers can indulge in Starbucks' Petites, a line of mini treats that includes cake pops, peanut butter mini cupcakes and red velvet whoopie cakes to go with their skinny vanilla latte.
Starbucks Petites build on the hot culinary mini trend and have been widely embraced by customers as a delicious afternoon treat. 
It's a trend that has even nutrition experts taking note. Though it's rare to find a dietician who recommends frequently eating dessert, even the U.S. Department of Agriculture's online Weight Management guide notes, "Some restaurants are serving small portions of desserts, which can help decrease calorie intake."
A rising national awareness of nutrition and the popularity of calorie-counting smartphone apps likely also contribute to the public's embrace of these dainty delights.
"The average diner these days is getting away from more sugar and sweets," says Holbrook. There's an overall food revolution in America right now. There is a food knowledge out there; people are talking about what they're eating. Portion sizes are getting smaller. I think people just want to be healthier in general."
But, wiser choices aside, the primary reason for eating little desserts will always be the same: People love sweets.
"They're eye candy," Becker says. "Everybody eats with their eyes first. Garnished on a plate or in a glass, they look so inviting, you just want to try them."