Destin Pilates and Aerial Teaches More Than Fitness
At the coastal studio, life lessons are aloft.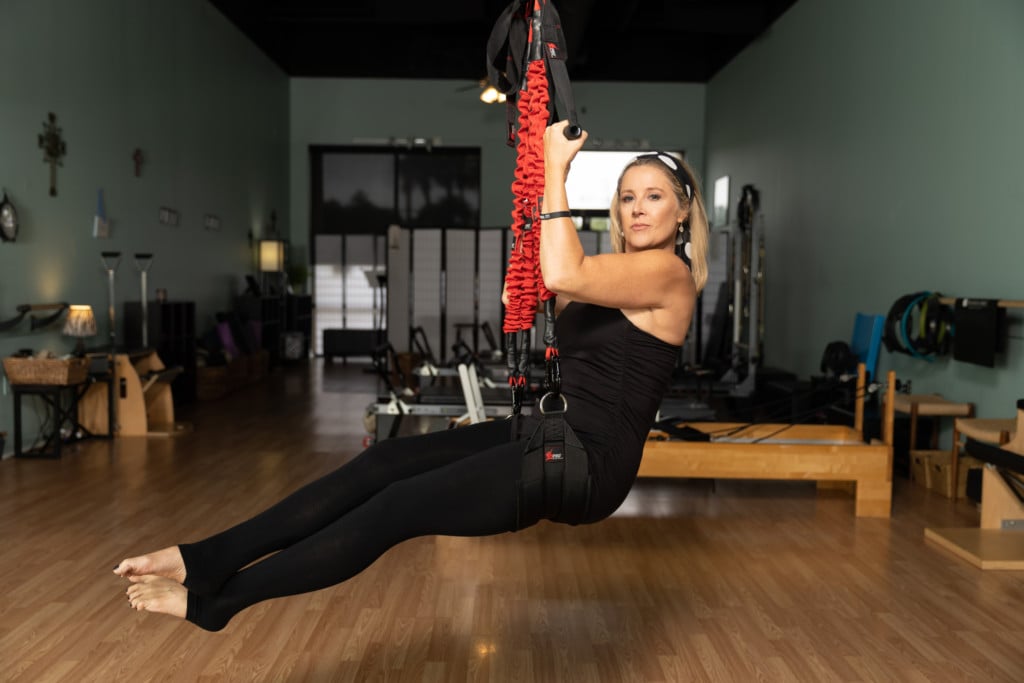 We're often told to be the change we want to see in the world but lack the gumption to bring it about.
It's too much work, you may think.
I'm just one person.
Or, worst of all:
I'll start tomorrow.
At the end of the day, they're excuses, and for movers and shakers like Susan Dunnam, they're never an option.
As to shaking, your muscles will be shaking after you spend time moving with Dunnam at Destin Pilates and Aerial, where she and her team of trainers have pioneered a modern fitness movement.
But before she could transform clients — be it through indoor bungee jumping or a Pilates session with Reformer equipment — Dunnam had to undergo a metamorphosis of her own.
Raised in Memphis, Tennessee, Dunnam can't recall a time when she was not moving.
"My family had a tennis court in our backyard, so we were all very active," Dunnam said. "If I wasn't there, I was skating or playing basketball. Some days I would just take off on my bicycle and ride around the neighborhood all day long."
During the '70s, she says, that activity caught up with her. A horse riding incident resulted in back injuries that were exacerbated later by two auto accidents.
"In the '90s, when I was living in Aspen, Colorado, I would still snowboard despite my bad back. It was like the Wild West on the slopes, people would crash into each other all the time, and that wasn't doing anything to help. When my chiropractor finally encouraged me to try a Pilates class … that was it."
Finally, that dull, nagging pain in her spine began to dissipate. After doing yoga for 15 years, Dunnam's relief from a single Pilates session had her hooked.
You can imagine her disappointment when she migrated back down south, only to find the Destin area didn't have a Pilates studio. Just like that, Dunnam's back began to go out, prompting a visit to the chiropractor every three weeks or so.
"I didn't really think about it, I just knew I had to go out and get certified," Dunnam recalled. She headed to New Orleans and achieved a mat certification through an intensive Pilates workshop.
In 2009, she held her first class on a friend's porch, with a single client.
Now, almost 10 years later, Dunnam instructs hundreds and is certified through the PhysicalMind Institute, Balanced Body University, Power Pilates and a 700-hour comprehensive course under Ellie Herman.
Herman, who wrote Pilates for Dummies and invented the essential Pilates Springboard, is an enduring inspiration for Dunnam.
"When you're getting certified, it's easy to read up on all the anatomy, kinesiology and technique you need to know. What can't be taught is to be a personality like Herman. You can't imitate other leaders. You absolutely have to find your own voice, because the art of teaching is a whole different animal."
Dunnam also knows it's important to acquaint the client with that voice because it will be the guiding light of his or her fitness journey. It's why she welcomes each new client at Destin Pilates and Aerial with a one-on-one session on the Reformer.
The easy-to-use, although awkward for first-timers, Reformer equipment involves lying on a mobile carriage, which may be pushed or pulled with scalable resistance. While placing your feet in the stirrups may at first feel like a trip to the gynecologist, Dunnam swiftly guides your movements into a rhythmic ballet that awakens each muscle.
It's perfect training for athletes, elderly folks looking to alleviate pain and newbies who previously thought Pilates was a type of pasta.
"When you're counting down the minutes while you run on the treadmill, it feels like work," Dunnam said. "All of my clients are surprised by how fast a class will fly by because they're
having so much fun. You can tell, just by looking around, that we like to think outside the box when it comes to fitness."
She's referring, of course, to the various silks, suspensions and bungee cords dangling from the studio's 15-foot high ceiling.
Inspired by the graceful, acrobatic choreography behind Pink's 2010 Grammy performance, Dunnam was inspired to try aerial yoga for herself. The buzz attracted the attention of aerialist Leslie Vaughn, a renowned member of the Cirque de Soleil family, who drops by the studio to teach the occasional workshop.
"There are no divas in our studio," said Dunnam. "We encourage, not discourage, by bringing in these experts. Leslie is so humble, so eager to teach you what she knows. The same goes for all my ladies in here. We're likely more excited about you meeting a milestone than you are!"
Indeed, Dunnam's enthusiasm kept me going while I attempted the studio's latest craze, bungee jump fitness. While Dunnam swung from the rafters with the grace of a swan during our "freestyle" warmup, I was like a spider caught in a hurricane.
Bungee fitness, which leaked into the states from Thailand a few years ago, first appeared in an Arizona studio. When the asking price for a franchising opportunity was too much, Dunnam decided to rig up a system of her own.
Our one-hour, airborne session consisted of dancing on mini-trampolines to '80s throwback jams, feeling like a kid again as we defied gravity. Then, we cooled down with a little yoga.
Yes, it was the most fun I've ever had working out. Yes, I was sore the next day in places that I didn't even know existed.
Dunnam makes it clear that, above all else, her studio is a place of healing.
"Eight years ago, a client came to me just before her 70th birthday," Dunnam recalled. "Her husband was getting worried because she could barely get in and out of a car. We started with her footwork, achieving little things, like being able to get up from a chair with ease. Today, she's still with me and more mobile than her husband. He can't keep her off the golf course.
"I'm not just teaching people how to exercise. I'm teaching them how to live."
Destin Pilates and Aerial | 36150 Emerald Coast Parkway, Destin | (850) 460-2828 | destinpilates.com