Coffee Nirvana
What you need to know to become a home barista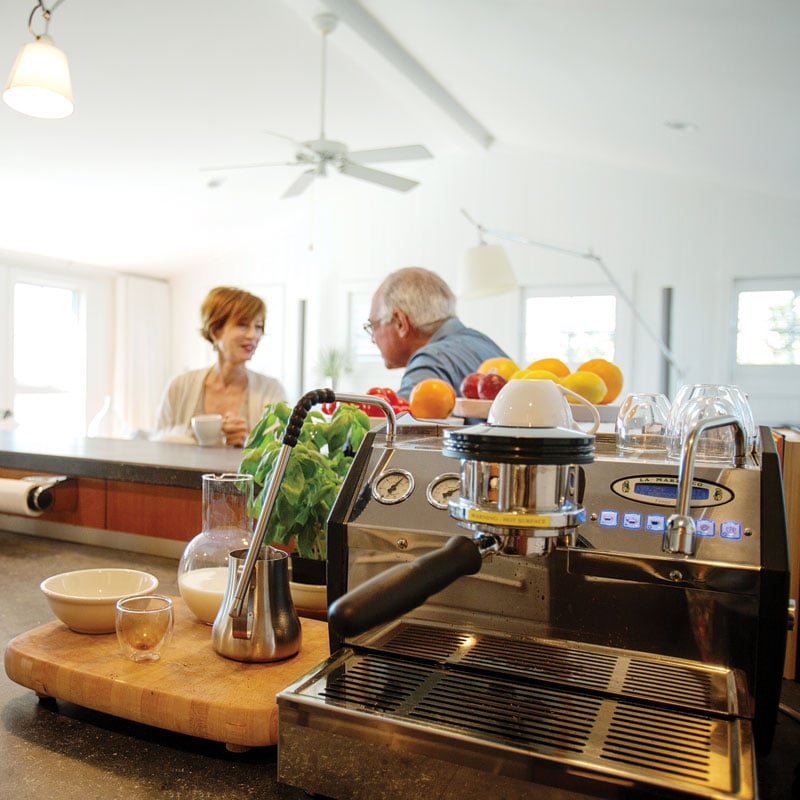 Coffee houses have long been social gathering places that have a seductive lure for those drawn to the intoxicating aromas of freshly roasted coffee beans and the promise of a warm cup of love. As coffee cafes went mainstream, so did access to the accoutrement that make a perfect cup of coffee, espresso or other delectable coffee creation. With these tools of the trade now readily available, it turns out you can transform even a kitchen countertop into a private coffee bar and become your very own barista.
According to local coffee experts, there are three primary elements essential to the craft of coffee making and setting up a proper and authentic coffee bar at home.
The bean is the thing. First and foremost, a high quality, fresh coffee bean is at the heart of every fine coffee drink. Beans must be properly roasted and stored. The freshness and quality of the bean must be ensured.
The right equipment for transforming the bean into the perfect shot of espresso can be challenging and expensive, so researching the right one for your needs is recommended, and budget must be considered.
Understanding the art of coffee making is as important as the right beans and equipment. The way the bean is ground, its consistency and how hard it is tamped (packed) greatly impacts the taste of the espresso shot. Water quality and the temperature to which it is heated are very important. For drinks with milk, the mix of milk and air and the temperature greatly affect the sweetness of an espresso shot.
Home baristas will want to learn how to create the perfect shot of espresso that can be sipped on its own or serve as the basis for a coffee drink, such as a latte, cappuccino or macchiato. A perfect crema is the goal for an espresso shot. The crema is the mocha-colored silky mixture on top of the espresso. The quality of the crema is the difference between a decent espresso and coffee nirvana.
Dan Bailey is the owner of Amavida Coffee and Tea, an organic fair trade coffee company, founded in Santa Rosa Beach in 2004. The name Amavida combines the Spanish words "ama," which means love, and "vida," which means life.  Amavida imports coffee beans directly from 14 different coffee growing communities from around the world. They are part of the Cooperative Coffee movement that is committed to building sustainable coffee growing communities in a responsible manner, setting them up for economic success by cultivating a high-quality product.
Once Amavida imports their beans, they are roasted locally in a certified organic roast process. As a wholesaler, many of their prized roasted beans are sold to area coffee houses and they also stock their own coffee cafes located in Seaside and Rosemary Beach.
First things first. An important decision must be made prior to planning your home coffee bar, according to Bailey, who is a member of the Specialty Coffee Association of America.
"You have to decide whether your goal is art or fuel. We can speak to the art side," he says.
Locally sourced roasted beans are best since there is less likelihood of a stale coffee bean. Once you've identified your coffee bean source, you will want to buy them fresh and often since the beans begin to go stale the minute they are roasted. Never grind ahead of time, and only grind for each shot of espresso or cup of coffee.
Bailey cites the Barista Guild of America as a good resource for those who want to gain more in-depth barista skills as a craft or profession. He also suggests watching videos online and practicing as much as possible.
"The art can take a while to learn," he says, referring to not only the craft but literally the beautiful hearts and tulips that can elevate a shot of espresso into a work of art.
Jim Maas, owner of Fort Walton Beach's Jim Mass Coffee Roasters, agrees that the freshness of the bean is paramount for home baristas who want to prepare professional caliber espresso or other coffee drinks.
"After you drink good coffee, you can't drink bad coffee. The date of the roast is most important, not the bagging date," says Maas.
Maas refers to the all important extraction process as "getting the goodies out of the bean." He says water should be heated to 195-205 degrees but not to a boil. Filtered water is best.
Besides pricey espresso makers, Maas suggests a French press as a good way to go and likes the water temperature control it offers. Stovetop espresso makers and the Malita-style cone brewing system are two different equipment options to consider.
Keeping your machine clean and using filtered or softened water will prolong the life of the espresso maker, otherwise calcium builds up and will impact taste and the longevity of the machine.
Both Maas and Bailey agree that the right equipment for a home coffee bar is critical for grinding the beans that are the basis of coffee drinks. Traditional espresso machines are recommended, and a home set-up, with grinder, can run from $500 to $7,000, depending on how elaborate you want to go and how much you want to invest.
The Rancilio Sylvia is widely recognized by home baristas as a good home espresso machine in the $700 range. Gaggia makes a respectable, more affordable home espresso maker, running $450–$600. The La Marzocco g3 is the top of the line espresso machine in the world and costs $5,000–$8,000. While very pricey, it has economy of size and can fit under a kitchen counter. Coffeegeeks.com is a good website for equipment information and reviews.
"If you are going to be a true barista, you have to have the right equipment," says Drew Willard, who, along with his wife Barbara, own Coffee Grounz in Fort Walton Beach's Uptown Station.
Willard recommends a burr grinder, where beans are crushed, and not a blade grinder to get the correct grind consistency.
A self-described "old-fashioned" coffeehouse, Coffee Grounz is also a bakery. They serve a popular daily breakfast burrito and coffee special and Barbara even makes homemade bagels on Thursdays. Tuesdays are all about roasting coffee beans and customers are invited to come and watch the process where he uses the highest quality fair trade beans.
Just as with Bailey and Maas, Willard is passionate about coffee and what goes into making the proper espresso shot.  He recommends using a bean blend to get the best espresso. He has a five-bean blend that elicits a more European blend and flavor.
"The key is there is a bite on the front of your tongue when you first take that sip, and it's going to linger into a smooth silky, almost dark chocolate, in your mouth. It finishes with a sweet note," says Willard.
Willard recommends tamping the grind with 35 lbs. of pressure. He says to practice with a kitchen scale to get used to what 35 lbs. of pressure feels like. The pour is the time it takes for the espresso to pour out of the machine into your cup. Experts vary on the recommended pour time, from 17–21 seconds to 22–27 seconds for a deeper extraction.
The quality of the blend makes up the crema and the much-desired film at the top of the espresso shot.
"Crema is love. You want the film on top. I'm approaching coffee nirvana when I see the perfect extraction and crema. You are always searching for coffee nirvana," says Willard.
To Freeze or Not to Freeze
The experts differ somewhat on whether or not to freeze coffee beans. At the heart of the issue is the importance of keeping your beans fresh and dry. Humidity and moisture are the enemy of coffee beans and speed up the time it takes for the beans to go stale. Dan Bailey of Amavida Coffee and Tea says there is recent science that shows freezing the beans will prolong freshness, so long as they are completely sealed from humidity. Also, coffee beans must be defrosted prior to grinding.