ChefYI: Watersound Cafe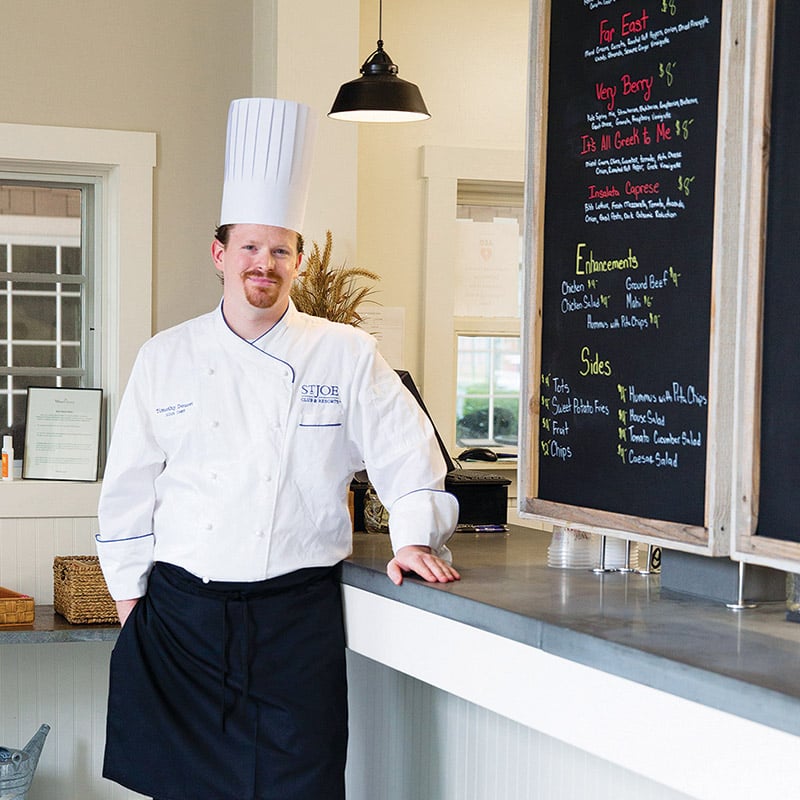 Timothy Doucet 
Head Chef, Watersound Café, located in Watersound Origins Community
---
How would you describe the cuisine?  The menu features salads, sandwiches and fresh local fish as well as a variety of other options. We also have unique items like Nutella crepes and a Mediterranean platter with housemade hummus and quinoa tabbouleh. The café space itself has indoor and outdoor seating as well as a porch, so it's a great place to grab lunch and hang out for a bit.
What is your favorite dish and why? The Cuban Rueben is my personal favorite and is our signature sandwich.
How do you measure your success? Booker T. Washington says, "Success is to be measured not so much by the position that one has reached in life as by the obstacles which he has overcome." Every chef has that one story to tell of a shift so heinous, they are lucky to have stepped away alive. However dramatic, that experience is knowledge purposed for future success.
What made you want to pursue this career? My official culinary career began when I was seventeen at a local catering business. Unofficially however, it began at the age of seven standing tip-toe on a stepping stool watching my mother cook dinner for my family.  
What is your philosophy? "Never serve anything you would not eat yourself." As most teenagers, I was very lazy with everything I did. One day I was stopped by the executive chef and asked, "Would you eat this food?" to which I replied, "Of course not." "Then why would you serve it?" he replied. Those words stick with me to this day.
What is the most important item in the kitchen? A knife! The best test for a sharp knife is to lay the knife down on a cutting board with the blade of the knife upward and drop a nice fresh Roma tomato on the blade. If it slices more than halfway, you have a sharp knife.
What inspires/influences your cuisine? Everything. Literally trying everything, at least once. I'm big on trying new cuisine. I usually get carried away at new restaurants and order one of everything just to try out different flavors.