Ces't le Vin!
French Wine Expert Shares his Passion for Wine and Cheese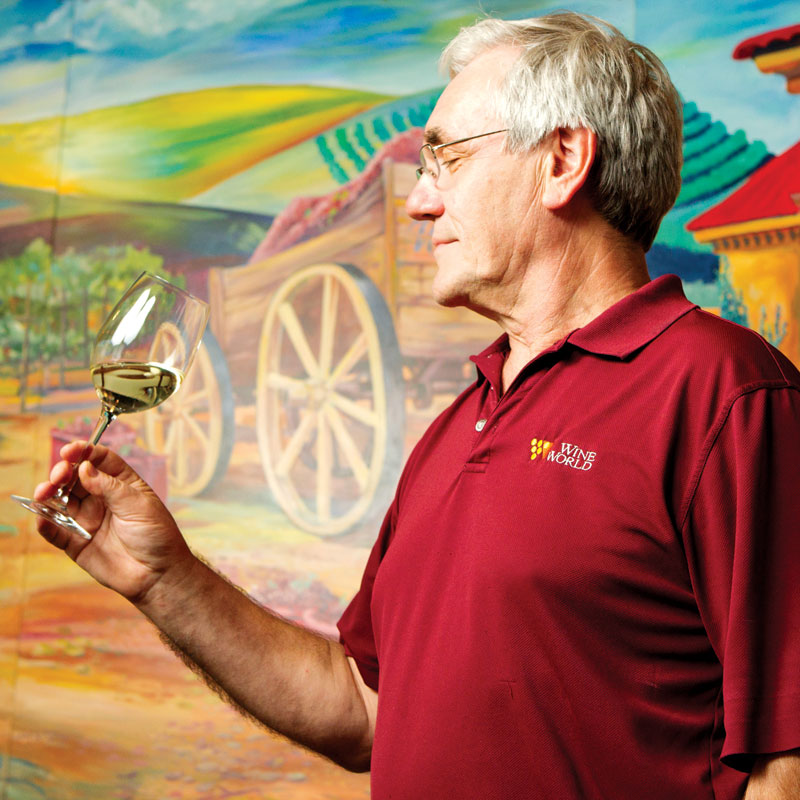 Photo by Scott Holstein
Wine aficionado Michel Thibault eyes the color and body of his wine before giving it a sniff, swirl and sip at Chan's Wine World in Destin.
Growing up in a family of hoteliers in Grenoble, France, surrounded by snow-capped mountains in the French Alps, Michel Thibault must have found the Florida Panhandle to be a bit unrefined. Mais, non! Turns out, he loves this folksy part of the USA.
"The Alps are so beautiful," he says. "But my theory is that I like every place I go. I enjoy people. This is another nice place, and I do like the feel of the community. And I've gotten so used to Florida, I like wearing short sleeves."
After coming to America at age 19, teaching snow skiing in Utah and earning a graduate degree in literature, Thibault landed a job at Ma Maison, the hottest, most fashionable restaurant in L.A., as well as La Bella Fontana inside the elegant Beverly Wilshire Hotel. Later he moved to Louisiana, where he met his wife, Delta, and worked at Lafitte's Landing and Commander's Palace. After relocating to Grayton Beach to manage Criolla's restaurant, Thibault joined Chan Cox at Chan's Wine World, where he now acts as vice president and director of sales for the wine shop's nine locations in the Panhandle. The co-owner and partner heads up Internet sales at onlinewine.net, with markets primarily in the U.S., Hong Kong, Belgium and the U.K.
It all adds up to 45 years in a celebrated career in wine. Thibault was recently inducted into the 800-year-old wine society Jurade of Saint-Emilion in Bordeaux, France. "The ceremony was held in a church, under another church, in a cave," he recalls. "All these guys and women were wearing robes and carrying torches. It was really unbelievable."
EC: We know the French make superb wine. Enlighten us Americans on the French attitude about wine?
MT: In France, wine is definitely part of every meal. But people use it as a food, like bread. And the wines there are only five to eight bucks. However, there are now enormously hyped laws about drinking and driving. So French people are drinking less because of the laws.
EC: How do you find this area compared to your hometown?
MT: I like to have a rapport with the people here, many who are on vacation, so they're very happy. I try to be a part of that experience.
EC: What fascinates you about wine?
MT: The best aspect of wine is that it's an ever-changing product. With wines, because they are live products made by different people in different regions with different soils and weather, it's extremely complex. And everyone tries to make the best wine they can to sell.
EC: OK, what will you drink today?
MT: Today I really like wine from Argentina. There's a huge effort there to make red blends with some malbec, which is quite nice. The Chakana, a dense concentrated wine that rates 93 on Robert Parker (a wine advocate rating system) is $20. When you get ratings that high for that price, it's pretty insane.
EC: Do you have one favorite wine?
MT: I don't. I have a different favorite every day.
EC: What cheese would you pair with that wine?
MT: Wine and cheese are almost like brother and sister, the Chakana paired with a BellaVitano raspberry cheese from Italy would really satisfy me.
EC: What's the best part of your job?
MT: The job we do is to educate folks on the aspects of wine. If you are shopping for a new car, they will point out the features of the car, the soft leather or unique equipment. That's what we do with wine. We guide you through it. None of us has the same palate. To match a person with a wine, that's a pleasure.