Bud & Alley's Take on Taco Bar
Lip-smacking tacos and tequila are here to stay in Seaside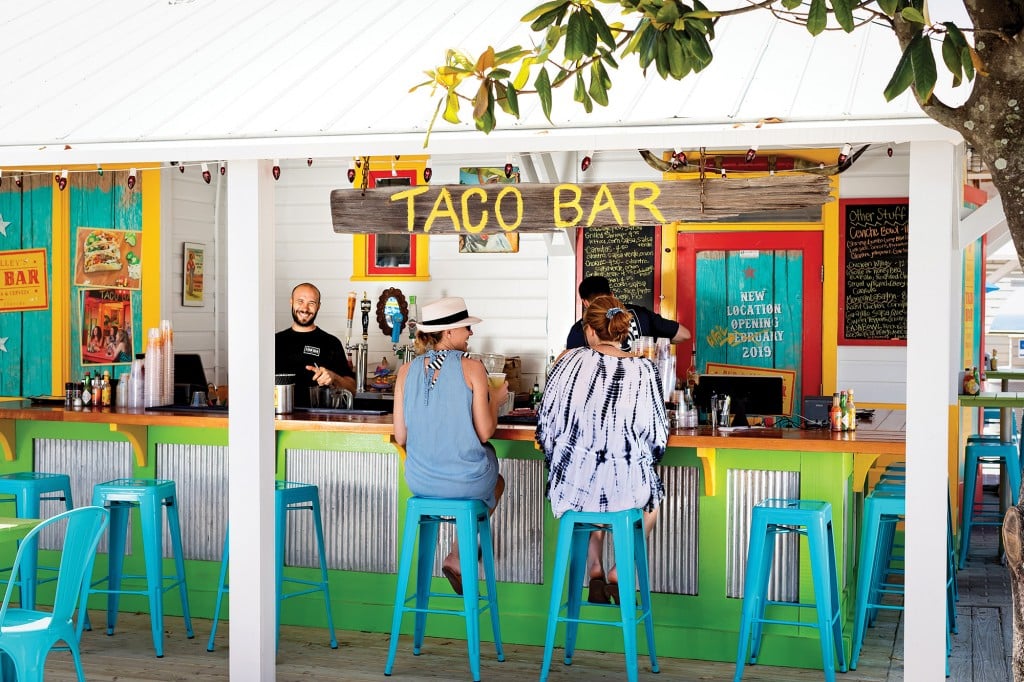 Due to orders from our state government, restaurants are currently take-out only. Please visit the restaurant's website for information on curbside or delivery options.
Whether you prefer yours crispy and crunchy or juicy and soft, tacos, stuffed with your protein of choice and a mélange of Mexican spices are, undeniably, universally relished.
It's difficult and frankly distressing to imagine a world without those handheld, versatile delights, but 10 years ago, Walton County was bereft.
Dave Rauschkolb couldn't abide.
Co-founder of Bud & Alley's Waterfront Restaurant, one of South Walton's oldest (and most iconic) restaurants, Rauschkolb, along with friend Leo Casas, embarked on a buddy film-style of a road trip to San Diego, where they visited around 40 taquerias to acquire the essential elements of an authentic, south-of-the border street fare experience.
Casas, whose family hails from Tijuana, Mexico, stressed to Rauschkolb that if he was going to be the one to pioneer this movement, he must do so correctly.
"Since we are a coastal town, one of our main goals of the trips was to achieve the quintessential fish taco," says Rauschkolb. "That really is a hallmark of taquerias and food trucks, and quality is key. It's not rocket science; fresh catches and locally sourced produce and ingredients are the way to go."
Aptly named the Taco Bar, Bud & Alley's spicy sister restaurant was born out of a small retail space attached to Bud & Alley's auxiliary kitchen.
Its creamy, avocado salsa-topped Baja fish tacos, made-from-scratch chips and guac and the largest selection of tequila in the area enjoyed immediate success.
But, the beloved dive detached from the Bud & Alley's building in 2019 for renovation purposes, downsizing to a nearby spot at 2236 East County Road 30A. Temporary, or so Rauschkolb thought.
"What happened was I fell in love with the new location," Rauschkolb says in our winter 2019 interview.
"But I have something exciting to share: I told Seaside if they would keep Taco Bar there, I'd keep paying rent, and we'll do something new in its former location. I found out we're actually going to be able to expand into some of that retail space, so the Taco Bar will be doubling in size."
Twice as big, and, by the sound of Rauschkolb's plans, tasty. Taco Bar 2.0 will keep its vivacious, vibrant atmosphere and feature both a wraparound bar and courtside seating.
He is enthusiastic to reinstate a sweeping collection of silver and gold tequilas, ice-cold, imported cervesas and, of course, their signature margaritas, with which no visit to the Taco Bar is complete.
Executive chef Carlos Lagaspi and Taco Bar staff couldn't be more thrilled to serve up a new experience to its patrons.
"Our family of employees are what makes dining and drinking with us so great," says Rauschkolb.
"It's always exciting to have people love what they're doing and create beautiful food and drinks that keep people coming back time and again."