Bluejay's Bakery Is a Sweet Addition To Downtown Pensacola
Justine Gudmundson-McCain gave up science for a career in artful baking.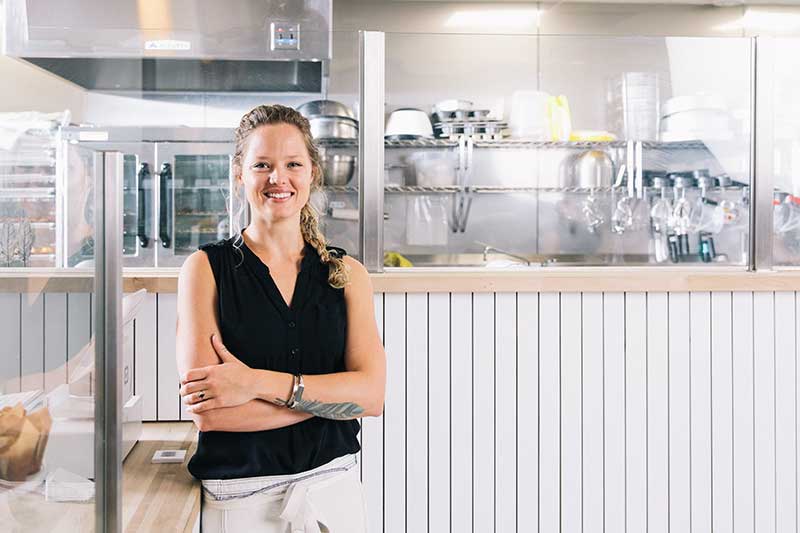 Pensacola has not been known for excess.
It's said that when Spanish settlers first arrived in Pensacola, in 1559, they lived off little more than hardtack. Those dry, flavorless biscuits — a staple among sea-weary sailors — were more likely to shatter a sweet tooth than to satiate one.
The city has remained a bastion of Old Florida, more hardscrabble than haute couture since those first Europeans clambered onto her quartz-white shores. Until recently, the rations hadn't improved much, either — with nary a craft brewery or cupcakery in sight.
But take a stroll down Palafox these days, and the city has an altogether different scent. It smells of the New South — and, if you happen to be strolling by early enough, of fresh-baked, organic cupcakes.
For the former, you can thank a gush of private investment, which has construction cranes sprouting from the soil like daffodils in springtime. For the latter, you can thank Justine Gudmundson-McCain.
McCain, 28, is the owner of Bluejay's Bakery — the sweetest in a spate of new businesses to have flung their doors open in recent months. Her pastry case, filled with colorful cupcakes and egg-shell-thin macarons, could have started a war in sugar-starved, colonial Pensacola.
It might have started one this weekend had the line of hungry patrons been as well-armed as their 16th century forebears. Thankfully, they weren't — and there were plenty of cupcakes to go around.
A Rolling Scone …
McCain, the daughter of a biologist-turned-painter and a helicopter pilot, didn't always wish to pursue a career in food. In fact, it was bones — not bundt cakes — that first captured her imagination.
The Pensacola native majored in forensic anthropology at Florida State University. While in school, she took an interest in baking — recreating cakes from the
Williams-Sonoma catalog in her spare time. However, the pursuit was little more than a dorm-room hobby.
"I didn't have any tools but a rolling pin," she said.
It wasn't until her junior year that McCain began to think seriously about pursuing her passion for baking fulltime. That summer, McCain traveled to Eastern Europe for a field school. The program took her to archeological dig sites in three different countries. It was hot, tedious work, and, with each passing week, McCain grew less enamored with her choice of career.
At the same time, she was falling in love with something else. Like most love stories, this one involved a castle — an inn she stayed at while working in rural Albania.
"They had a live-in chef," McCain recalled, "and every meal of the day was served on a long table in an outdoor veranda. It was surrounded by curtains and bunnies and all this amazing scenery."
She convinced the innkeeper to introduce her to the Greek-speaking chef, who took her under his wing.
"I spent every meal in the kitchen with him," McCain said. "We couldn't talk to one another, so we relied a lot on charades. He taught me how to cook. I taught him how to bake — I gained 35 pounds in two months."
McCain also gained some clarity. When the summer program was over, she called the school's travel agency and asked if they could delay her flight back to the United States by two months.
"I spent the rest of my time in Europe eating," she said, "and solidifying my opinion that I should be in the food industry — not the dead-people industry."
Go West, Young Woman
Having bid the dead adieu — and with her degree in hand — McCain enrolled at the International Culinary Center in California. There, she obtained a second degree, in classic culinary arts, before taking a job with a cake designer in San Jose.
"The owner gave me a lot of responsibility right off the bat," McCain said of that first gig. "I got to do things I wouldn't have been able to do at a larger bakery" — including working directly with brides and in the kitchen.
She blossomed. Surprisingly, given her prior interests, it wasn't the scientific precision of baking that hooked McCain.
"The art was what drew me in," she said. "At the end of the day, that is still what I love most, the actual act of designing a cake."
It shows. Today, the baker's Instagram feed (@bluejaysbakery) is a cascade of whimsically themed, expertly crafted cakes. There are mermaid tales and sugar crystals and buckets and buckets of fresh-cut flowers. Back then, though, McCain was just beginning to hone her skills.
She would spend the next three years working in various bay area bakeries before deciding to move back to Pensacola and start her own business in 2016. Her then-boyfriend (now fiance), Thomas William, moved with her.
"We had no plan other than the bakery," McCain said. "I put all my eggs in one batter."
She planned to start small, operating the business out of her home kitchen, and scale gradually.
"I had planned to sell at the farmers market for a year," McCain said, "to establish my brand. In the second year, I wanted to move into a commissary kitchen. Then, in year three, we would start the process of securing a storefront."
Things did not go as planned.
Just Desserts
McCain's cupcakes and macarons, cooked with gluten-free and organic ingredients, were an instant hit at the farmers market. She began receiving a lot of orders for custom cakes, as well, and found an eager audience among brides with gluten intolerances and other dietary restrictions.
Business boomed.
"Within four months, I'd been offered my first storefront," McCain said.
Bluejay's hosted its grand opening a year and a half later, this past November. Since then, business has skyrocketed.
"Any weekend before Valentine's Day, I was happy if I had two specialty orders," she said. "Now, I'm having to turn people away because I have like 15 orders a week."
McCain attributes the success to hard work.
"At a minimum, I work 12 hours a day," she said.
But anyone who's tried her macarons knows there's more to this sweet success than hard work.
They ain't hardtack.