Bacon is a Hot, Sizzling Tasty Trend
Bacon is Boss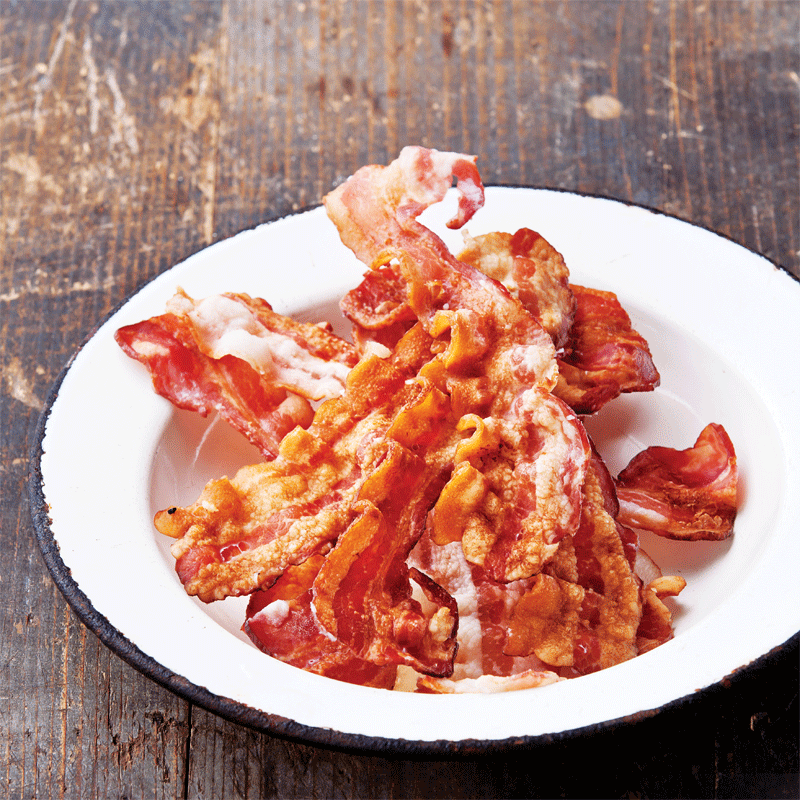 As the sexy '80s commercial says, we want to bring home "the bacon" and fry it up in a pan. Some of us mean it literally, as in all we really want is bacon fried up in a pan. But when mainstream Americans are orchestrating over-the-top bacon-themed wedding bliss and the guy in line next to you is snorting up the "wake up and smell the bacon" app on his smartphone like some kind of drug and prime time TV time slots are stuffed with commercials for edible bowls made out of bacon, you realize that bacon is big and it is back. Well, it's backfat, actually. The point is, there is a bacon bonanza going on and it makes some of us just want to squeal for joy! In honor of International Bacon Day (Aug. 31, 2014), we raise our bottle of bacon soda (yes, we said bacon soda), in celebration of all things bacon.
Bacon is a meat product prepared from a pig — usually from the side and back cuts of pork except in the United States, where it is almost always prepared from pork belly (typically referred to as "fatty" or "American style" outside of the U.S.). It is usually cured using large quantities of salt, either in a brine or by a dry packing process; the result is fresh bacon (also known as green bacon). Fresh bacon may then be further dried for weeks or months in cold air.
Meat from other animals, such as beef, lamb, chicken, goat or turkey, may also be cut, cured or otherwise prepared to resemble bacon, and may even be referred to as "bacon." But for the purist, the USDA defines bacon as "the cured belly of a swine carcass." Yes, it's Porky Pig, folks.Bacon may be eaten smoked, boiled, fried, baked or grilled, or used as a minor ingredient to flavor dishes. Bacon is also used for barding (cooking meats with bacon) and larding (weaving bacon through meats) roasts, especially game, including venison and pheasant. The word is derived from the Old High German bacho, meaning "buttock," "ham" or "side of bacon," and cognate with the Old French bacon.
For the health conscious food shopper, bacon isn't likely the first thing on your grocery list. But if you like to bet, pork bellies is not a bad one. Bacon alone is so high in demand it has put pork on the market map, so to speak. With bacon practically a delicacy, prices have soared, but it's still a bargain when you consider its flavor boosting power. And with low-sodium, veggie versions and lean cuts weighing in at just 39 calories per slice, even dieters can dine on swine and not sweat it.
---
Which side are you on? 
---
According to the Food Network, 72 percent of us are crispy crazed. To be sure your breakfast buffet sizzles here are some cooking tips:
Skillet
Arrange bacon in a single layer and cook over medium heat, turning occasionally, until dark golden brown (9 to 11 minutes). 
Oven
Arrange bacon in a single layer on a rack set on a rimmed baking sheet and bake at 350 until dark golden brown (about 25 minutes).
Microwave
Line a large plate with two paper towels. Arrange bacon slices in a single layer on the plate and cover with two more paper towels. Microwave for 9 minutes, then immediately transfer the bacon to another plate.
Top 10 Reasons Why Bacon Is Best for You
You've seen the commercials demanding us to "Eat more chicken"
and asking "Where's the beef?" and "Got milk?" Well, maybe it's time
to pour on the praise for pork by cheering for the benefits of bacon.
Here is a list of 10 reasons why bacon is actually healthy for you!
Protein Power:

The protein found in bacon is extremely valuable to maintaining energy levels and a fully functioning, healthy body, with a minimum of the c-word, carbohydrates.

Bacon's Blood-Balancing Bounty:

Several university and medical center studies have shown that bacon eaten in moderation actually can lower blood pressure and blood sugar levels, helping to prevent and/or alleviate the effects of diabetes, as well as heart disease, stroke and heart attack. 

Just the Fat Ma'am: Bacon helps to fully satiate

our appetite with high protein/low carb energy, helping the body lose weight, raise one's metabolism and build leaner, stronger muscles. In fact, bacon actually has less total fat, saturated fat and cholesterol than many popular cuts of beef and chicken. While some fish has less fat and cholesterol than bacon, bacon has more protein power and does not contain toxins such as mercury. 

Bacon on the Brain: Bacon is brimming with an important nutrient called "choline," which helps increase our intelligence and memory. University studies show that as we age, the properties of bacon help fight off the debilitating effects of Alzheimer's disease and other chronic mental impairments.
Pig Out … It's Good For You: Bacon provides substantial amounts of vitamins and minerals our bodies need to function healthfully, including 65 percent of our recommended daily intake of thiamin, 47 percent of our niacin, 38 percent of B12, 36 percent of zinc, 24 percent of vitamin B6,

22 percent of our riboflavin, 22 percent of phosphorus, 10 percent of pantothenate, 10 percent of magnesium and 9 percent of iron. Plus, the protein to fat balance in bacon is actually 4 to 1, which is one of the highest protein to fat balances found in most meat, fish or fowl.

Bacon Bliss: Bacon makes you feel happy, satisfied, blissful, which greatly reduces stress.
Nix the Nitrates and Nitrites: The fact is,

while it is true that nitrates and nitrites are unhealthy for your body, they are easily avoided by simply not burning, charring or over cooking your bacon and by baking your strips in th

e oven.

Bacon Power: If we have veggie cabs right here on the EC, can bacon buses be far behind? In the UK, TMI foods has figured out how to use bacon fat to manufacture a powerful, low emission, environmentally friendly, all-natural, bio-diesel fuel that can be used to run everything from motor vehicles to turbines effectively and inexpensively. 
Better with Bacon: Think of all the healthy food you can't wait to tuck in to when it's wrapped in bacon, sprinkled with bacon or topped with bacon. 
Bacon ⁄ Our Heart:

Several studies show that the omega-3 fatty acids and "choline" found in bacon can actually protect the heart from developing detrimental problems, as well as actually help heal such anomalies after they have occurred.
Source bacontoday.com.
---
Matt Burke
Bacon Maple Ice Cream Homemade ice cream flavored with Nueske's thick cut apple wood smoked bacon and Vermont maple syrup
Jackacudas Bacon Maple Ice Cream
Courtesy Chef Chris Fortner
Jackacuda's Seafood & Sushi, Destin
Ingredients:
1 cup Vermont grade A maple syrup
4 cup organic whole milk
1 ½ cup granulated sugar
5 organic egg yolks
½ lb. Nueske's thick cut apple wood smoked bacon
Procedure:
In a medium saucepan over moderate heat, reduce the maple syrup by half and hold. Over moderate heat in a medium saucepan, heat the milk with ½ cup granulated sugar until hot and just bubbling around the edges.
In a bowl, whisk the yolks with ½ cup sugar, then add 1 cup of hot milk in a slow stream, whisking constantly. Pour the egg mixture back into pot and heat over moderate heat stirring constantly until the mixture reaches around 170° (do not boil!).
Strain mixture and stir in maple syrup, chill overnight. Line a sheet pan with parchment paper and arrange bacon slices next to each other and bake until crispy. Drain the fat away, chop bacon into small pieces.
Place the remaining sugar in a saucepan and heat over moderate heat. Stir with a fork until all the sugar is melted and golden caramel color is reached. Stir in the bacon to coat.
Pour the caramelized bacon onto a sheet tray and allow time to harden. After bacon hardens and cools, chop fine. Freeze the custard in an ice cream maker (20–30 minutes), while incorporating the candied bacon at the last minutes and churn all together until well combined. Scoop and enjoy or transfer into an airtight container and freeze.
Best Bacon Bites for B, L & D
Must-fry menu items around town
Bacon is not just for breakfast anymore. From casual to fine-dining restaurants to upscale retail and quick-stop convenient shops, tasty bacon bites await all along the Emerald Coast.
Matt Burke
Big Daddy Burger with bacon, cheddar cheese and jalapeno (as featured on the Food Network)
McGuire's Irish Pub, Destin and Pensacola
Courtesy Another Broken Egg of America
Eggs Blackstone featuring Applewood smoked bacon 
Another Broken Egg, Destin, Miramar Beach and soon-to-open Grand Boulevard
Shelly Swanger
Fried Oyster BLT 
Vintij Wine Boutique, Miramar Beach
Respect to those who bring home the bacon
---
You are probably familiar with the phrase "bring home the bacon." Food writer Peggy Trowbridge Filippone writes on her blog, "In the 12th century, a church in the English town of Dunmow promised a side of bacon to any married man who could swear before the congregation and God that he had not quarreled with his wife for a year and a day. A husband who could bring home the bacon was held in high esteem by the community for his forebearance."
Tommy Crow (Bacon Platter), Jacqueline Ward Images (Marina Café Pizza)
Bacon Sampler Platter
Three flavor-infused gourmet bacon bites of the chef's
choosing from chicory to rosemary 
The Pearl Hotel's Havana Beach Restaurant, Rosemary Beach
Pizza Featuring
Artichoke hearts, caramelized onions, roasted sweet peppers and smoked bacon
Marina Café in Destin
Scott Holstein
Fried Green Tomato Sandwich with Bacon 
Cabana Café in Seascape Resort, Miramar Beach
GREAT SOUTHERN CAFÉ
Bacon and Pecan Waffle
With chopped bacon and local pecans 
Great Southern Café in Seaside
---
Upcoming Bacon Bashes
If you love bacon, you are not alone. There are plenty of bacon lovers all across the land who love to celebrate their fav food by gathering at festive fetes. The biggest bacon event appears to be the Blue Ribbon Baconfest in Des Moines, Iowa, held each February. This year it grew from 8,000 to 12,000 bacon-loving attendees. Leading up to the event Des Moines celebrates "bacon week" filled with bacon-themed dinners, tailgate parties and tours. From big cities to small towns, bacon-inspired events seem to be heating up across the land. Here are a few you might want to sample:
Sept. 24
Baconfest St. Joe,  St. Joe, Missouri
Oct. 11
Ozarks Bacon Fest, Springfield, Missouri
Oct. 18
Southwest Bacon Fest, Albuquerque, New Mexico
Nov. 8-9
BaconFest, Easton, Pennsylvania
---
For more festivals year-round all across the country, visit bacontoday.com.