A Portable Pair
Personal Chefs Craft Healthful, Soulful Fare in Clients' Kitchens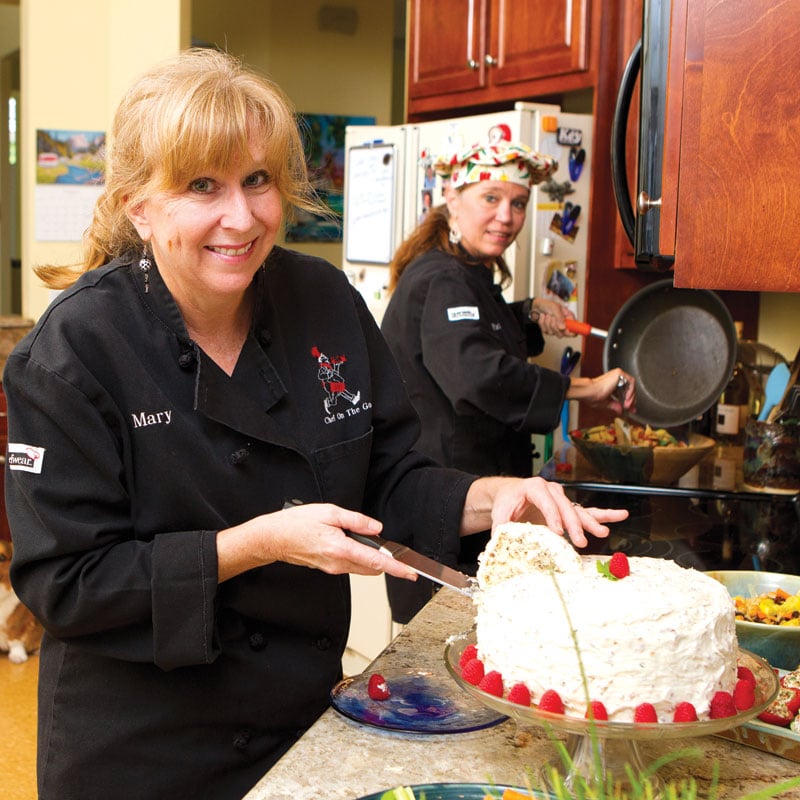 The delightful aroma of a stew, just beginning to simmer, permeates a steamy Emerald Coast kitchen as business partners Mary Churillo and Patti Horton of Chef on the Go gracefully scurry back and forth, twirling spoons, lifting lids and thumbing through spice cabinets. Churillo adds a pinch of red pepper flakes to the turkey sausage, white beans and collard greens already bathing in a warm broth on the stove as Horton dices a medley of multicolored veggies for her ratatouille.
Comfort foods are often equated with being calorie laden. However, they can be healthy, explains Churillo — whose aqua-colored eyes, framed by delicate blonde locks, pair well with her denim apron. At the opposite end of the kitchen, Horton, wearing a black chef's jacket, has tucked her dark brown hair under a chef's hat decorated with chili peppers. Horton uses spices, fresh herbs and substitute ingredients in place of fats and sugars to create equally delicious recipes, as evidenced by a few of her own award-winning creations.
As a registered nurse and former home-care nurse, Churillo brings a wealth of medical knowledge to the company, which serves clients with a variety of special needs, including diabetes, heart problems, wheat allergies and even one who is undergoing chemotherapy. Horton's practical knowledge comes from years spent in restaurant kitchens. The pair keep clients' special dietary needs and food preferences updated and organized on note cards, although their regulars' likes and dislikes are often memorized.
Churillo and Horton of Niceville and Fort Walton Beach, respectively, shop each day at area grocery stores and farmers' markets and do their best to stay up to date on food trends. The two  self-taught chefs have a knack for creating heart-healthy, low-sodium and vegetarian comfort foods for their wide-ranging clientele.  Both locals and tourists hire Chef on the Go to come to their homes or vacation rentals to cook healthful homemade meals. For roughly the same cost of eating at a restaurant, says Churillo, Chef on the Go will grocery shop, drive to the site, cook and clean up, allowing families more time to spend together and solving the dilemma of long waits at restaurants for large groups of vacationers.
EC: What type of work did you do prior to joining Chef on the Go?
PH: I actually went to art school to study commercial art and fashion illustration and moved to this area to work the summer when I was 21. I had fun and never left.
EC: Did art school teach you anything that you have been able to apply to your food presentation?
PH: Oh, yeah — 100 percent — like edible arrangements.  I've been doing that with vegetables for years.
EC: There are millions of combinations of foods. How do you decide what to make for your clients?
MC: We have some clients who are very specific, which is lovely because that makes our job a little bit easier. I have a person [who] gets an organic produce box every week, so it's kind of fun because I never know what's going to be in the box until I get it.
EC:  What would be your buying tips for going to the grocery store?
PH: Shop the perimeter. You will eat healthier if you just walk that perimeter.
EC: Do you go out to restaurants often?
MC: We do go out to eat, but we are particular about where we go. I like to go places where I can get things that I don't make at home. I love chicken wings, but I don't make them that much. Buffalo's Reef, to me, has the best chicken wings. And they have the best blue cheese dressing. I can't duplicate it — I've tried.