A More Perfect Union
Union Public House enhances traditional Southern fare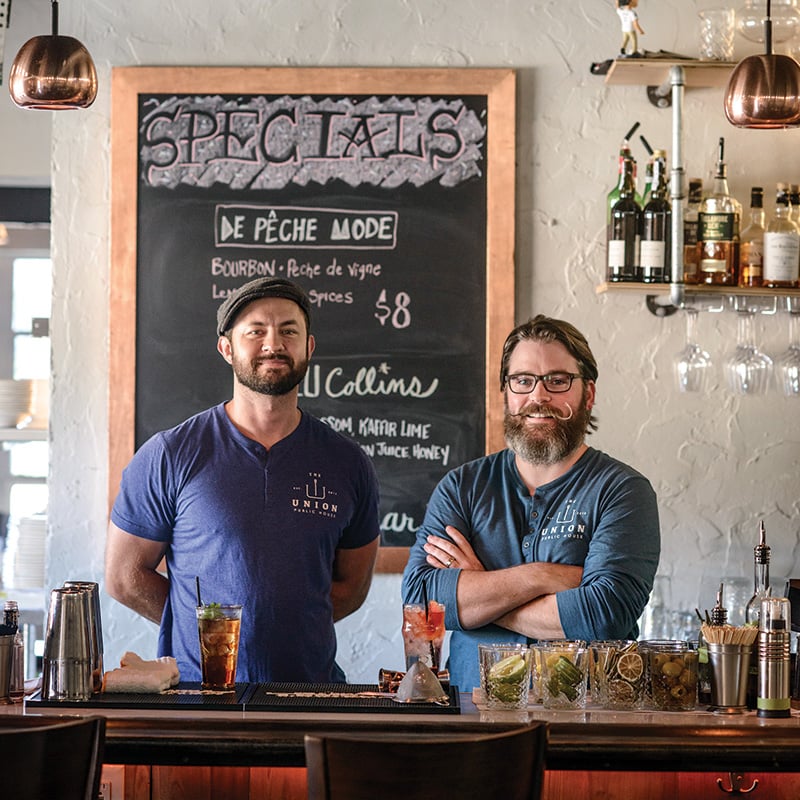 If the impressive handlebar mustache gives any indication, the man behind the menu at the Union Public House is more than a little offbeat; he's an appreciator of the unexpected, a lover of whimsy. It stands to reason, then, that the restaurant, itself, would be reflective of all that, serving up a wide array of dishes that offer far more than a whisper of Southern comfort — in fact, they practically let out a loud Rebel yell.
Rebellious as it may seem, UPH is all about being "Where it All Comes Together," as their motto so boldly states. "We wanted UPH to feel inviting to people from every walk of life and create an experience for them — one where great food, excellent cocktails and good times all unite," explains founding partner and executive chef Blake Rushing, who opened the restaurant at the tail end of 2015 with friend and co-owner, Patrick Bolster. 
UPH is far from Chef Blake's first venture. In fact, he's played a pivotal role in the opening and subsequent successes of a string of celebrated restaurants throughout North America. When he came back home to the South, he opened a new restaurant in Pensacola to critical acclaim, and his unmistakable talent was recognized with a James Beard nomination for Best New Restaurant in the country.
Since then, he went on to pursue other avenues that allowed him more creativity and a greater chance to stand on his own, establishing a catering company and making plans to open a restaurant that was unlike anything he'd done before. With UPH, Chef Blake and Bolster envisioned food that would stand out from the rest. They took their shared love of pub fare and Southern classics and united them in plates of pure culinary genius. 
Topping the list of guest favorites are items including the Scotch Egg, which takes the traditional British dish and gives it a fine dash of Southern hospitality. A soft-boiled egg is encased with housemade Andouille sausage and breaded in pork cracklin' crumbs, then deep fried to a crisp, golden perfection that pairs perfectly with the creamy tang of freshly made avocado mayo.
UPH seems to thrive on the unexpected, as one might easily gather after one glance at the menu. Here, a corndog is given a new identity — not simply by prettifying plebian pork parts with luxurious accouterments; rather, by rethinking it altogether, using a house-stuffed frank made of freshly caught ground shrimp and grouper expertly blended with fresh herbs, lemon juice and cream. Of course, a corndog is not a corndog without its signature stick and pillowy coat of cornbread, and in this respect, the Shrimp and Grouper Corndog follows the rules.   
But rules are not a priority at UPH. Rather, that focus is given to purity of ingredients, depth of flavor and unrestrained creativity. Everything — from sauces to sausages — is made with great care and attention to detail, each component a player in creating a sense of union on the plate. It's a quality reflective of the way that food truly inspires the chefs and the way that they find sustenance and fulfillment in nourishing the soul while feeding the body. There is no dividing line at the table — it's a place where bread is broken and friendships are strengthened, where everything comes together and life tastes good. 
---
The Union Public House is located at 309 S. Reus St. in Pensacola.
Open Monday–Friday, 11 a.m.–11 p.m.; Saturday, 10 a.m.–close. Closed Sunday.
For more information, call (850) 607-6320 or visit unionfl.com.