A Fresh Take on 'Shellfood'
A variety of tacos takes over the town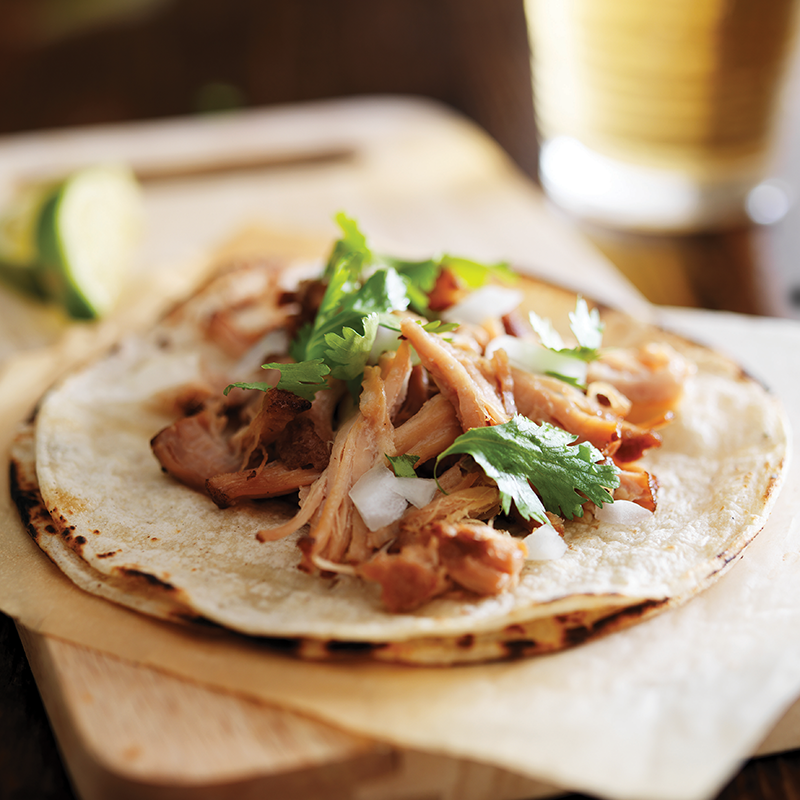 The original definition of the word taco loosely refers to something used to fill a hole. There is anthropological evidence that the indigenous people living in the lake region of the Valley of Mexico traditionally ate tacos filled with small fish. Spanish conquistador Bernal Díaz del Castillo is said to have documented the first taco feast enjoyed by Europeans, a meal that Hernán Cortés, who led the expedition to eventually colonize the Americas, arranged for his captains in the heart of Mexico in Coyoacán. 
Scott Holstein
Burrito Del Sol's Slow-cooked Chicken Tacos Served Chipotle Style
Tacos are enjoyed worldwide today. Either a crunchy corn shell or a soft flour tortilla topped with your choice of meats, fish and chopped veggies and fruits makes for a versatile, light but flavorful, hands-on meal.
Here on the Northwest Florida Gulf Coast, seafood tacos filled with fresh local fish such as grouper, pompano and cobia are a popular and flavorful variation, but there are many more. Here are a few of our favorite tasty tacos found on menus around town. 
The Big Red Truck
Parked at various locations along the Emerald Coast daily and at festivals and events
Though served in an unassuming paper tray, these tacos are full of uptown taste. If you can, choose from Fresh Fish (from Harbor Docks), served with shredded cabbage, pico de gallo, chili aioli, lime and cilantro; BBQ, featuring slow-cooked pulled pork with house barbecue sauce and sweet slaw; Sweet Asian Chicken, which centers around chicken grilled in a sweet soy sauce with shredded cabbage and a Sriracha aioli; or the newest item on the menu, fresh Gulf Shrimp. $4–$6
Rockin' Tacos
The Boardwalk, Fort Walton Beach
Relatively new on the scene, this restaurant brings the taste of the Gulf to its tacos. The signature taco here lives up to its name. It features lightly fried bay shrimp topped with Rockin' sweet and spicy sauce, roasted red peppers and fresh green onions and is served over napa cabbage. Ask about the Local's Card to enjoy discounts and specials. Rock on! $12.99
Pepito's Mexican Restaurant
Destin, Miramar Beach, Niceville
Everything in the Taqueria section of this menu is tasty, but if you are looking for a bit of a flavorful adventure, consider the Al Pastor, prepared with seasoned pork and seasoned with pineapple, peppers and onions. It has a bit of a tropical taste to it. Or try the Birria (named for traditional Mexican stew), made with seasoned goat meat. $2.75
La Chalupita Mexican Market
Santa Rosa Beach
For the real deal, head to this little Mexican market. Tucked inside is an authentic restaurant/Mexican deli where mostly Spanish is spoken. The tacos are fresh and made to order. Tongue tacos are a popular favorite. Be sure to douse them with your favorite from the sauce bar. $2.50
Song
Airstream Food Trailer in Seaside
The purple pickled cabbage beckons foodies to this festive, fresh-flavored flat Korean Fish Taco also topped with beets, fresh Gulf grouper and kimchi ketchup. Song hits all the right notes with this beautiful taco. $4–$4.50
Burrito Del Sol
Downtown Fort Walton Beach
Brother duo Brooks and Evans Hammet grew their Airstream venture into a restaurant in downtown Fort Walton Beach in 2013. Touted as Fresh Florida Mex, one of its appeals is the step-by-step, made-to-order choices beginning with your choice of flour or corn tortilla, protein (steak, chicken, shrimp, fish or tempeh) and then prepared in four styles: Baja, Chipotle, Southwest or BBQ. All tacos are served with house-made chips and salsa. Olé! $8.95
Taco Rock
Pensacola
Said to be Pensacola's first and most authentic Mexican restaurant, Taco Rock does just that. The food is all made on-site with sight lines into the kitchen to watch all the action unfold. Step up to the counter to order from the colorful, handwritten menu. Mondays and Wednesdays (10:30 a.m. to 2:30 p.m.) are popular for the taco buffet, which allows you to sample a variety of hard and soft tacos as well as tostadas, burritos, beans and rice and dessert for $7.25.