You, Too, Can Be the Proud Owner of Fine Art
Fine Art Adoption Network Finds Loving Homes for Art ... for Free!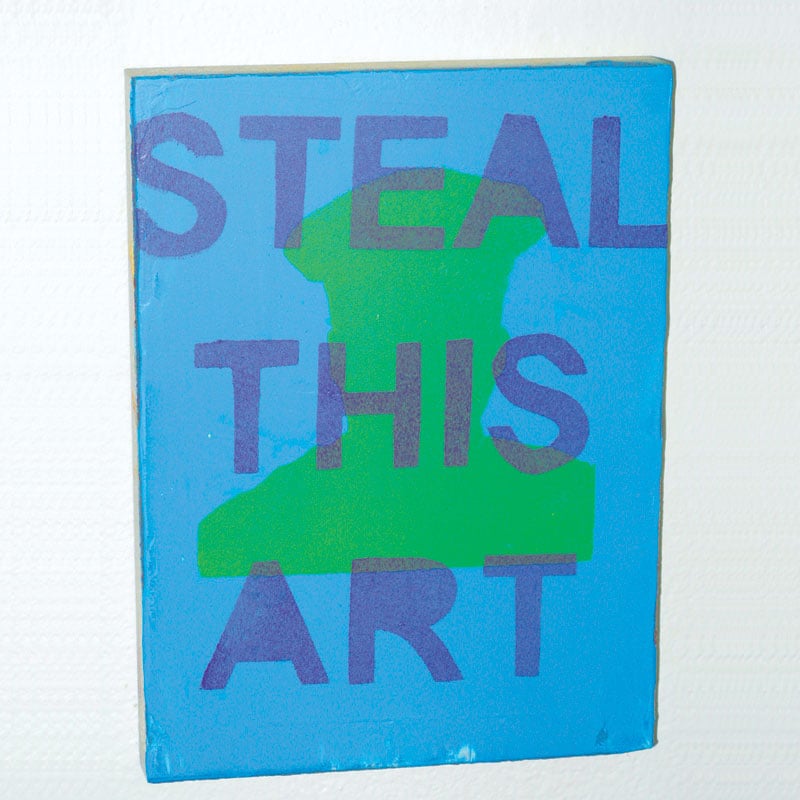 If you think owning original art work is limited to the mega-wealthy or Hollywood superstars, you haven't met Adam Simon. The 59-year old artist from New York City launched the Fine Art Adoption Network, nicknamed "FAAN," so anyone can enjoy a piece of art in his home.
In this age of Internet scams, when an offer sounds too good to be true, it usually means it is a hoax. But FAAN is no scam. There are plenty of happy art owners to attest to FAAN's authenticity — 567 to be exact.
Forty-eight-year-old Robin Dunlap of Clearwater adopted four works of art in 2006. "It is such a wonderful concept. Art can so enrich people's lives." Tricia Cuddy from Pennsylvania adopted two pieces last year. "Owning a piece of artwork demystifies art," she said. "You learn your own likes and dislikes by living with it."
This brainchild of Simon's was born of necessity. When his father, Morris, passed away in 2005, Simon's elderly mother decided to move from the family home in Boston to be closer to her children in New York. Many of Simon's early pieces hanging on her walls needed to be moved. But what do you do with huge canvases when you are downsizing to an apartment? Simon quickly realized he was not the only artist with many more works than he could sell or hang in his home. FAAN, the Internet site to link artists with appreciative collectors, was created.
The artwork is free, although you have to invest a little time before it hangs in your living room. Here's how it works: Art collectors are invited to the website, fineartadoption.net, to review the works. If you find a piece you like — be it a painting, a drawing or sculpture — the adoption process begins. The first step is to write the artist, introduce yourself and explain why you want a specific piece.
Cuddy explains how her home became the proud owner of original artworks: "My son, Peyton, was supposed to be studying for exams when I heard a scream. He called me to his computer to show me the website. I was sure it was a scam, so I opened up every link and looked at all the artists' works. I immediately wrote Adam Simon explaining the entire story." Cuddy quickly received a response from Simon, who replied, "You had me at 'my 17-year-old son.'" Simon also has a teenage son, so the two began what would become a months long friendship. Cuddy loved Simon's contemporary works blending colors and words on canvas. "I love the written word in art, so I chose two 6-by-8-inch paintings that have the words 'Steal This Art' boldly stenciled across the canvas. Art and literature are my passions and I (was) intrigued by your mention of Abbie Hoffman, so I looked up the reference," explains Cuddy.
For some, like Cuddy, the initial letter is also a first step in forming a new friendship. Months after adopting, Cuddy and her son traveled to a gallery opening in New York City to see more of Simon's works. "We live in a society where there are so many mass-produced wall hangings and decorations, you don't really get to see an original piece of artwork except in museums."
While Cuddy is introducing the next generation to art and artists, Robin Dunlap lets the elderly appreciate her works. Her adopted works hung for years in her office at Home Health Care Services. One of her favorites was a painting named "Writing Tablet and Grass" by Massachusetts artist Brece Honeycutt, a perfect symbol for her elderly clients. "In geriatrics care, we speak a lot about the past. A writing tablet is a reminder of a simple lifestyle and the grass of a simple life on the prairie," she says. When Dunlap first reached out to adopt, she selected artists from various mediums; a photograph, a painting, a drawing and an art installation. Over the course of a year, Dunlap wrote about each piece in the company newsletter in an effort to expose clients to her passion for art.
Like Cuddy, she too has followed her artists through the years at Art Basel in Miami, a gallery show in Washington, D.C., and continuing correspondence with Honeycutt.
The artists don't have to accept every solicitor, so there will be adopters disappointed to lose their first choice. But with close to 340 artists and hundreds of pieces to choose from, adopters are encouraged to try again with another artist. Some artists even make several copies of a specific scene so multiple adopters are successful with the same work.
There is no obligation or expectation of future purchases. But as Simon explains, "You don't know what good deed might happen. Generosity begets generosity." A doctor in New York City was so pleased with his adoption, he contacted the artist and offered him free medical services for a year.
Simon lives in New York City, but the artists and collectors live all over the United States and overseas. Maya Choi has put several pieces up for adoption from her native Ecuador. After Italian Vogue did an article about the Adoption Network, a 17-year-old boy contacted Simon asking to adopt a piece. Simon quizzed the young Italian and found, though he is just 17, he had been a collector of art for some time and already had several classical masters. And the teen is not the network's youngest adopter. A 12-year-old boy thoughtfully convinced Fawn Krieger to let him adopt her work titled "Trophy."
"This is exactly what I want. I love to see the demographics expanded of who is getting artwork," says Simon. On the other end of the age spectrum was a 95-year-old New Hampshire man who lived in a cabin. Gordon Berryman enjoyed a huge painting of Simon's "Triad" for two years before he passed away. Other works hang in libraries and municipal buildings. It doesn't matter where the piece ends up — everyone is eligible to adopt. "My dream is FAAN is a global forum," says Simon, "for the artists, but also to get the message out about art."
Once you come to the artist studio to pick it up or have it shipped to your home, then the painting is yours. You can frame it, hang it, admire and enjoy it. This adoption is final.
---
The Art of the Deal
By Zandra Wolfgram
Whether you are giving the gift of art to someone near to you or to yourself this holiday season, in this economy it pays to be creative with your budget. Local glass artist Mary Hong and collage painter Beeb Benson offer several suggestions to EC magazine readers on how art lovers along the Emerald Coast can be masterful in saving on the purchase of their next masterpiece.
Attend local art shows. You can buy direct from the artist for less than you can at an art gallery, where artists only make 50 percent on what they sell.
Scour consignment showrooms such as Lovelace Interiors and Bodacious Designs.
Ante up at local charity auctions, and you'll often snag great deals.
Don't miss the Seaside Community Yard Sale and hit local garage sales for great buys on original art and frames.
Church bazaars, community centers, craft shows and fairs often include art booths.
Get to know local artists who clear out their studios and galleries once or twice a year in fall and spring to make way for new work.
Shop designer booths in vintage stores and antique shops such as Smith's Antiques for fabulous finds.
Repurpose art by buying a painting, taking it apart, repainting it and making it your own work of art.
Be creative with extra materials from a home project. Wallpaper, floor tile and paint are raw materials just waiting to be made into something wonderful.
Trade your services with local artists in need of them. For example, you might trade lawn care, cooking, cleaning, home repair or website design with an artist for a piece of art you love.
Cash is king. So don't be shy to ask for a discount for your dollars. A cash transaction saves the artist the credit card processing fee.
Payment plans are an option with some artists willing to spread your total over a few months.
Frequent customers command great prices. If you plan to collect a series, you can negotiate a better per piece price.
Freebies are often available when you buy multiple pieces. If you buy two or more pieces, you might be able to snag a small, unframed print.
Just ask. Most artists will be willing to discount up to 20 percent if asked for a price break.
No kidding around. Hong and Benson both say they have a soft spot for creative kids. If a child really loves a piece of art, they will often gift it to them right on the spot.
Shop online for great deals. Many local artists showcase their work on Pinterest and Etsy.com.
Get involved in local art organizations. The Cultural Arts Association in Walton County, the Mattie Kelly Arts Foundation in Destin and the Arts and Design Society in Fort Walton Beach know who the up-and-coming artists are. Their work is often less expensive than more established artists.
Lend a hand. If you offer to help an artist set up or break down their art show booth, they may be happy to reward you with a piece of art.