Women's Wisdom
Joy and sorrow offer life lessons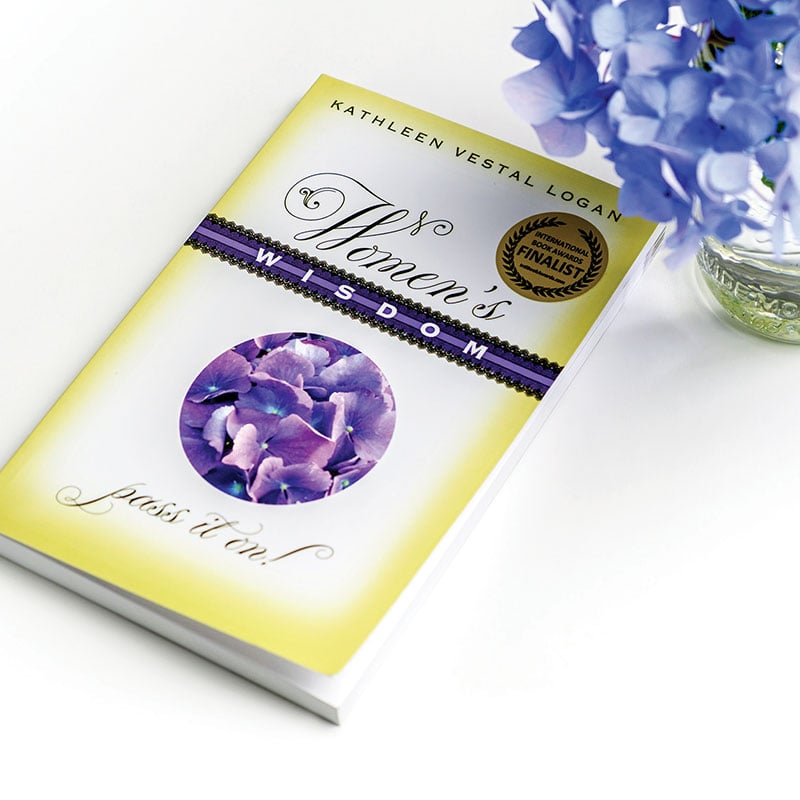 The experience of reading Kathleen Vestal Logan's latest book, "Women's Wisdom: Pass it On!," is akin to that of sitting in quiet conversation with a friend.
According to etiquette expert Emily Post, the best conversations are "a matter of equal give and take." One would, therefore, expect a self-proclaimed book of wisdom to simply give. How, then, does "Women's Wisdom" create in the reader a sense of having contributed in a meaningful way to a conversation?
It might have something to do with the format.
"Women's Wisdom" is an interactive book. Readers who make notes in the book and rank themselves on charts and fill in blanks contribute to the book's very structure. "Women's Wisdom" doesn't reach its full potential, nor is it meant to, until the reader interacts with it. At times, this means putting the book aside in order to write in a journal or do a bit of pondering. And rare is the author who has the confidence to ask her reader to put down the book she has so lovingly crafted. But it's a risk Logan is willing to take.
"I want women to think," Logan said in an interview. "I don't want the reading to be a static experience. I want to stimulate their thinking. I want them to think, to write and to do. That's better that just reading."
In "Women's Wisdom," Logan invites readers to keep a gratitude journal and to take a moment each night to write down a few things she was grateful for that day. But Logan is not one to dole out advice without heeding it herself.
When asked what she wrote most recently in her own gratitude journal, she said, "Having my family near me is a great blessing. The other big blessings are that I'm healthy, I have a wonderful husband who loves me, and my husband and I are very engaged in our community."
The reader is also invited to identify her top three core values, which for Logan are integrity, honesty and fairness.
"Inclusiveness is another big one for me — to reach out and include people," Logan said. "Another is respect for other people. We all deserve respect."
Logan's willingness to share deeply personal experiences in "Women's Wisdom" displays her belief in reaching out with honesty to other people, and her expectation that the reader will respect her as she respects the reader. One such personal experience is the death of Logan's infant son, Robert.
"It's hard to share something so personal, but I think it's necessary," Logan said. "I think we need to share that devastating things happen, and we might think we'll never make it, but we can. We will. We do. We do have the strength, if we reach deep, to go on, even when we think we can't."
Sorrow is something that all humans experience at one point or another; and while there is no doubt that women are the target audience for "Women's Wisdom," the book is a great read for anyone — male or female, young or old.
We all have a little wisdom to pass along and much to learn.
---
About the Author
A successful, award-winning writer and motivational speaker, Kathleen Vestal Logan lives in Gulf Breeze. "Women's Wisdom: Pass It On!" (2015) is Logan's second book. Her first book, "Second Blooming for Women: Growing a Life that Matters after Fifty" (2010), was co-written with Betsy Smith, Ph.D. Both books have received numerous accolades, including bronze medals in the National Mature Media Awards, a competition that honors "the best marketing, communications, educational materials, and programs for older adults." "Women's Wisdom" was also a finalist in the 2016 International Book Awards. To learn more about Kathleen Vestal Logan and her books, visit her website, womenswisdompassiton.com.