With a Nod to Jerry Garcia, The Graytones Rock the Beach
On the rise on the Emerald Coast, this band is one to watch out for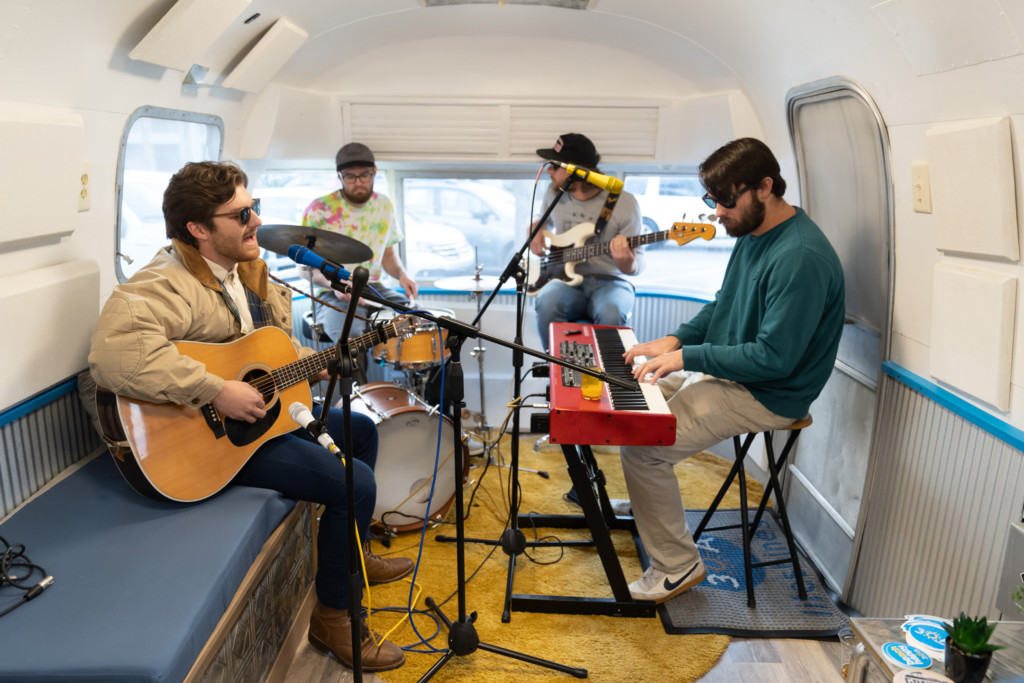 There's a line from the Grateful Dead's 1976 hit "Terrapin Station" that reaches an artist's soul.
Inspiration, move me brightly,
Light the song with sense and color.
Hold away despair,
More than this I will not ask.
But it's not just in music that Jerry Garcia serves as a guiding light for Tanner Gray. With his flair for funky fashion, Gray bears a close physical resemblence to Garcia.
Gray is the lead singer for the Graytones, which may be the Emerald Coast's grooviest jam band.
I had the pleasure of attending a band practice that took place in a secluded cabin at the E.O. Wilson Biophila Center in Freeport.
Gray, along with drummer Zack Corder and backup vocalist/
keyboardist Chris Crutcher, were the first to roll in. Shoes came off and beers were iced down as they settled in, a ritual already familiar to a band that formed just last year.
"We met in college," Gray said, lounging on a sofa. "Mississippi State Unversity. We actually had two bands together, Foxy-phonic junior year and, senior year, The Peddlers."
Then, the trio's members split to different corners of the country post-graduation. Gray found himself in New Orleans, where Craigslist was the best networking resource available to musicians.
"Once I moved to Florida, I knew I had to put out an ad," Gray recalled. "I said I was looking to start an instrumental band, but then I met our bass player, Ricky Stanfield, and we paired up with his friends. We started jammin', giggin' … and I really wanted to contact Chris and Zack to have them play with us."
"He asked us to come down and play 'just for the summer,'" Crutcher interjected, causing Corder to snort. "I was coming from Colorado, and Zack from Nashville."
And, like so many who have sampled the Emerald Coast, the pair was Chinese fingertrapped. Moving to the beach was easy; leaving it proved impossible. Grayton Beach in particular holds a special place in their hearts.
"We all love Grayton, so Justin suggested we be the Graytones, and I said no," Gray said with a laugh. "That's my last name, it's cheesy! But everyone said that's why it works, so it stuck."
Their music is synonymous with the eccentric, yet laid-back lifestyle of the beach community and steadfast with psychedelic beats to get the crowd on its feet. The distinctive sound, they said, found itself.
"We started off with a lot of New Orleans-style funk, but our original songs took a pretty big departure from that into a more alternative style," Gray said. "We have some beachy vibes with all the reverb in our guitars, but more than anything, we just like to jam."
With the addition of Josh Zook on saxophone and Mike Ingram on guitar, the band produces beaucoup boogie numbers. It recently debuted a music video for its single, "In Time"

I know it's hard to understand sometimes

I know that I can be a little hard to love,

I want to give that romance you like

Just believe that I'll get there in time.
And, like the track's candid lyrics, the Graytones weren't interested in romanticizing the filming process.
"It was weird," Cructher insisted.
"Probably the most uncomfortable I've ever been," Gray agreed. "We were cramped on a stage they were using for a play at Northwest Florida State College, and we had our song playing over this tiny Bluetooth speaker. Cameras are right up in our face, I'm pretending to sing and Zack's back there trying to drum as soft as he can. I'm happy with the way it turned out, but I don't think we'll make a video like that again."
With an album in the works, band members would like to take a stab at directing their own videos and perhaps take a more humorous approach. Though they may be camera shy, their droll personalities ensure that stage fright isn't an issue.
In addition to their usual haunts, the Graytones have rocked the Seaside Ampitheatre and Pensacola Vinyl Music Hall and have turned in a televised performance for the StudioAmped Concert Series. The boys had the privilege of playing Panama City Beach's first SandJam Fest, headlined by Fitz and the Tantrums, Incubus and Sublime.
"That felt like a once in a lifetime-type opportunity, to be honest," Crutcher said. "You know, there's some big artists backstage with you. You're on the beach, there's plenty of beer going around and it's amazing. That was our first, big-time festival."
"It made me want to do a Gulf Coast tour, from South Florida to Texas," Tanner said. "We've recently booked shows for Mobile, so we're starting to expand. Touring, I think, would be the dream for all of us."
Until then, you can find them all over the Panhandle, playing original riffs, soulful improvisations and, of course, plenty of Grateful Dead.
In "Help is on the Way," Jerry Garcia sang, "Without love in the dream, it'll never come true."
The Graytones have plenty to spare.