Wigging Out is Back In
Cosmetologist Cheyenne Isenhour tells us why "wigging out" is always in!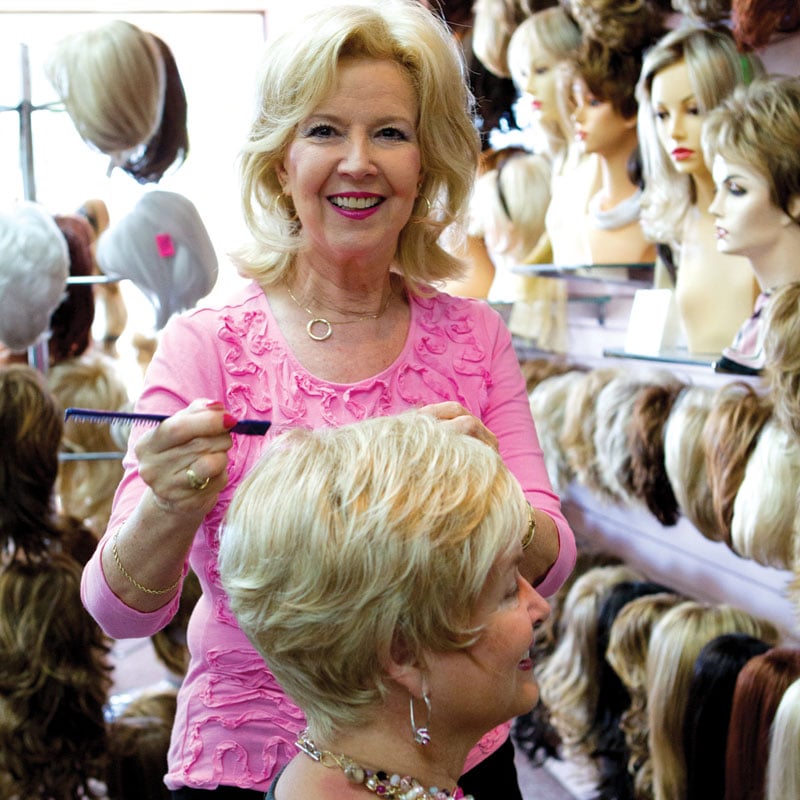 Sex symbol Raquel Welch forced mainstream America to shift their gaze from her bustline to her hairline when she debuted her line of fashion forward wigs in the 1980s. Today, younger starlets such as Beyonce, Katie Perry and reality TV's Kim Zolciak have made wearing fake tresses a fashion do.
Bombshell Jessica Simpson has made celebrity looks affordable and accessible for every day women with her line of clip-on hair extensions that allow you to channel your inner Brigette Bardot in a snap. Though Brittney Spears tried to embrace her bad girl bald moment, she too, got her head back in the hair game and was soon swinging long locks and trying to climb back on top of the music charts.
Like so many celebrities, Cheyenne Isenhour "wigs out" too — so to speak. As to be expected, the soft-spoken, petite cosmetologist, who owns and operates Wigs by Cheyenne (near Office Depot in the Emerald Coast Shopping Centre in Destin), is always beautifully coiffed thanks to her own personal collection of a half dozen differently styled wigs — all baby blonde.
Isenhour is a bit of an anomaly. She was born in Miami, but her lingering accent is a dead giveaway that she was raised in New York. She returned to the Sunshine State when she was 12 and, other than selling Mary Kay cosmetics on the side for six years, she started "doing hair" in the 1960s — the heyday for big hair and wigs — and worked exclusively in the salon industry, cutting and styling hair and wigs in South Florida and the Bahamas. She even managed a busy salon located inside a stationary cruise ship, The Italia, but she shakes her head, wrinkles her nose and nearly shudders at the thought of being called "a career person."
At the urging of her only son, this scissor hand moved to the Destin area in 1997. When she decided to open her own business, her husband, Bill, much to her chagrin, insisted the shop carry her unique name. Over the next 15 years, Cheyenne worked to build a loyal clientele for Wigs by Cheyenne, which features 1,400 wigs in the latest styles (many available at this shop six months before they hit the market). Prices range from $29 (the sale wall) to $799 for human hair wigs. Isenhour admits that many of her patrons have been loyal customers for more than 20 years (when she first started "doing wigs" in South Florida.)
Still, wearing the hat of  "a service person" is much more comfortable for this career cosmetologist whose work is the means to an end for her family. "I don't like when people think they are too important," she says, emphasizing the word important in a hushed tone. "I'm just here to do a service. I don't want to say, 'Look at me, I'm so great.'"
Still, a base of 6,500 loyal customers suggests she is great at what she does. Though it could be argued that a wig is a superficial and unnatural beauty accessory, like a mask to the face that emboldens the wearer by instilling the confidence of a new identity, a wig can also be revealing and healing as Isenhour would learn all too well.
Having grown up with a cousin who had alopecia — permanent hair loss — she early on became aware of health issues that impacted hair loss. She watched as her aunt experimented with hats, hairpieces, even applying white iodine on her cousin's scalp.
But it was her mother's second battle with breast cancer in the 1980s that ignited her interest into a true passion. "I saw her discomfort. She had a really sensitive head, so I would trim and thin her wigs and add something to make it soft at the nape of her neck for her," she says.
Isenhour's quiet joy in fitting Emerald Coasters with wigs is her way to help people look and feel good about themselves. A self-described "spiritual person," the role of caretaker (whether for her mother, husband, clients or cat) is a natural for Isenhour — although she spends little time recreating on her few days off each week. That's the time when she pours herself into processing paperwork, reordering wigs and tracking sales and taxes from home.
Like her wigs, there is much beneath the delicate surface of this private, modest woman. In her case, a daily wig wearer does not a diva make. In fact, she is quite the opposite. The only way her brisk wig business appears to disappoint is in the stereotyping. "Half of my customers come in for hair loss from chemotherapy, alopecia or trichaphobia — an aversion to hair that causes those afflicted to continually pull out their hair — and they feel so upset, they feel like they're going to look like Dolly Parton," she says.
But after Isenhour (and her trained staff) match a stylish wig to a customer's coloring and fit it properly to frame their face, both customer and cosmetologist are happy with the transformation. "It's satisfying when they say, 'This wasn't so bad,'" Isenhour says with a smile. Then she adds in a whisper, "And a lot of them become wig wearers even after their hair comes in. They say it's so much easier."
Brenda Winfree who used to have long brown hair down to her waist, is now a wig woman. Her mother came to Cheyenne's when she lost her hair during cancer treatment in 2007. Three years later, when Winfree was diagnosed with breast cancer, she knew where to turn, not only for wigs but to reclaim some of what she lost. "I wanted to walk into the world with a little normality. I picked a wig that looked like my old hair and hardly anyone knew it was a wig; friends just thought I got my hair cut," she says. Winfree says her hair has grown back a little unruly, but she doesn't worry about it knowing she can pull on one of her six wigs — even a platinum blonde number when she's up for a cat call or two, because according to her "blondes really do have more fun."
Winfree is in good company. Half of Isenhour's clientele are what she calls "recreational" wig wearers choosing their faux locks for a fresh new look or to turn around a bad hair day. "I think half of Destin wears wigs. I have a trained eye, and when I am out I can spot them," Isenhour says with an impish grin.
But wigs are not just for nights out on the town. Cheyenne's index card file is bursting with busy professionals looking for a quick hair fix. "We have attorneys, realtors, insurance people, nurses and even doctors who want to grab their hair style and go," she says. And if they are too busy to style a wig or want to refresh it, the shop provides that service to about 15 percent of its clients.
"We cut, trim and clean wigs. If they want it curly or straight, they can drop it off and we'll do it in about a week."
Though she doesn't like to boast, once she begins naming all of her products she is reminded just how many things are stocked in her shop. She recently started to carry baby ponytails to attach to babies who have not yet sprouted their own. "We got wigs for babies up to snowbirds," she says.
Wigs have helped Isenhour to do better than "survive" all of these years. They've allowed this cosmetologist to make a living — and a difference — with a sense of style. Like any beauty shop, Isenhour has seen and heard it all. She has quietly stood been behind her customers through changes in hair styles and life's challenges, and endured a few herself. And wearing a perfect wig isn't a bad way to head into stormy weather. But no matter what life has in store, Cheyenne Isenhour says she can count on one thing: "Wigs are back, and they are here to stay!"
Cheyenne Wants You to Know
For health reasons, many quality wig shops do not allow you to return a wig, so take advantage of the expert staff and try before you buy.
Quality wigs can be adjusted larger or smaller, so be sure yours is properly fitted to your head and professionally trimmed and styled to your liking (provided free with your purchase)
The average lifespan of a wig is about one year, but if you do not care for it and handle it too much, it will not last that long. Do not use a blow dryer, curling or flat iron on a wig and do not wear it to the beach or when using the oven.
Caring for your new wig means using the right products. When washing a wig use wig shampoo and conditioner. Wash it gently and allow it to air dry (never blow dry a wig). Once dry, gently shake it into place and use a wig comb or pick sparingly to style it.
Depending on how it is constructed, some wigs can be restyled into different looks, straightened or curled. To make the most of your wig, be sure to ask what it can do.