Why Hire An Interior Designer?
A professional interior designer can create your dream home and in the process save you time, money and stress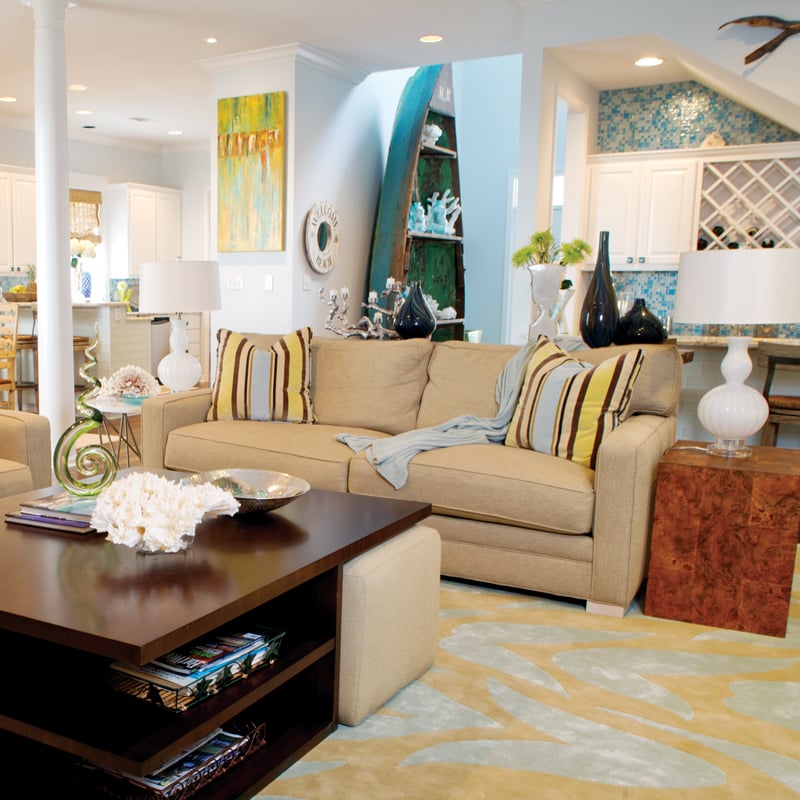 It looks so easy on those TV shows. First you see this dated, boring, cluttered or just plug-ugly room, or even a whole house. Then a designer comes to the rescue, and within an hour you see a transformed space: updated, everything in its place and wow factors galore. Wouldn't you love to have someone like Vern Yip or Genevieve Gorder give your home a makeover? 
Well, you can. Hiring a professional designer isn't just for the rich and famous or those selected for HGTV, and you don't have to look far. There are plenty of excellent designers at work in the Emerald Coast area, and you may well find that hooking up with a professional designer can be very good for your budget. 
A designer can save you from making costly mistakes, explains the American Society of Interior Design, and he or she will help you find reliable contractors, selecting products and materials that meet your budget and design requirements.
Rosanne Painter-Mass, ASID, an interior designer with the Tamarind Group, Miramar Beach, agrees. "Let's say you're building a house and just let the builder do the standard installations of electrical outlets," she says. "Then when you place the sofa away from the wall, you realize that there's no way to plug in a lamp near it. Correcting such mistakes will add up. This is why you need a furniture placement plan right from the beginning, plus a designer will keep an eye on contractors as the building progresses and visit showrooms for you. Think of the time and stress you'll avoid."
Locating Designers
There are many ways to find a designer and form an impression of their work. Many have websites with photos of their work, and even on national sites like Houzz and the American Society of Interior Design, it's easy to zero in on local designers. You can also visit show houses and model homes and read local home and garden magazines.
Keep in mind that training varies. An interior designer typically has a degree in interior design and must be state certified. They can collaborate easily with engineers, contractors and architects. That's important, warns the ASID, because interior design doesn't just involve color, fabric, furniture and accessories. There are also practical and technical considerations such as lighting, acoustics, space planning, organization and storage, scale, fire safety and compliance with building codes. 
An interior decorator typically works with decoration, such as wallpaper, paint colors and furniture arrangements, and it's possible that their style will suit yours perfectly, but he or she probably won't have as much training as a designer. 
Compatibility Counts
Keep compatibility in mind when you interview designers. Cassidy Lyons-Pickens, a designer with Lovelace Interiors in Destin, compares it to a good marriage. "The relationship between designer and homeowner is about communication, trust and respect," she says. "Homeowners should seek out a designer who makes them feel comfortable. Remember, you're letting this person in to your personal space so, along with vetting the work, make sure your personalities mesh."
"And couples should work out disagreements before sitting down with the designer," adds Ashley Harkins of Design Avenue, Destin. "We can be good sounding boards, but we don't want to take sides in a battle."
She recommends that homeowners do their homework, such as combing through websites and magazines, so they can show the designer what they have in mind. "Also make a list of things in your home that you want to keep," she says. "A good designer can absolutely incorporate the old with the new. Some people fear that they'll end up with this crazy room that just isn't them, but that fear will subside if they take the time to choose someone they trust and respect.
"Do homeowners ever present an idea that doesn't thrill me? Of course, and I might try to talk them out of it gently, but ultimately it's their home, and while we designers hope they'll allow us to 'stretch' them at least a little, it's our job to make the most of their wishes."
Painter-Mass urges homeowners to ask for referrals. "Talk to previous clients to find out if they're happy with the designer," she says. "Was the project finished on time and within budget?"
What Does It Cost?
Interior designers and decorators may charge a fee based on the size of the project, an hourly fee of from $35 to $250 an hour, a percentage of the project cost or the wholesale price of a project plus markup. 
Free decorating and design services are available from many furniture and home remodeling stores when you buy their products. Home Depot, for example, provides a comprehensive kitchen design if you buy cabinets there. Ethan Allen is another retailer offering gratis design services.
A true bargain is hiring a designer for a consultation. For around $200, you can get a professionally conceived color scheme, learn how to place the furniture to the best advantage and what new pieces to add when the budget permits.  
Painter-Mass feels that one of the smartest things that homeowners on a limited budget can do is hire a designer to create a plan for them. "This way they can phase in their projects intelligently," she explains. "That means they won't make costly mistakes along the way."
Keep in mind that designers and decorators often receive trade discounts on the products they buy for your project, and while some will pass on part of the savings to you, others may mark up the costs despite the discount. So insist up front that you want to know what you'll be charged for furniture and other items before they're purchased.
And, of course, make sure all budget details are included in the contract you sign before the work begins. Clarify what services the designer will provide, how you will be billed and the projected time frame.