Why Gulf Coast Shrimp Dominate Our Waters and Our Menus
Shrimp Tales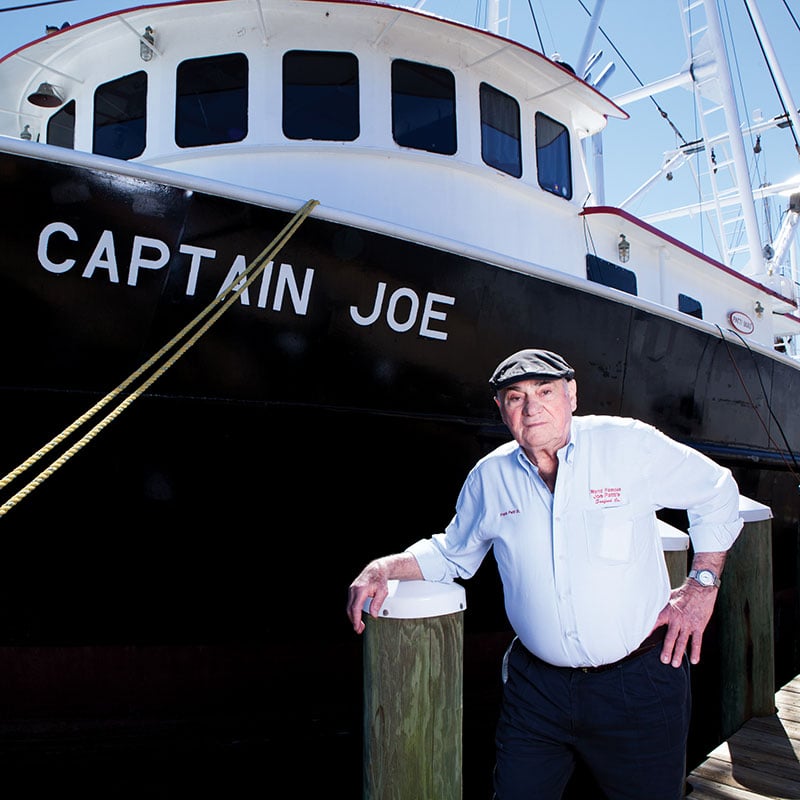 A quick search of the Internet reveals that recipes for shrimp are nearly as abundant as the crustacean itself. 
But this was not always the case. 
Frank Patti runs Pensacola-based Joe Patti's Seafood Company, the establishment that made a name and a living for his family dating back to the 1930s. His parents, both of Italian fishing stock, devoted their lives to the industry before anyone wanted shrimp for anything other than bait. 
Their relationship with shrimp developed quite naturally. When Frank's mama became pregnant, she told his daddy he needed to find work that would keep him close to home. So he gave up his month-long fishing trips and bought a small boat he called The Babe, after his newborn son. 
Frank's daddy, Joe, didn't know a thing about shrimp, so he turned to his father-in-law to learn the (quite literal) ropes. They built a little shotgun house, where mama sold fish, shrimp, bread and milk off the back porch. 
"Daddy caught the shrimp, and I would go with him. The boat was only 30 feet long, with a little cabin and a gasoline engine — clutch and  all — it wasn't a marine engine. It was 'make do,' " Patti recalls. "All the shrimpers had something like that. Small boats, all hand rigged. And he caught so many doggone shrimp he would fill up the boat. From that point on, he never ceased."
From Bait to Plate
But there was no money in selling shrimp for bait. So Joe came up with an idea that he would head the big shrimp and freeze the tails. He took them down the road to Mobile, Alabama, where a new process was catching on, yielding Individually Quick Frozen (IQF) shrimp. Now, Joe Patti had shrimp year-round, when no one else did. 
He believed in shrimp, and World War II proved him right. In those days, shrimp was unknown except in New York. A Savannah-based Italian fellow by the name of Cicerone introduced it to the government, and the rest is history. 
"The war came along and the military needed fuel. They wanted his shrimp boats to patrol the east coast, and in turn they would buy their diesel fuel from him," Patti explains. "He agreed on the condition that the government would buy his shrimp and introduce it to the servicemen. That's how Americans started eating shrimp."
Cicerone's mama lived in Pensacola, and that's how Joe Patti's Seafood became the Gulf Coast source for shrimp. It was a small community that would grow in time, as snapper fishing was curtailed due to fishing regulations and shrimp became the mainstay of the Gulf of Mexico. 
Is Fresh Really Fresh?
At that time, shrimp were headed and placed in ice bins. They could stay out for only 15 days, and it was a job to keep them that long. Joe Patti had the first freezer boat to catch shrimp and freeze them on board in the IQF style.
Capt. Joe Patti
Joe Patti's Seafood Company
Using IQF, shrimp are caught, headed, washed and placed in sacks to be put in the tank, where they are frozen solid within seven minutes. You'd have to cook them onboard the vessel for them to be any fresher. 
The Patti family began building modern shrimp boats and had 16 super trawlers at one time. "Then Daddy told me I had to stay in the shop instead of shrimping," he recalls. "I said it wasn't big enough to grow, and he said, 'You make it like you want it.' " 
So Frank transformed Joe Patti's from the tin-and-driftwood shack on the bay to the powerhouse it is today. Of course, nothing ever stays the same. As fuel prices rose, oil spills ran boats out of the Northern Gulf and restaurants turned to imported product, the big seafood markets had to change with the times. 
Today's Catch
Patti's fleet of 16 boats is now retired, but the Captain Joe stands watch over the harbor just outside the family business. Company vessels are too costly to operate; today, it's a family man's job.
Joe Patti's has been a staple on the Pensacola Bay waterfront since the 1930s. 
It would take 30,000 gallons, or upwards of $100,000, for Frank Patti to fill the "Captain Joe" with fuel and oil. After that, 40 percent of the profit goes to the crew. "You just can't make it, you can't catch enough shrimp," Patti says.
With new industry standards, Patti now imports shrimp from all over the country and as far away as Argentina and the Antarctic. Still, he believes Gulf shrimp are the best. 
"I just love our shrimp," Patti beams. "I was born into shrimp."
Florida's Executive Chef and Culinary Ambassador Justin Patrick Timineri also touts the "Fresh From Florida" resource and sympathizes with industry leaders during these changing times.
"Frank Patti has been in this business a long time. Very few — likely no — seafood companies can be compared," Timineri says. "He is an intelligent and quite colorful man, one-of-a-kind. Fuel, labor and the cost of keeping boats afloat are common issues we hear about everywhere."
The Evolution of the Shrimp Cocktail
Once upon a time, the only way you'd find shrimp on a menu was the ubiquitous Shrimp Cocktail. Today, shrimp can be found on almost any menu in any cooking style — from Cajun to Mexican, Asian to Italian and beyond. (Just think of Bubba in the film, "Forrest Gump": "You can fry 'em, sauté 'em, stick 'em in a stew … ")
"Shrimp cocktail is a classic menu item that anyone not completely familiar with Florida seafood can feel comfortable with ordering," Timineri says. 
"Florida Gulf shrimp are one of the most common seafood species available. Their sweet flavor combined with their modest price and limitless versatility make them a welcome addition for any menu."
Not only are they versatile, they're sustainable. Here, a short science lesson:
According to Timineri, there are five species of food shrimp harvested from Florida's waters: brown, pink, royal red, white and rock shrimp. 
Each of these species is prevalent at different depths, salinity levels and locations around the state. 
Shrimp can be found in near-shore waters and estuaries and use the estuaries as nursery areas. 
They migrate in and out of Florida's estuaries, mainly during growing and spawning periods. 
The agencies regulating the harvesting of shrimp in Florida's Gulf and South Atlantic waters have established fishery management plans to protect the resource.  
As to why so many restaurants insist on purchasing imported shrimp when we possess the natural resource in our backyard, Timineri and others "in the know" remain puzzled.
"The benefits to eating local are myriad. We do not know the rationale for purchasing imported shrimp beyond the financial one," he says. "These imported farm-raised shrimp are typically lower in price and can be processed and packaged in a more uniform size than wild-caught shrimp. We always recommend purchasing shrimp fresh from Florida, as there is no comparison when it comes to taste."
In fact, our executive chef's favorite thing about living and cooking in Florida is the amount of year-round access to local and regionally grown or caught fresh fruit, vegetables and seafood. 
"I know that when I buy anything harvested or caught in Florida, it is safe, fresh, flavorful and naturally healthy," Timineri says.