Whiskeys Saloon Brings Nashville to the Beach
Panama City Beach bar has long been the epicenter of country music on the Emerald Coast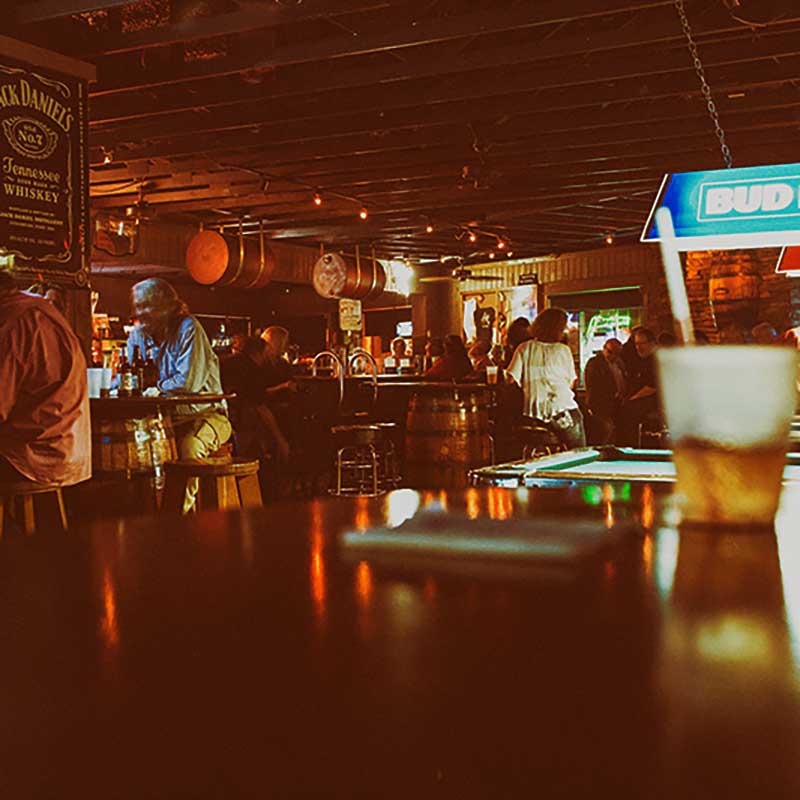 His voice is a pick-up truck on a gravel road, a quarter-mile distant.
It's Brando/Corleon, which is understandable given the decades throughout which he spoke above the music. He shouts to whisper and, if there were to be a godfather of country music, appointed by a heavenly host of legends, John A. Hobbs would be a leading candidate.
Forty-two years ago, Hobbs became the commander of The Nashville Palace, a honky-tonk he developed right near Opryland. Today, a grandson, Barrett, runs the joint, which remains true to its founder's mission: Serve as a purveyor of authentic country music.
I was surprised to find that I was just two degrees of separation removed from Hobbs, who turned 90 in February and for whom a section of Briley Parkway in Nashville is named. A friend of a friend gave me Hobbs' phone number and suggested that I call him early in the day.
I got him on the first try and when I introduced myself as a magazine editor, Hobbs did not recoil like so many do these days. (I have been at this for a long time and I have a theory as to why people have become so extraordinarily media skittish; it has to do with the instantaneousness with which anything can be disseminated globally.)
But John A., as he prefers to be called, was unguarded. In easy conversation, we talked about the mongrelizing of the music Hobbs holds dear.
"Country rock, country rap," Hobbs fairly spat. "You turn on the country music awards shows these days and most of the music isn't even country. Lorrie Morgan got her start working for me and her father, George, wrote a song called 'Candy Kisses.' Now, that's a real country song." And heartrending …
Candy kisses wrapped in paper
Mean more to you than any of mine
Candy kisses wrapped in paper
You'd rather have them any old time.
You don't mean it when you whisper
Those sweet love words in my ear
Candy kisses wrapped in paper
Mean more to you than mine do, dear.
Ms. Morgan is in good company. Hobbs was instrumental in launching the careers of, among others, Alan Jackson, Ricky Van Shelton and Randy Travis, who once washed dishes at The Palace. Hobbs says the only thing he plays is the radio, but he long ago demonstrated a knack for recognizing entertainment talent in people.
Hobbs' son, Joe, said that "back in the day, it was nothing to look down the bar and see Johnny Cash, Waylon Jennings and George Jones bellied up together." Personalities as varied as the Smothers Brothers and Minnesota Fats (Rudolf Wanderone) used to hang at The Palace.
"The Palace was Minnesota Fats' second home," John A. said, recalling the pool shark memorialized by Jackie Gleason in the film, The Hustler. "We didn't have a full-size table, just a little 5-foot bumper pool table. Darnedest thing. Fats never could figure out bumper pool, never was any good at it."
Hobbs recited other oft-repeated stories for a time, and then perked up when I mentioned that I was working to find the cornerstone in the longstanding relationship between Panama City Beach and country music.
"That," said Hobbs, "is an easy one."
Of late, Panama City Beach has become a capital on the country music world map. It hosts in September the Gulf Coast Jam, a three-day extravaganza that was headlined last year by Luke Bryan, Jason Aldean and Little Big Town.
At this writing, plans are being finalized for a Sand Jam, to be held at the County Pier in the last week of April.
Jayna Leach, the vice president of marketing for the bed-tax-supported, tourism-promotion organization Visit Panama City Beach, reports that tours timed to coincide with the Gulf Coast Jam originate in Scotland and Ireland, where country music is newly popular.
But, for Hobbs, a gulf may divide country music that is popular from that which is real. He doesn't necessarily begrudge today's crossover megastars, but he's a purist.
For years prior to the death of his wife, Libby, from cancer eight years ago, Hobbs owned a condominium unit in Panama City Beach at the Aqua Vista, located, not coincidentally, straight across the street from a tavern/music venue/package liquor store that used to be known as the Y Bar, given its proximity to the intersection of State 79 and Front Beach Road.
"You turn on the country music awards shows these days and most of the music isn't even country. – John A. Hobbs, retired honky tonk owner
The Y Bar, which became Whiskeys Saloon after it was acquired by Troy Syfrett in 2009, was owned by a one-legged piano player and businessman, Jerry Skeen, when Hobbs got to know the place.
The bar was originally established by the Arnold family for whom Arnold High School is named and has been in continuous operation as a honky-tonk since 1946 when country chart toppers included Tex Ritter ("You Will Have to Pay"); Al Dexter ("Wine, Women and Song") and Merle Travis ("Divorce Me C.O.D.").
"Panama City Beach is the Redneck Riviera," Hobbs said, employing with fondness a term that Leach would like to see evaporate. "And the Y Bar is right at the center of it"— an unpretentious center at that.
Dan Rowe, president and CEO of Visit Panama City Beach, has made peace with "Redneck Riviera."
"You have to break it down into components," Rowe has said. "You hear 'Riviera' and you think Monaco and the most desired, aspirational beach in the world. And 'Redneck' is just a geographical reference that signifies that, by the grace of God, you were fortunate enough to be born in the agrarian Southeast, just a couple of hours from our fabulous beaches."
For Hobbs, "Redneck Riviera" is synonymous with the kind of people he likes to be around. So taken with Skeen was he that he employed him for nine years at The Palace.
"I still visit Panama City Beach and, when I do, the Y is the first place I go," Hobbs said.
There, he is likely to see Syfrett's 18-year-old band, Nashville Mafia, take the stage. Lesley Perdue, with a captivating lilt, is a vocalist with the band. Improbably, Perdue, now 58, didn't start singing until she was in her 40s, but she has a barn-full of country bona fides.
Troy Syfrett says Whiskeys Saloon is a break-even proposition, but it is a big part of his commitment to keeping "real country music" alive. In photo at top right, he is joined by fellow Nashville Mafia band members Lesley Perdue and guitarist Randy Lane, who divides his time between Nashville and Panama City Beach.
She grew up in town (Lynn Haven), the daughter of a county engineer, Lester Maples, who designed the dam across North Bay that created Deer Point Lake, Bay County's drinking water reservoir. But she moved to the country after marrying Mac Perdue, whom she started dating at age 15, and today makes a part-time living "breaking" horses.
Her methods, she explained, are gentle. Perdue coaxes horses to lie down and then lies down on top of them.
"It's all about becoming dominant in the horse's life," she explained. She takes on rescues from time to time and once nursed back to health a horse that had three hooves when it was delivered to her.
I met Perdue at a diner where she opts for a cheeseburger and I order a fish basket. Like Hobbs, she is immediately accessible.
We're not halfway through our fries and she is talking about how a hemp derivative, CBD oil, has helped her to sleep better. But the conversation, as intended, soon turns to music.
Real country music, she says, endures because it is real.
"The lyrics mean something," she says. "It's not about who looks good in daisy dukes. It's not about sex and sparkly boobs. Think about Johnny Cash and June Carter Cash. They were just regular people. The music industry is trying to keep people interested with stimuli other than music. But people identify with the real stuff."
Today's stars, Perdue said, are the creations of marketers — "self-appointed gods," she calls them. "If I had a chance to make it, I wouldn't because I am so opposed to all of that stuff. Carrie Underwood is talented, but she doesn't sing real country. Miranda Lambert comes a lot closer."
Perdue has written a lyric that attests to her modest preferences.
I thought that I wanted more
Than my simple life could afford,
Didn't really know just what I had.
That fashion magazine
Looked down on my T-shirt and jeans
Just silk and lace and pretty faces.
So I Ieft on a Greyhound,
I was big-city bound,
Thought I knew what I'd find there
So I left behind a one-horse little town.
I don't really need a diamond ring,
I'd be fine with just a piece of string,
I'm just a simple country girl
Living in a country world.
I don't need a Cadillac,
There's nothing that I really lack.
I'm just a simple country girl
Living in a country world.
Real country rides Greyhound.
As it happens, Perdue tends to horses owned by Syfrett and she was curious to know how an interview I conducted with him went.
I had arrived at Whiskeys a few minutes early along with a regular who drove an old land-yacht Caddie, much of which has been reclaimed by the salt air. The gent's visage was dominated by a giant mustache. We took stools at the bar, and I explained the nature of my business to the bartender whose offer of a drink I declined.
I was studying a collection of whitetail horns on a wall when an attractive woman with a balcony so robust that it announced her arrival sat down at the bar a couple of stools removed from me.
"Are you Steve?"
"I can be."
The woman, it turns out, is Syfrett's girlfriend. "He's running a little late."
Presently, Syfrett arrives. He owns a construction business that makes his ownership of Whiskeys possible and looks like he could succeed as a roughneck in an oil field, but he proves soft spoken.
He cottoned to country as a boy and began participating (with his used Martin D-35) in jam sessions at the Y Bar when he was 19.
"Never then did I think I'd own the place one day," he said.
Over time, he got to know Hobbs, who traveled, he said, with a "couple of henchmen" and had a driver, but few at the bar knew who he was. Hobbs kept things that way, but it was he who introduced performers including Connie Smith, Tom T. Hall and Little Jimmy Dickens to Panama City Beach.
Hobbs' posse inspired the name that Syfrett would one day give his band.
He has carried on Skeen traditions at his bar, including Sunday jam sessions, and is committed to "keeping country music alive. Nashville Mafia is a cover band. We want people to hear the music that they know: Johnny Paycheck, Merle Haggard. We bring in real country acts, but it's not easy because we can't pay them what they're worth."
Indeed, David Allan Coe performed a concert in the pavilion behind the bar. Three thousand people turned out. The Kentucky Headhunters, Aldean, Tracey Lawrence and David Woorley have been by.
On occasion, the Mafia will permit themselves to work in an original. Syfrett has written what he dismisses as "just a funny song" titled "Botox" …
My woman's getting older,
But she still looks the same,
'Round younger women,
She's got the body and can still hang,
Father Time is right behind her,
But I think she's gonna win,
She just needs a shot of Botox,
Every now and then.
Since she's turned 40,
She's overcome her fears,
With just one office visit,
She can knock off 15 years,
And I know it's comin' soon
And I'll write that check again,
She just needs a shot of Botox,
Every now and then.
The song leads me to consider that it may be real country's timelessness that most accounts for its durability.
My Syfrett interview is complete and I remain at the bar reviewing my notes. The bartender complains to The Mustache that the bar is too quiet and extends him a dollar bill, encourages him to play some music.
He looks toward a digital, wall-mounted jukebox. It may as well have been a genomic analyzer. "I wouldn't even know how to play that blessed machine," he confesses.
And so my suspicions are confirmed. The Mustache and the others who surround him are here because, when that real country music plays, Father Time is not merely arrested.
He beats a hasty retreat.