Where Are They Now? Peter Bos
At 73, this coastal visionary has shifted his attention to senior living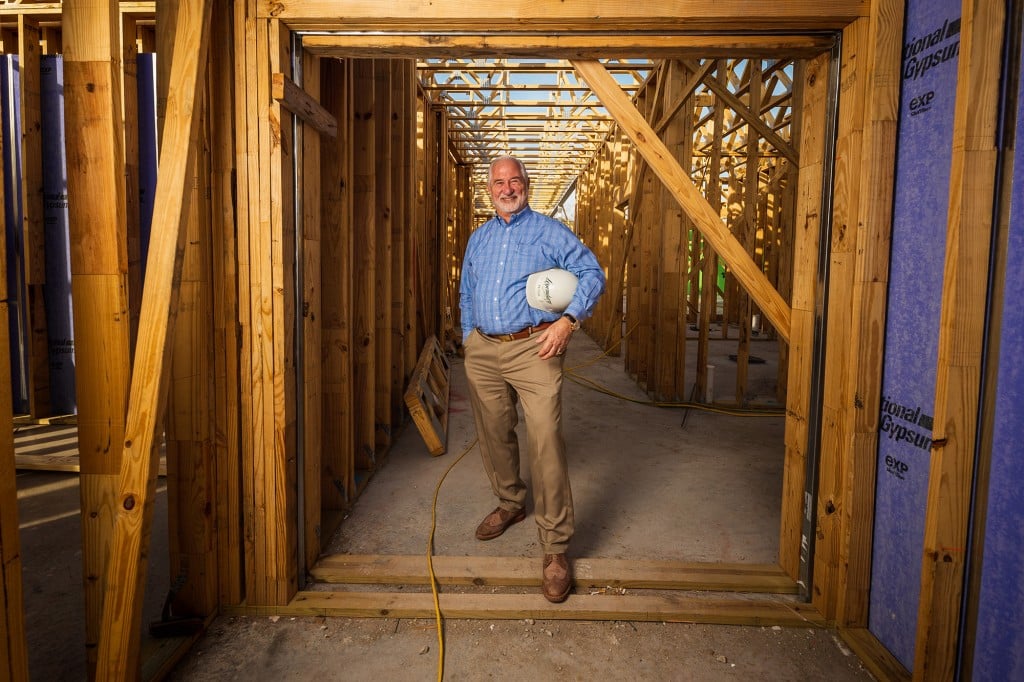 A glass artist-turned entrepreneur, a senior entrepreneur-turned rock guitarist, a charming but controversial developer, a middle school inventor, a 10-year-old globetrotting philanthropist, and a STEM education advocate tapped by the president of the United States.
For two decades, Emerald Coast Magazine has filled its pages with interesting stories about compelling people making a difference in words and deeds — or sometimes causing a stir.
We hope these stories inform and even entertain; if we are lucky, they inspire.
As part of our anniversary celebration, we reflect on the many people who have graciously shared their stories with us.
After all these years, we still often wonder … what happened to him? What became of her?
In 2003, an area just east of the Destin Bridge had been deemed blighted. No building permits had been issued there for 10 years.
Enter Peter Bos. Arguably the chief shaper of Destin, he dramatically changed the area's landscape with the development of his upscale Emerald Grande condominium resort.
Its realization had much to do with the decision by the Florida Restaurant & Lodging Association to single out Bos with its 2011 Hotelier of the Year award.
Bos has made a career of altering land- and beachscapes. In the 1970s, he helped manage Sandestin Golf and Beach Resort when it was owned by a Dutch corporation, Lakeland BV. He then acquired and added to the project for 10 years beginning in 1981.
He recalls Sandestin's early days, when Bos saw to it that employees, harvested from inland farming communities, received literacy training, hygiene classes, showers, toothpaste and soap.
"We've come a long way," he says.
Bos developed and is proud of HarborWalk Village and the Regatta Bay Golf & Yacht Club, and he has engineered the Legendary Marine success story.
Destin-based Legendary merged in 2014 with Singleton Marine of Atlanta to form OneWater Marine Holdings LLC, one of the largest boat dealers in the world and the operator of 80 stores.
Today, Bos, who appeared on an Emerald Coast Magazine cover in 2004, and his Legendary Inc. — a real estate, development and property management company — are focused on a venture called Let's Start Living.
"We are creating first-class independent living, assisted living and memory care facilities," Bos said.
"They will resemble a high-end Marriott hotel. Some newer senior living facilities are nice, but many are like mini-storage for old people. We are raising the bar."
The first such "village," Bos called it, is under construction. A joint venture with Blake Management Group of Jackson, Mississippi, it is located in Miramar Beach next to the outlet center.
Additional facilities will be located in Montgomery, Alabama; Nashville; South Florida; and elsewhere in the Southeast.
At 73, Bos hasn't slowed down, but conceding the inevitable, he has begun "to shift Legendary to a mode where it be less dependent upon me."
And, he has concerns for the near future of Destin.
"Destin may go through the same growth situation that most resort communities do," he said.
"People are happy to get development because it means year-round jobs, but eventually they retire and, when they do, they want their town to become a retirement community; they don't realize the vibrancy required to keep it up. You need to achieve balance among the age groups so you can regenerate."