Where Are They Now? Mary Hong
This artist's first 'Glass Act' is still flying high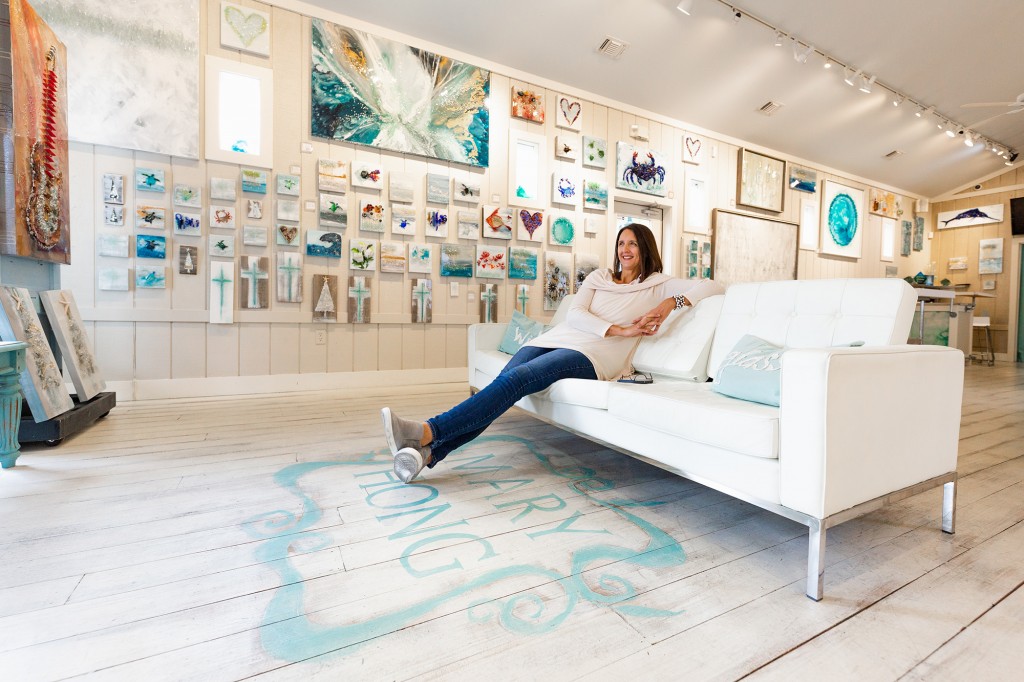 A glass artist-turned entrepreneur, a senior entrepreneur-turned rock guitarist, a charming but controversial developer, a middle school inventor, a 10-year-old globetrotting philanthropist, and a STEM education advocate tapped by the president of the United States.
For two decades, Emerald Coast Magazine has filled its pages with interesting stories about compelling people making a difference in words and deeds — or sometimes causing a stir.
We hope these stories inform and even entertain; if we are lucky, they inspire.
As part of our anniversary celebration, we reflect on the many people who have graciously shared their stories with us.
After all these years, we still often wonder … what happened to him? What became of her?
Here, we catch up with one of six remarkable locals who have appeared in past editions of Emerald Coast Magazine to answer the question: Where are they now?
Mary Hong opens the arched wooden doors to her Tudor home in Destin, offers a welcoming hug and pours two glasses of fresh brewed iced tea from a Mason jar.
She plops onto a white side chair crosses her long legs clad in cobalt blue skinny jeans, flicks her shiny brown hair off the shoulder of her Shard Shop T-shirt and says, "It all goes back to aviation."
The previous day, this artist — who has a pilot rating and comes from a family of aeronauts — was floating on air — literally.
Son, Kai, 13, stayed behind to work his botany magic for a school project, but his twin sister, Rain, accompanied her wanderlust-filled mother to Albuquerque, New Mexico, to experience something Mary has done religiously for 30 years: crew and fly in a hot air balloon.
"It all started because of art," Hong explains. "For 16 years, I created everything for this annual race — the pin, the brochure, the poster — even the balloon!" She plucks her phone from her pocket to share highlights of her weekend adventure, and the friends who have known her longer than most. "I could be balloon rated, but when am I am going to fly?" she puzzles.
After retiring her flight attendant wings, Mary and her husband, John, settled in Destin in 2004, and Mary shifted her energy to art.
She developed and trademarked an art form that combines paint and glass on canvas, which she branded ShardWorx Art.
Hong first appeared in Emerald Coast Magazine in 2012. Since then, her career has soared.
In less than six years, she opened the Mary Hong gallery in Grayton Beach followed by six Shard Shops, or make-your-own-art boutiques, located in Grayton Beach, Destin, Miramar Beach, Nashville and New Orleans.
Her artwork began to appear in high-end galleries and interior design showrooms worldwide. Retailers around the world, including Neiman Marcus and Horchow, began selling giclee prints of her work. And … she was named 2014 South Walton Artist of the Year.
During the same time her career was soaring, Hong experienced her greatest sorrow after John was diagnosed with a terminal illness. They traveled to find the best health care treatment possible. After a valiant fight, her husband of 27 years died in September 2019.
While living in Hawaii, Hong learned her craft from a master glass artist. She raised eyebrows for openly sharing her knowledge and expertise through workshops and classes. In fact, she was the first Emerald Coast artist to livestream an art class on Facebook.
"It's one thing making and selling art. I elevated that into creating an experience and took a risk in teaching and sharing what I know," she says. "I believe sharing of ideas is how you grow. That is community."
The future is bright for this entrepreneurial artist. In addition to revamping websites, ramping up retail sales of her art kits and expanding The Shard Shop franchise, she will continue to share her talent by leading nine three-hour classes at the 26th Annual Glass Craft Expo in Las Vegas April 1–5, 2020.
She also plans to enhance the Shard-On-The-Go program, which brings Hong's art-making experience to interested groups, and grow Glass for Good, Hong's community fundraising initiative.
Give Mary Hong a challenge and she will rise to meet it. Like the glass shards she shapes into original artwork, she also is multi-faceted and sparkles from the unique way she captures the light.