Where Are They Now? Edwin Watts
A golf retail pioneer, classic rocker and family man with a heart of gold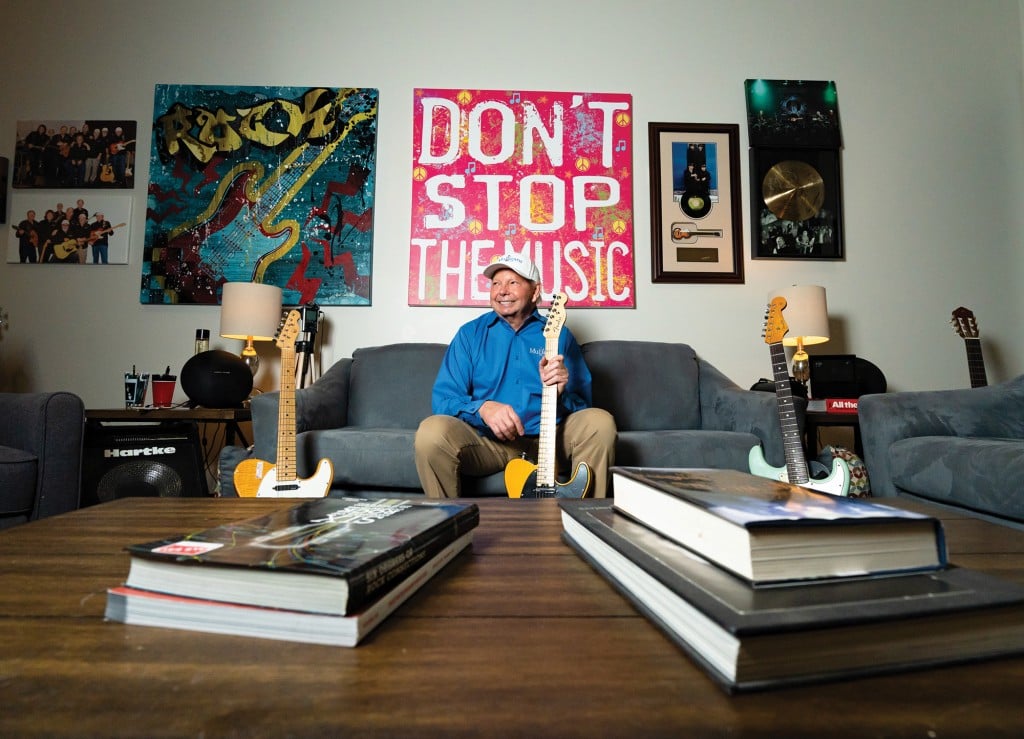 "I loved being in charge!" Edwin Watts exclaims with a smile that lights up his blue eyes framed with a white Mulligans band baseball cap.
It's Tuesday in The Mulligans' clubhouse. There's wine and beer in the fridge, state-of-the-art sound equipment and eight friends who gather each week to practice a religion that transcends their vastly different backgrounds — classic rock.
Watts, 74, first appeared in Emerald Coast Magazine in 2005 as one of "five people who define success."
He graciously invited Emerald Coast Magazine to join him before a fall practice session to catch us up on an extraordinary life and career that hasn't appeared to need any mulligans (second chances) as far as we could tell.
First on his list of hand-lettered notes is a roster of his family.
His and wife Mary's greatest joys are their five grandchildren — Erin, Ashley and Thomas, via son John Watts, and Laney and Brooke, via daughter Lisa Lewis.
By all accounts, Watts was born a businessman. This Florida boy recalls biking to his neighborhood gas station to inquire about work. At 13, he finally got his first job caddying at a Fort Walton Beach golf course.
"I loved it," he says. "I loved everything about it."
Watts worked hard, moved up quickly and at 22 was hired by the city of Fort Walton Beach to run its municipal golf course. Having strengths his boss didn't created an opportunity, and Watts seized it.
"I just took over," he says. "I was good at business."
It was 1968. He worked seven days a week and gradually grew that first shop to an empire of retail golf stores throughout the Southeast bearing his name.
The notion of a golf pro shop located anywhere but a golf course was a novel and innovative concept.
Watts is a modest man, but when coaxed, he admits a few secrets to his unparalleled success. They sold goods people couldn't get elsewhere.
They were good at direct marketing. They formed cooperative partnerships. And they tried new things, such as international quick shipping.
"We practically grew the business tenfold doing that," he says.
He sold the business in 2003 but retained the name and interest in the company's real estate.
Edwin Watts Golf continues to be a successful retail brand with 85 stores. Son John now manages the day-to-day dealings of the family's business interests in commercial properties and investments.
Watts is considered a pioneer in the golf retail industry, perhaps in part because he never lost sight of his most valuable asset: people.
"If you take care of the customer and your people and work hard, things will happen," he assures.
"Our employees were loyal because they were rewarded. Even the kid unpacking boxes had an incentive. It's the right thing to do, so why not do it?"
When The Mulligans formed 13 years ago, Watts realized his childhood dream of playing guitar in a rock band.
The longevity of the band reveals another secret. "I operate the band like a business," he confesses. Each band member earns a salary, has proper equipment and a "rock star" worthy rehearsal space.
And, like his namesake golf company, Watts believes The Mulligans also fill a void.
"We play good music people want to hear, we play music you can dance to and we create an atmosphere where people can gather together and connect," he says.
Between his legacy as a golf industry trailblazer and living his dream of playing guitar in a rock band, it's not surprising what Edwin Watts would like to be remembered most for — his family.
"I love life. I love my family and everything I'm doing," he says.
With that, he took his seat on a stool, grabbed his Fender Telecaster and began tuning up.
The Mulligans rehearsed a handful of classics, including Neil Young's "Heart of Gold" — an appropriate anthem for a man who is a true rock star in all senses of the word.