Where Are They Now? Dr. Paul Hsu
This engineering businessman gives back to his adopted hometown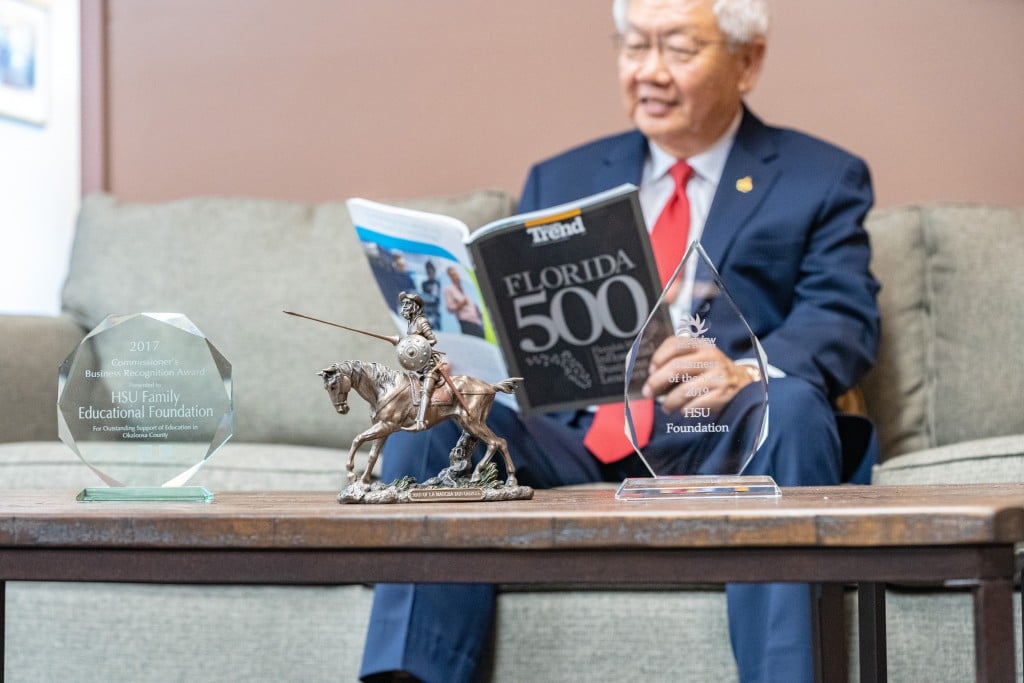 A glass artist-turned entrepreneur, a senior entrepreneur-turned rock guitarist, a charming but controversial developer, a middle school inventor, a 10-year-old globetrotting philanthropist, and a STEM education advocate tapped by the president of the United States.
For two decades, Emerald Coast Magazine has filled its pages with interesting stories about compelling people making a difference in words and deeds — or sometimes causing a stir.
We hope these stories inform and even entertain; if we are lucky, they inspire.
As part of our anniversary celebration, we reflect on the many people who have graciously shared their stories with us.
After all these years, we still often wonder … what happened to him? What became of her?
Here, we catch up with one of six remarkable locals who have appeared in past editions of Emerald Coast Magazine to answer the question: Where are they now?
Dr. Paul Hsu, for decades an opportunist in the most positive sense of the word, is today dedicated to creating opportunities for the region he calls home and the people who live there.
"I have lived in Okaloosa County for almost 40 years," says Hsu, a Taiwanese immigrant who arrived in the United States as a 26-year-old student in 1976.
"I consider it to be my hometown. I love this area, and I want to make it possible for young people to find good jobs and stay here."
Hsu made an appearance in Emerald Coast Magazine in 2005, not long after selling Manufacturing Technology Inc. (MTI), which engineered electronics for weapons systems. He had launched the business in 1984.
"I really enjoy spotting opportunities and creating businesses," Hsu, who has founded several enterprises, told 850 Magazine last year. "If I were 40, I'd probably start another one."
Instead, he has established the Hsu Education Foundation, which is dedicated to stimulating interest in science, technology, engineering and math (STEM) careers among young minds.
He intends that the foundation, located in Fort Walton Beach, serves as a pipeline partner with high-tech industries such as aerospace by helping supply them with the workforce they need.
Calling it an "uncut diamond," Hsu views the Bob Sikes Airport in Crestview as a key to the future economic development of Okaloosa County. He is a partner in the Crestview Technology Air Park, located on 20 acres near the end of the airport's 8,000-foot runway.
Two 50,000-square-foot buildings at the tech park unite Hsu's past with what he sees as the region's future.
The buildings once housed MTI's machining and welding operations, but are well-suited to host schools to conduct training for airframe and power plant (A&P) technicians, aircraft technicians and pilots.
At this writing, Hsu is working with Northwest Florida State College to bring about an A&P school, and his foundation already is making high school students aware of the career opportunities it will represent.
"In the next 20 years, the world is likely to require hundreds of thousands of pilots and technicians," Hsu says.
"In that period, it will produce 40,000 new aircraft, manned and unmanned. Bob Sikes Airport is central to an opportunity for Northwest Florida to align itself with an industry having great growth potential and to really put itself on the technology map."
Hsu's personal priority these days is his six grandchildren, all of whom live with their parents in California's Silicon Valley.
They will not have fallen far from the technology tree.