Weekend Getaway on the Coast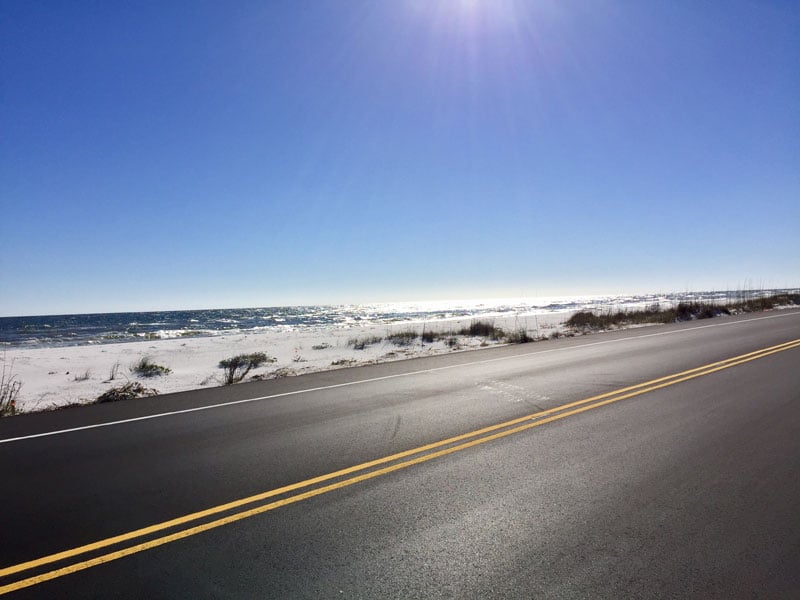 This article was written in collaboration with Expedia.com
---
Photo by Dan Parker
Though we live among the beauty of the Gulf Coast, it is easy to overlook hidden treasures.  Like many others, my wife and I lead busy lifestyles. With raising a large family while balancing our careers – time runs in high demand. Breaking away for 'us' time is tough to come by. Luckily for us, we recognize it's necessary for maintaining a healthy relationship. Recently we time- splurged, taking a last-minute trip to the beautiful coastal town of Pensacola. Slightly over an hour from where we live in Grayton Beach, this pleasant journey opened our eyes to an entirely new experience.
Though I consider myself a history buff, I had no idea a destination with rich and extensive history existed nearby.
Armed with our bikes in tow, we headed to the western tip of Gulf Islands National Seashore by the mouth of the Pensacola Bay. Little did we know the largest of four forts built to protect the bay existed there. Fort Pickens, a national treasure, was built there between 1829 to 1834. Named in honor of U.S. Major General Andrew Pickens who fought with distinction in many battles of the Revolutionary War. Later he led several campaigns against the Cherokees who called him, "Wizard Owl."
Much to our amazement, generous portions of the original structure is still standing strong, and is walkable for the curious. We found it fascinating that over 21.5 million bricks were used to build the forts, but we found it unfortunate that they were mostly built by slave labor. We spent hours exploring each area of the fort.
Native American prisoners were once housed at Fort Pickens. This included the notorious Apache War Chief, Geronimo. My wife and I shared silent moments among windowless cells. The iron barred doors remained after all these years. We empathized with the plight of those incarcerated. From seemingly endless freedom of gulf waters to wet concrete walls, there was certainly a distinct juxtaposition that spoke volumes among our silence.
Photo by Dan Parker
The fort has served in many capacities through the years. During the Civil War, it was the only fort in the South never occupied by Confederate forces. From a strategic military position, it was revered equally important to that of Fort Sumter in Charleston, South Carolina. In late 1861 a battle ensued in the area resulting in over 5,000 shells being fired from the base, ultimately causing the Confederate positions in the surrounding Pensacola Bay area to withdrawal.
As military technology evolved changes were made to the fort. Concrete gun batteries were formed from the 1890s through the 1940's, each in response to a unique threat. You can now explore the cavernous rooms and imagine how life must have been for sailors or soldiers stationed there.
The day escaped us far sooner than we preferred. Our experience will surely result in multiple explorations of the fort and the surrounding beauty. In contrast to the hard lines of the historical forts, we encountered miles of empty island shorelines, flocks of indigenous birds and breath-taking sand dunes. I encourage you to visit this hidden destination whether history is your calling or you are riddled with curiosity. My promise is that you will find many gems along your journey.