Wearable Art
Express yourself with designer accessories that steal the (art) show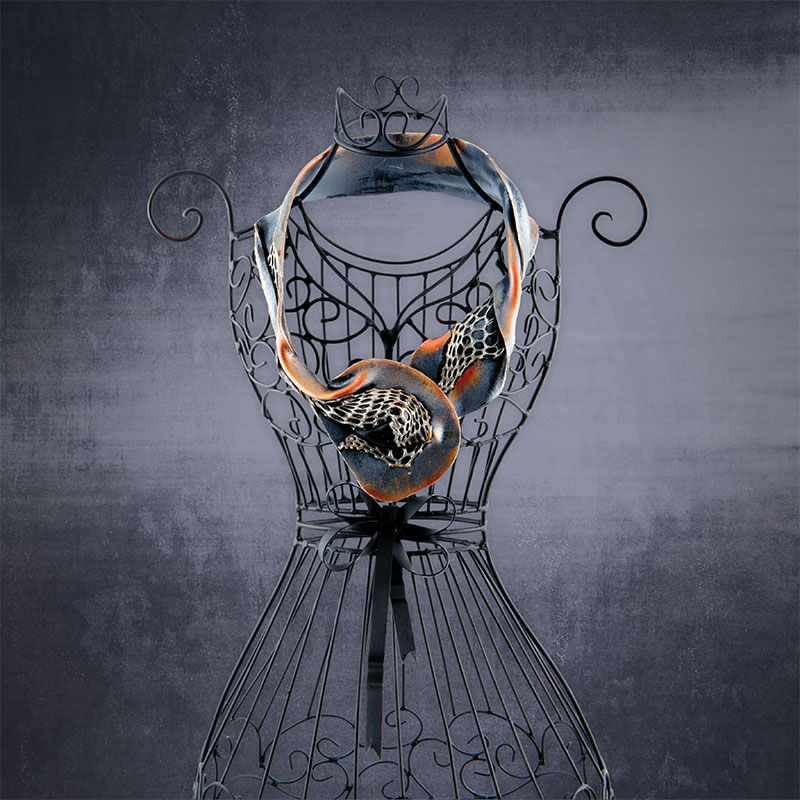 Marliyn Monroe got it right when she demurred that diamonds are a girl's best friend. Speaking of sisterhood, we girls have Diane Keaton to thank for taking the Fedora out of the proverbial hatbox with such flourish. And surely Isadora Duncan deserves a nod for giving scarves a sense of mystery and glamour. (Of course, if worn while riding in a convertible, precautions should prevail.)
1950s pink and green brooch takes center stage in this piece surrounded by a white pom pom bib necklace.
Courtesy Mary Kay Samouse
Thanks to television shows like Lifetime's "Project Accessory," fashion accessories go well beyond the old rule of matching a handbag to your hem. Adornments of all types and stripes have fastened themselves tight into their very own buttonhole, if you will. Today, making a fashion statement without any kind of extra embellishment is like a sentence without the proper punctuation — incomplete to say the least.
We say, heap on the hyperbole and bring on the exclamation point. As Madonna's hit "Vogue" tells us, "Express yourself!" And with the help of these five talented accessory designers — each with a distinctive style of reinventing materials all her own — the next outfit you put together just may be a work of (wearable) art.
Dramatic by Design
The word jewelry is derived from the Latin word jocale meaning plaything. Soft spoken Mary Kay Samouce, whose jewelry design company is Adorn by Samouce, is fond of old things, the more playful the better. In fact, the drawers of the 1970-era metal drafting table in her studio are filled to the brim with fabulous finds and trinkets from days gone by, such as brass keys, silver match holders, garish broaches, metal chains, well-worn locks, secret lockets and more — all fodder for her "modern-vintage" designs.
The daughter of a Houston antique dealer, Samouce, 47, grew up "exposed to beautiful things from all different time periods." Buying excursions to Europe with her mother gave her a deep appreciation and knowledge for all things vintage — and a signature top hat from London's Portobello Road circa the late 1800s!
With a bachelor's degree in painting and sculpture and further education in theatrical and commercial event design, Samouce has worn many career hats quite successfully — including an Oscar win for the art direction of a documentary short film. But it is jewelry design that has captivated her fancy. A painter at heart, she says she sees each piece of jewelry as a painting canvas, no one is more delighted than she that her work is theatrical. "That's what my jewelry is all about. Go big or go home. Just keep it exciting," she says with a laugh.
Samouce's necklaces, bracelets and earrings are composed of authentic Georgian, Victorian, Edwardian, Art Nouveau, Art Deco vintage finds paired with crystal beads, sparkling gemstones and baroque pearls to form one-of-a-kind contemporary statement pieces that are often unexpected. "I like contrast: Putting something rustic with something refined is a design aesthetic that works for me," she says.
Her background as a scenic designer has trained her to be focused, efficient … and confident. "I kind of had a no-looking-back policy for myself. It takes away the judgment and the fear that can go with doing something original and creative. It's easy to be our own worst enemies and edit ourselves to death. I try really hard to avoid that happening, because it doesn't help. I go fearless and trust my instincts, and I love it when I impress myself," she says.
Adorn by Samouce designs Victorian enamel cut steel buckle suspended from a 1950s rhinestone necklace.
Courtesy Mary Kay Samouse
When you buy a Samouce design, a little history lesson just might be added in. "I love doing research, so I can give my customers all the details of the time period something came from, how it was worn originally and sort of paint the picture," she says. And perhaps a little drama, too. "When I say, 'This shoe buckle is more than 100 years-old' their eyes just pop out," she adds with a laugh.
Samouce's jewelry is carried in fashion boutiques and galleries along the Emerald Coast, Vail, Colo., Ocean Springs, Miss., and Laredo, Texas. This fall her work will be featured once again on models wearing Prophetik, a couture design label by Jeff Garner of Franklin, Tenn. That collaboration placed her work on the pages of Vogue and center stage at Fashion Week events in New York, London, Paris and Vancouver. Samouce also was invited to design a custom collection for Off Saks Fifth Avenue. For someone who clasped her first heirloom necklace just three years ago, it appears the industry already adores Adorn.
Her (Beach) Glass is Always Half Full
The power of the ocean waves crashing to shore is but a dribble compared to the sheer force of nature that is Diane Page. Educated, successful, fit and fun loving, Page seems to have leaped through life, fulfilling one dream after another.
A Smith College graduate, Page studied theater and burst on the Boston scene, rising to local celebrity as a television personality, model, singer, actor and songwriter. In fact, Page is a world record holder. And not the kind that spins on a turntable. She is in the "Guinness Book of World Records" for being a game show host who wrote a Top 10 song. She co-wrote, "Stay the Night" with Benjamin Orr (formerly of The Cars), which became a Top 40 hit in 1986 and was Orr's biggest hit. The game show was "Big Money" and gave away millions of dollars to lucky Bostonians.
After 30 years in entertainment, Page was ready to settle down. She married and moved to Destin. A beach lover who had long collected sea glass, she took a silver smith class and began to wrap sea glass pieces into necklaces. Soon friends were buying them right off her neck. She upgraded to sterling silver and 14 karat gold, and her jewelry design career was no longer blue sky. "It took over my life," the Destin artist says.
Soon, Page was in search of more sea glass. She found it washed in from shipwrecks and hurricanes on the shores of the Salt Cay, an island off of Turks and Caicos. "It comes up every day and it's old, so I'm not just dealing with broken green and brown bottles," she says. "I've got lavenders from old kerosene lamps, pottery from Eton College, just lots of great stuff."
Page confesses to using her stage presence to charm prospective shop owners, and today her sea glass jewelry designs are carried by numerous boutiques that cater to the cruise lines with upwards of 6,000 passengers sailing in and out of the Caribbean. With opposing seasons to Northwest Florida, this market outreach has given Page a year-round business. "You go where the economy is," Page says.
Page is a solo act when it comes to her jewelry designs. "I've never had any help. I make every piece myself," she says. Her coastal theme is clearly evident in her popular sailboat pendants — a test in treasure hunting all their own. "Making sailboats requires hours of sorting through glass to find three little shard pieces to fit together. You have to hold them tightly. It's a very intricate process," she says. The process of creating something new is something Page never tires of. "I can't wait to start making stuff every day," she says, "I love it!"
Page says she doesn't feel "a day over 25." Her zest for life obviously keeps her young at heart. She spends her summers in New England and is on a pace twice a month to discover something new. "I'm all about having fun and grabbing everything out of life I can … nothing is off limits. I just do it, go for it, experience it. I mean, this is why we're here!" she exclaims.
Fired Up and White Hot
For someone who is afraid of fire, she did not hesitate to jump right into a fray of jewelry design and competitive art shows. At 65, Jill White has been retired as the senior vice president of Northwest Florida State College for two years, and since then she has been taking a lot of heat. Nearly every day in her Valparaiso studio she fires her butane torch up to 2,500 degrees to hand forge, burnish, fold, unfold, etch and paint silver, copper and brass into earthy yet elegant pendants, cuffs and earrings ornamented with turquoise, coral, pearls, jade, jasper and ancient stone.
An educator and lifelong learner, White, who is petite with gray-blue eyes, is "attracted to the exotic, interesting, amazing and fascinating" facets of life. If the story isn't a page-turner for this "mental traveler and avid reader," she's likely not interested. This metal maven approaches her designs the same way. Though clearly contemporary, the finish and texture of her work exudes a sense of place and history … of living.
"I like anything that has a story behind it. Something where the design was inspired by something that went before and has background to it," she confides. Yet, like the lines of her jewelry, White, and her design aesthetic, is refreshingly straight forward, perhaps the muscle memory of an English teacher who liked to give the backstory.
"Making things simple, straightforward and useful has always been a part of teaching for me," she says. "In my jewelry, it's important to me that it be unique, so I can tell the story and inspiration behind it, but it also must be practical and wearable."
A quilter and collector of jewelry and antiques, White used her retirement to further explore her interest in jewelry making. She didn't have to go far. Her husband, John, a master blade smith, inspired her passion and expanded her knowledge of metal and how to work with it.
She employs several techniques, including oxidation, burnishing and fold forming, but her most popular pieces are those that are "flame painted." White explains that at different temperatures, different colors emerge from metal. With skill you can paint a scene, such as sunset, in the metal. This precision takes time to master, but White is up for the task and welcomes both the trial and the error.
"It's a challenge to get a particular color. For example in matching two earrings it can take hours to match a certain hue. And at times the metal has a mind of its own and you get some very surprising beautiful things by accident, and that's a treat. It keeps it from being routine," she says.
White is energized by her found passion that is "more than a hobby, but not a career." And doesn't think twice about spending as many as 50 to 60 hours a week in her studio to prepare for an art show. Her work has not only been well received by customers eager to scoop up her "hot" art, but also by the critics. In 2011, with just six shows under her (welding) belt, she received a Judges Award at the Destin Festival of the Arts.
Perhaps White is shaping a successful jewelry brand, because, like her designs, her strategy is simple. "I think because I use quality materials, am reasonably priced and have unusual yet wearable jewelry, people like it and are not afraid to invest in it," she says.
Wrist Watch
"It was really by accident," Jean Houndsome says of her stumble into jewelry design eight years ago. "I was bored and my boyfriend suggested I paint a pot."
Houndsome, 39, who first came to the United States as a nanny at age 22, had never before attended an art class. She immediately ran down to the art store, loaded up on supplies and painted until three o'clock in the morning. "I just became obsessed with it," she says in her friendly South African accent.
After a few years of painting pots, wine glasses and Christmas decorations, she happened upon the unexpected material in an unexpected place that would help shape her as an artist — acrylic.
Seeing a construction worker fiddling with some kind of plastic piqued her interest. It took her three weeks to find it online and a year to learn to work with it. Through a process of heating, stretching, molding she forms the material into a bracelet cuff and then paints a black base before applying three layers of frosty metallic color. "I've always loved color. It makes me happy," the brown-eyed artist chirps.
One of her secrets to the comfort of the bracelet is that each piece is shaped to a human wrist — the artist's own. "I've tried wooden models and mannequins to make more at once, but it's not the same, so I went back to making them one by one around my wrist," she says.
Though passionate about it, it took some time for this shy artist to properly market her wares. "I started listening and realized customers were really surprised at how light they are on the arm. Now I know my selling points are that my pieces are light, flexible and comfortable," Houndsome says of the two-ounce bracelets. "If I can get them to pick it up, they pretty much sell themselves."
The same could be said of Houndsome within the competitive art show category of jewelry. She explains that in the typical art show for every 1,000 artists 400 are jewelry makers. Of those, there may be 20 open spots. The application is due six months prior to the show and requires the artist pay a fee and submit photos of their work and booth. "Sending in an application doesn't mean you get accepted," Houndsome explains. So she often applies to two different shows in a weekend in hopes of landing one.
Based in Atlanta, Houndsome displays and sells her work under the name, Jeanique Jewelry, at art shows eight months of the year — festivals along the Emerald Coast being her favorite. In the end, the customer makes it all right. "Nothing is more fulfilling than to stand in your booth and have people love your work. The satisfaction from that is really awesome," she says.
A Hand(bag) Full of Memories
Bizzy Lizzy just slowed her dizzying pace. Liz Hamrick, whose Penscacola-based company is known as Bizzy Lizzy, has created 2,500 one-of-a-kind handmade handbags out of her home studio over the past dozen years.
With a fulltime job as the event planner for the Pensacola Sports Association and three kids between the ages of 8 and 12 to attend to, she has ramped down her sewing machine to focus solely on her specialty — keepsake custom bags made from wedding gowns and vintage furs. "I started doing not what you have to do, but what you want to do," she says.
Hamrick's foray into fashion accessories unfolded slowly. She was making pillows and curtains for her home on a borrowed sewing machine when a friend noticed them and asked Hamrick to make handbags for her boutique in downtown Pensacola (where Skin is located now). Hamrick got a pattern and made them from pieces of fabric. They were a hit and sold fast, so she kept at it.
A few years later another friend suggested she upgrade her fabric to designer swatches. It took several years, but eventually she formed fast relationships with several designers. "After awhile they would just call me when they were getting rid of $220-a-yard samples. They hate to see them wasted, so it was a win-win," she says.
Next came embellishments. "I began to adorn them with vintage broaches, line them with handkerchiefs or use different things for the handles and it just evolved," she says.
One day a friend was making holiday stockings trimmed in fur and gave Hamrick her scraps, and the Bizzy Lizzy fur bag was born. When a close friend was fitted for her Kleinfeld's bridal gown, Hamrick knew just what to do with the trim. She used platinum satin from the bridesmaid's gown, layered it with trim from the bride's dress and added sparkling pave bracelets as the handles.
Now, clients clamor to have Hamrick convert treasures, wedding gowns and family furs into customized keepsake handbags. "It's a sentimental thing to make something special from vintage things," Hamrick says wistfully.
The designer is thrilled to see women around town carrying them out to special events. But after more than a decade since they debuted, not all of her "babies" have remained with their original owners. "Now I see my handbags in second-hand stores all over. It's kind of cool, but then I think, 'Hey, blonde mink is really hard to come by. Dad gum, I'll buy that back!'" the spunky designer says with a laugh.
Some of Hamrick's longtime customers have collected up to 15 bags. Michelle Henghold of Pensacola has several of Hamrick's bags in beaver, blonde mink and silver mink. "It's nice to have a little fur," she admits. "And because it's recycled it doesn't offend anyone," she says. For Henghold, Bizzy Lizzy bags are not only beautiful, but practical, too. "The crystal bracelet handles make them more of a pretty accessory than a purse. And you can carry a glass of wine and be hands free," she says.
Henghold, who wears designs by both Bizzy Lizzy and Adorn by Samouce, says statement pieces of any kind encourage self-expression. "They are different than anything out there. They are pieces of wearable art worth the investment. You'll have it forever, and it's better than anything you could purchase in a store. I think it encourages people to be more original," she says.
Though all different, it is easy to see that the designs of all of these accessory artists personify that Latin definition of jewelry — playful, indeed.