Volunteer Opportunities Abound at Alaqua Animal Refuge
The Emerald Coast Magazine team shares in a new type of volunteering experience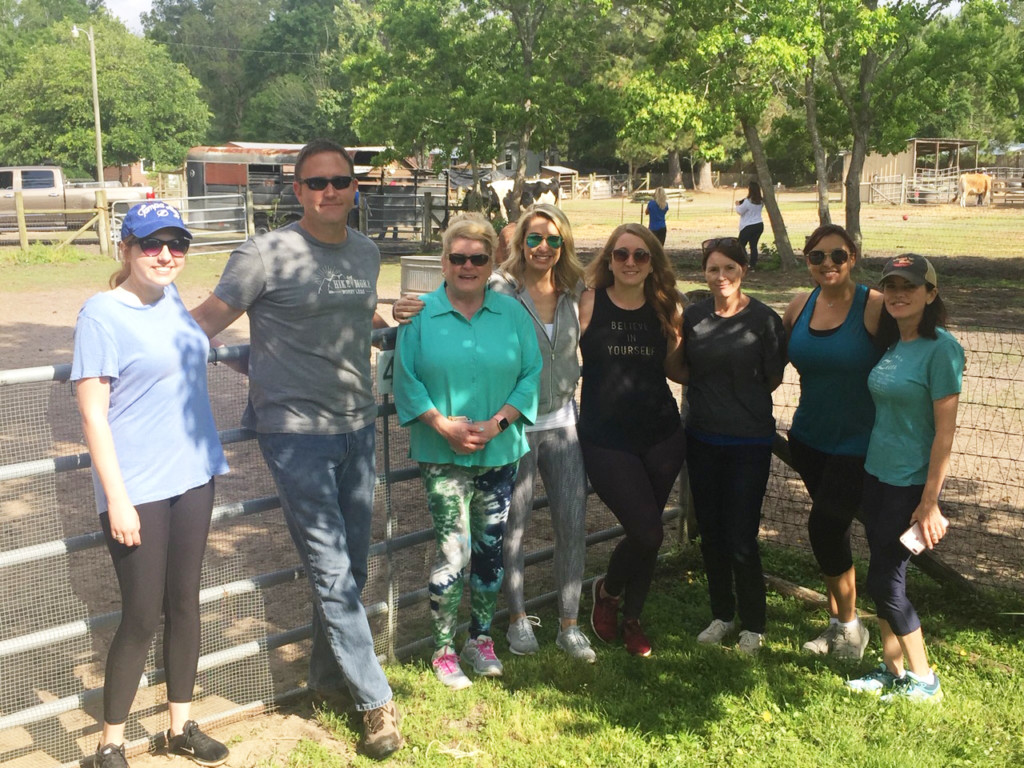 Alaqua Animal Refuge operates under a single belief: every abused, neglected and homeless animal deserves a second chance.
For animals who have endured the unspeakable—be they a goat, dog, bird or tortoise—hope thrives at Alaqua's pastoral, 10-acre farm in Freeport, Florida, where they're free to roam, play, swim and reside until they find a forever home.
Though an estimated 100 adoptions are approved per month, over 350 animals will occupy the property at any moment and run the refuge, a 501c3 non-profit, $100,000 per month to support.
But thanks to private benefactors, community fundraising and a compassionate network of on-site volunteers, this little farm flourishes.
The Emerald Coast Rowland Publishing Team rose early last Thursday, Apr. 25 to step into those volunteer's shoes- that is, rubber galoshes- and experience a typical day in the life of a caretaker.
While Alaqua is open to the public from 12- 5 P.M. daily, its gates open for volunteers at 8:30 in the morning. Hungry horses, cows and other chickens are their welcome committee, trotting alongside vehicles in giddy anticipation.
Some Rowlanders would go on to serve the livestock breakfast (and spend the rest of their time in the field scooping up the product of yesterday's!), while others tended to puppies, bunnies and loquacious macaws. For myself and Rowland Publishing Ad Services Coordinator Tracy Mulligan, it was off to the adult Dog Zone.
As novices, we were tasked with cleaning dog runs, rinsing and refilling water bowls and, of course, providing each pup with some one-on-one play and attention. But old hands are responsible for far more, as it's their duty to familiarize themselves with each dog well enough to note changes in behavior, eating patterns and stool irregularities.
It's an arduous and sometimes dirty job, but one that reaps immeasurable rewards.
"We're subdivided here," explained Bob Morrison who, with wife, Margaret, have been volunteering at Alaqua for over three years. "We were trained and specialize in caring for the cats, but others stick to walking dogs or handling the pigs."
Once trained, Morrison said, volunteers tend to stick to their area of expertise and rarely dabble elsewhere. Morrison comes once a week to routinely scoop cat boxes and replace litter, spoil them with fresh canned and dry food, disinfect their living areas and participate in some much-needed playtime.
"We have three cats at home, and we can't help but think about all the ones who have been abandoned and end up here," said Morrison. "Being able to help them, nurture them back to health and finally see them get adopted…that's why we all do what we do."
BE A VOLUNTEER
As the lifeblood of Alaqua Animal Refuge, volunteers donate their time to provide premier care for each inhabitant. Prospective volunteers must submit an online application which speaks to their character and compassion for animals, participate in an introductory orientation and complete 10 hours of training before getting a T-shirt and becoming an official member of the Alaqua family.
To get started or learn how you can donate supplies, fundraise and become a foster parent, please visit alaqua.org/how-to-help/