Victims Attest to the Horrors of Sex Trafficking
Florida State University hosts community dialog on the problem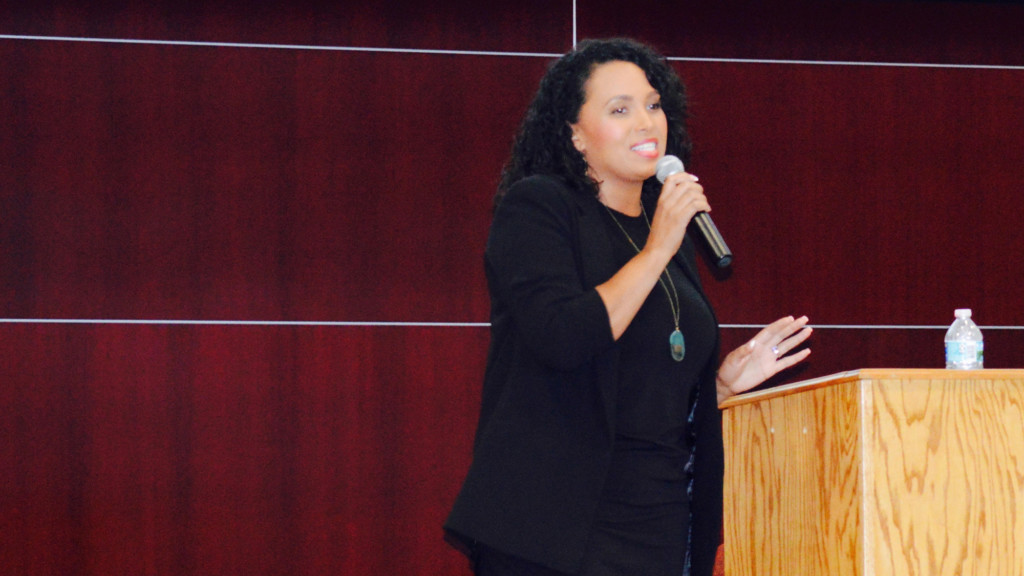 Sula Skiles was living in Los Angeles and making modest inroads to the world of modeling when she was approached by a man who said he could lead her to a big-time contract.
Encouraged, she agreed to fly to an international destination where a networking opportunity was about to be staged, one sure to catapult her toward the realization of her dreams.
Instead, she found herself trapped along with other women who were called upon to fulfill the sexual fantasies of their captor.
Skiles, pictured above, had entered, she said, a "world of exploitation" so traumatizing that she was separated from herself.
"I was numb," she said.
Her strategy was to do as little as possible in response to the demands of her abuser. But she felt compelled to move quickly to sexually satisfy the man when she found herself watching him force himself upon two other young women.
"I had to do something," Skiles said. "I just wanted it to be over."
The unfortunate result was that Skiles had distinguished herself from non-performers. The others received plane tickets home. Her stay was prolonged.
Skiles was among the speakers on Friday at a MORE TH>N A NU#BER seminar on human trafficking held at Florida State University Panama City and sponsored by the Bay County Health Department and the Panama City law firm of Perry & Young.
The seminar was at its most powerful when trafficking victims, including Skiles, told their own stories. Such gatherings rely heavily on anecdotal evidence of the problem. Numbers are hard to come by. A true assessment of the problem's extent is impossible because victims may fear law enforcement, may not identify themselves as victims, may withhold information and may identify with traffickers.
Skiles testified to the need to build bridges between law enforcement and victims. She described forming a "trauma bond" with her captor's "diamond girl," a woman who coached her on how to get along and supplied her with wigs and other props and adult toys.
Dr. Irvin Clark, associate dean of faculty development and administrative affairs at FSU PC, told an audience that filled a large hall at the Holley Academic Center that "human trafficking is a huge problem that will not be solved without a great deal of collaboration among organizations and agencies."
The seminar, he said, was an example of the kind of activity FSU PC "wants to host as a community center committed to making a difference."
Today, Skiles is a minister who founded the Impact Life Church in Destin along with her husband. She is a supporter and advocate for Crisis Aid International and a member of the Human Trafficking Task Force in Northwest Florida's First Judicial Circuit.
"We must do what we can to reach people who are in the dark," Skiles said. "I have a brand new life and that is a miracle, but it shows that healing is possible. Every single trafficked person has another destiny."