Unleashed, Students Create Inspired Pet Pictures
You could call them artists in waiting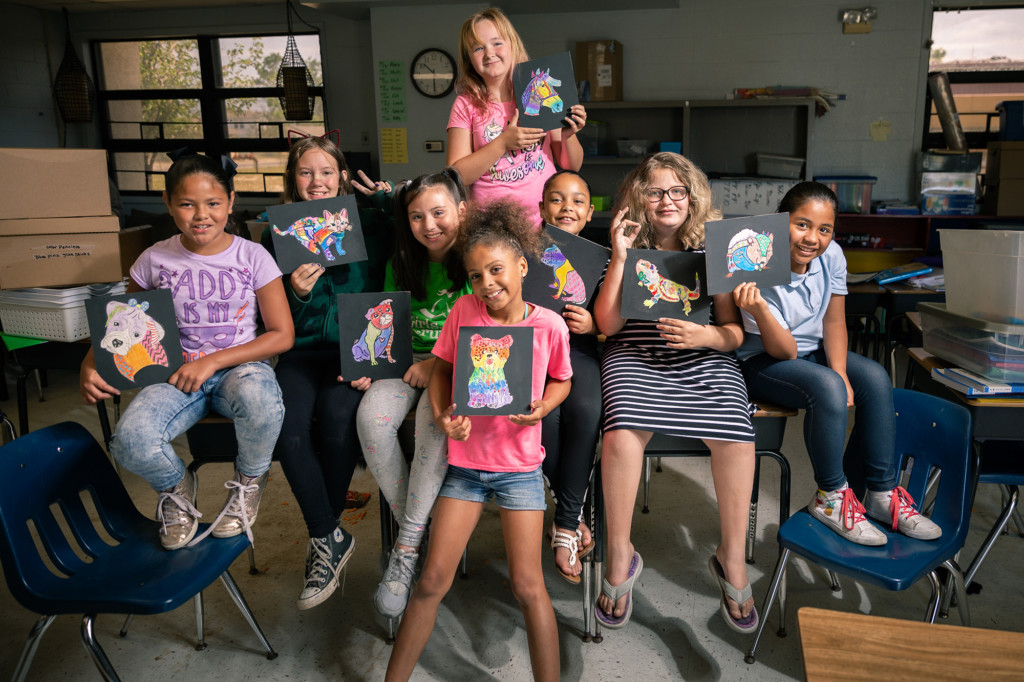 A discussion about spirit animals preceded the exercise, seemingly pretty elusive stuff for fourth-graders.
But, said teacher Chad Wallis, each of eight of his students at the Oakland Terrace School for the Arts in Panama City, when asked to choose an animal as the subject for an art project, selected a creature that mirrored her own characteristics.
The students were asked to create artwork representing the pet they would most like to own. The tally: four dogs, one horse, one cat, one hamster and one bearded dragon.
Once, Oakland Terrace was intended to serve as a magnet school for students with an interest in visual and performing arts. But, said Wallis, state art funding was withdrawn and the school's consuming focus came to be on improving standardized test scores.
"Most of our kids come from homes with very modest incomes," Wallis said. "Many have no male role model in the household. The hurricane only made conditions worse. These students have talent and abilities like kids in wealthier neighborhoods, but they have a lot of circumstances to overcome."
This fall, Oakland Terrace will no longer be a community elementary school. Its students will be divided between elementary schools elsewhere, and Oakland Terrace's buildings will host two storm-battered programs: the local chapter of Girls Inc. and an alternative school that specializes in working with children with behavioral issues.
  The art project surfaced a love of art and of animals in the participating students. Meeting with "the man from the magazine," they spoke with facility about the concepts and techniques Wallis had encouraged them to employ: vibrant, contrasting colors; blended hues; patterns; and gradients.
And, they were curious to know if an appearance in Emerald Coast Magazine would lead to fame and riches.
For several years, Chad Wallis taught at a K-8 charter school that attracts some of the best and brightest students in Bay County.
At Oakland Terrace, he worked with an ethnically and culturally diverse population of students, more than 75 percent of whom qualified for free or reduced-price lunches.
He has developed a deep affection for students facing long odds.
Girls in his classes adore him, preferring to call him, "Handsome WaWa."