Unearthing the Untouched Secrets, History of Northwest Florida Archaeology
Digging Deep with Dr. Judy Bense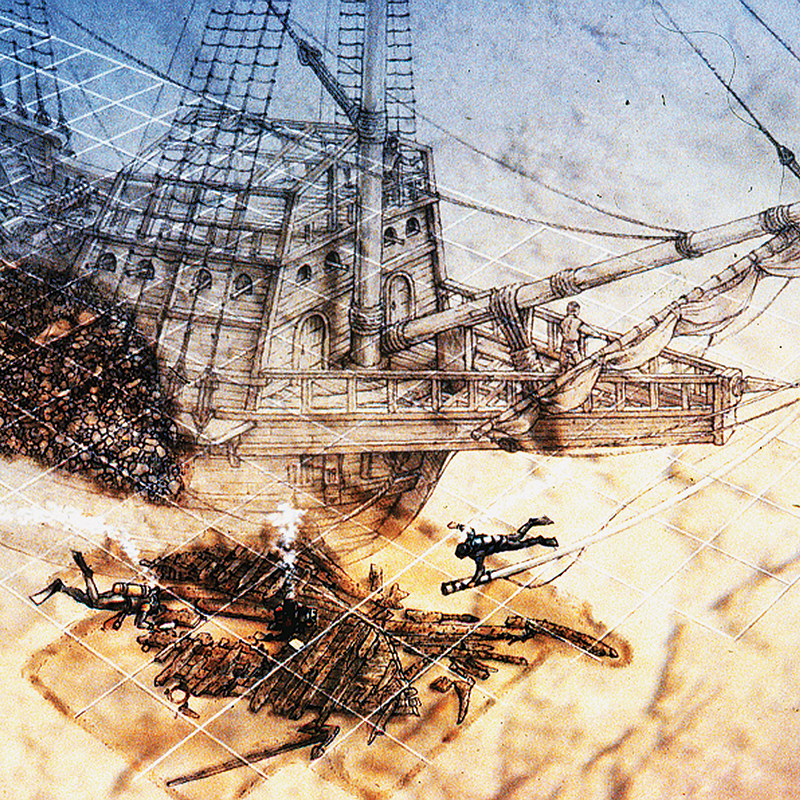 As Florida's 500th anniversary is celebrated throughout the state, marking the year that Juan Ponce de León arrived on La Florida's coast in 1513, there has been a renewed interest in Florida's rich and vibrant history. And one of the individuals most familiar with Florida's origins, interestingly, is also at the forefront of its progressive growth.
Dr. Judy Bense, president of Pensacola's University of West Florida (UWF), is able to seamlessly jump from discussing 2,000-year-old villages and Spanish colonial settlements to conversing about Pensacola's emerging cybersecurity sector and Northwest Florida's aim to become a tech industry leader. An anthropologist by training, she is known for her contributions to the field of archaeology, a branch of anthropology, having founded the Anthropology/Archaeology program at UWF, establishing the university's Archaeology Institute and founding the Florida Public Archaeology Network.
Many Northwest Floridians know her voice from her bite-sized recurring radio spots on UWF's public radio station called "Unearthing Florida," a partnership between WUWF Public Media and the Florida Public Archaeology Network, in which she tells the extraordinary tales of the people and cultures from Florida history through the artifacts that are hidden just under so many of the surfaces we see today. Boasting the longest coastline in the contiguous United States, Florida is home to many ancient artifacts that are submerged in bodies of water, including numerous items from various shipwrecks and prehistoric canoes that are more than 3,000 years old. These, along with countless other finds, provide fodder for the regular doses of dig drama she doles out over the airwaves.
An Archaeological Instinct
Some might say that it is more than appropriate that the head of an educational institution like UWF has an insatiable inquisitiveness, a trait that she's had as long as she can remember.
"I have always had a natural interest and curiosity about how things have come to be the way they are," she said. "I was interested in history; I was interested in geology; I was interested in natural science."
The Panama City native recalls reading "National Geographic" magazine and even going on vacation to state historical parks with her family when she was in elementary school, fostering her interest in the differences between the way generations of people lived.
"I found it so fascinating that all these things happened where I was [standing], and they were so long ago," she said.
Although her ultimate goal was to "go to Egypt and dig up mummies," Bense said she realized it would take an Ivy League education and cost thousands of dollars to become a low-paid Egyptologist, so she relinquished the pursuit. "I haven't been to Egypt yet," she said, "but yes, it's on my bucket list."
Plotting Pensacola
In the 1960s there weren't many archaeology programs that accepted women, but Bense found one at Florida State University in Tallahassee. After attending FSU, she learned that the archaeology in Pensacola was both untouched and well preserved — a rarity, considering there aren't many places in the United States that are relatively undisturbed, especially in a state with nearly 20 million people — and a dream come true for an archaeologist.
"There is more preserved here," she said, pointing out that such places as Miami, Tampa and Orlando have lost a lot of archaeological artifacts to bulldozers and development. "So instead of being at another university and traveling here in the summer to do research, I decided to come here, start a program and do research in my own backyard."
Dubbed "The City of Five Flags," Pensacola has the distinction of having five countries — Spain, France, Great Britain, the Confederate States of America and the United States — lay claim to its land, making for a treasure trove of archaeological finds. The main reason for Pensacola's popularity throughout the centuries is its naturally open, deep-water pass that could accommodate big ships from the colonial period, the present day Perdido Key and Santa Rosa Island area.
'We Are Like Detectives'
After more than three decades spent in her field of study, Bense has seen many changes and advancements but none more dramatic than the way technology has affected archaeology, specifically the computerization of data. Everything, she said, is counted and classified.
"The way we are like detectives, the way we draw conclusions, is by seeing patterns in the data," said Bense. "You can make deductions as to who was living where."
By being able to load data into a computer program, use mapping software to determine topography and digitally catalog artifacts, Bense said a geography project that used to take six weeks might now take three days with no more than a backpack and an antenna. There is also the added benefit of sharing data within professional circles and being able to view artifacts remotely instead of having to travel to see them in person as was previously required. Archaeologists can even examine artifacts "virtually" by lifting them, turning them and even cutting them in half.
It's a far cry from what many people may still imagine archaeologists to be — more Indiana Jones than scientific researcher. Bense said people often think archaeologists are searching for, and often find, gold or think that professional archaeologists don't make much money; neither is true. However, archaeology has taken Bense all over the world, from Russia to Spain.
The archaeology profession is still today very male dominated, as is the role of university president. In fact, said Bense, the issue of the stagnant percentage of female university presidents — roughly 23 percent, which has remained largely unchanged in 10 years — is one that has come up at presidential conferences she's attended.
In June of this year, she celebrated five years as the school's president, although she has been a part of the UWF family for more than three decades, having served as the director of the Archaeology Institute for two of them. And while UWF's biggest cheerleader may very well be sitting at its helm, she isn't just cheering from the sidelines when it comes to drumming up interest in Florida's past. Much of the state's 500th anniversary bash is being celebrated regionally, but people like Bense want to make sure the those who live in other states are also aware of Florida's Quincentennial through such events as the annual Celebrity Chefs showcase held in New York City. Margo Stringfield with the Archaeological Institute attended the James Beard House food fest earlier this year, an always sold-out event, to ensure Florida's history was accurately represented with archaeological artifacts and that the food was Spanish inspired. Also in attendance were representatives from the Greater Pensacola Chamber and Visit Pensacola, the Chamber's tourism arm, to drum up interest in both visiting and starting businesses on the Emerald Coast.
'The thrill of Discovery'
While it is apparent that Bense loves her role and the opportunities it provides, her eyes still light up when she talks about archaeological projects and how she is continually surprised by what is uncovered and what it feels like to be the one who makes the find.
"When no one else has seen [an artifact] for hundreds or thousands of years, no one seeing it or knowing it was there, it is a magical feeling," said Bense. "It is really what drives archaeologists — the discovery element."
She was careful to emphasize that discovery, while often associated with unearthing exotic artifacts in foreign lands, is not unique to archaeology. She said there are discoveries — both physical and abstract — in chemistry, biology and physics as well.
"It's the thrill of discovery," she said, "and what we really do in the academic world is discover."

The Emerald Coast's Remarkable Finds
The Wine Cooler — Dr. Judy Bense and her team from the University of West Florida discovered a circular hole that had been excavated deep into the water table in downtown Pensacola, which contained a frame of small logs that held a nearly intact wine bottle. Nothing of its kind had ever been found before, and archaeologists believe that the hole was not a water well but rather a sort of cooler, similar to a root cellar. Based on her research, she believes that this storage compartment belonged to, and may have been constructed by, Spaniard Luis de Ullate in the 1750s and is very likely the oldest "wine cooler" in all of Spanish Florida.
The Rosario — Also in 1992, University of West Florida archaeologists discovered a 300-year-old Spanish fragata in Pensacola Bay. On Sept. 3, 1705, the ship was to leave Pensacola for Veracruz but was run aground by a hurricane and broke to pieces. Archaeologists believe the ship is The Rosario, an 18th-century ship designed to escort Spanish cargo vessels, because of where it was found, its massive size and the materials it was carrying.
Camp Walton — In 1861, a Confederate militia called the Walton Guards established Camp Walton in modern-day Fort Walton Beach along Santa Rosa Sound. Guards mounted a cannon along the shore of the narrow waterway to attack gunboats, but it was later dismantled and buried so that Union soldiers wouldn't be able to use it against them. The cannon was discovered in 1932 and remains the largest artifact ever found from this militia. It can be seen today along U.S. Highway 98 at the original campsite.
The Luna Shipwreck — Tristan de Luna, a governor and conquistador, had originally sailed to the Emerald Coast to establish the first Spanish settlement north of Mexico, but in 1559 seven of de Luna's 13 ships sank during a hurricane along with all of their contents. An underwater archaeologist found one of the ships in 1992, including its 10-foot-tall anchor and a silhouette carving of the ship. A second ship was discovered a mere 400 yards away more than a decade later, making Pensacola home to the second-oldest shipwrecks ever found in U.S. waters.