Turn Your Guilty Pleasure Into Exercise
Shop 'Til You Drop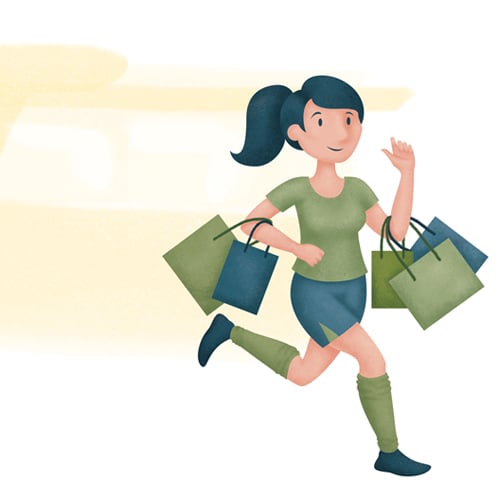 Finding balance around the holidays can be tough as you juggle work, family, parties, cooking, decorating and shopping, and all the while you want to stay fit. As a new mom, I have embraced the art of multi-tasking and a new motto that I recently saw on a T-shirt — Shopping is My Cardio — by shopping my way slim this holiday season.
Use these easy tips to stay fit while you cross everything off your holiday shopping list.
Hoof it.
Park your car as far as possible from the store of your choice and get moving. There are approximately 4,750 linear feet of sidewalk stretching from one end of Silver Sands Premium Outlets to the other. If you power walk from end to end and back, it's almost two miles. Keep up a 3-mph pace and you could potentially burn an extra 400 to 600 calories during your shopping extravaganza. Plus Silver Sands Premium Outlets has 110 designer and name brand stores, so you'll burn even more just walking through a few of them.
The more you buy, the more you burn.
The holidays are the ideal time to shop with so many amazing deals to be found. Not only do stores have holiday sales, you can always find other ways to save even more. For example, many shops and centers have sign-up programs that provide free access to exclusive online offers or coupon books that will yield you still more savings. With all this extra cash, you can afford to buy more, which means you'll get a better workout carrying all those bags. Instead of putting your bags into your car after each purchase, opt to carry them along the way to give yourself a better workout. Try a few bicep curls while you're traveling from one store to the next, all the while thinking about that extra slice of pumpkin pie you've earned.
Burn, baby, burn.
Why waste money on a baby sitter when you can use those extra dollars to shop? You can enhance your shopping workout and enjoy some bonding time by wearing or pushing your baby. To maximize your workout, strap your little bundle of joy into a baby carrier and burn an extra 400 to 500 calories during your two-hour shopping excursion. If you're looking for something a little less intense, opt to push a stroller, but keep those bags on your arms!
Squat while you wait.
Waiting in a long line to check out? These precious minutes can be used for squats. Remember, if you are holding all of your shopping bags or carrying your baby these count as weighted squats and are even better for building your quads, glutes and calves.
Now that you know how to shop your way into those favorite pair of jeans, who's ready to upgrade to a new pair?