Trees Destin Aims to Grow its Success
Allen French paints the town green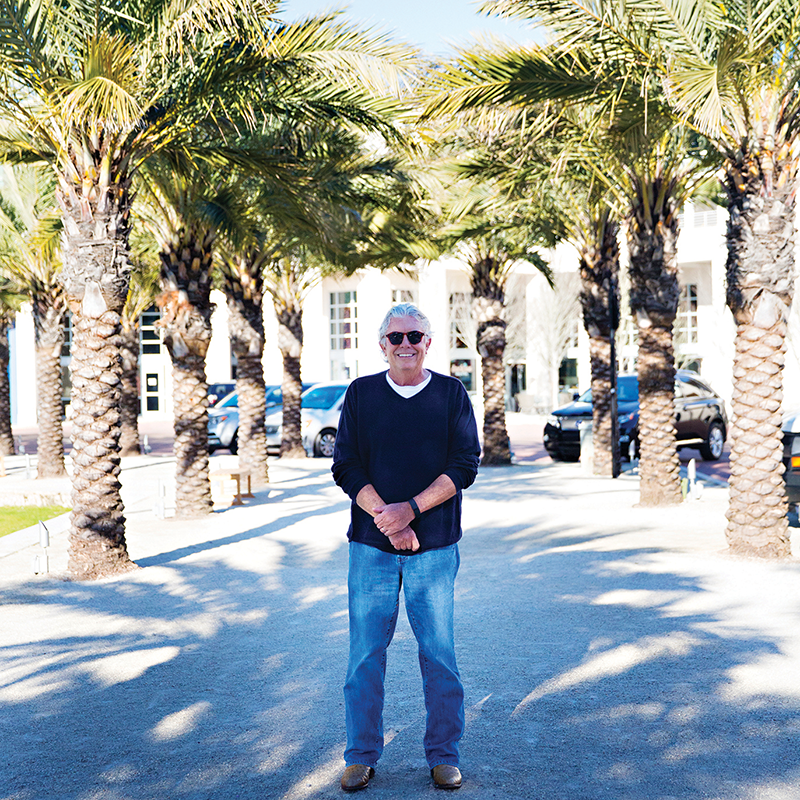 Dr. Allen French
Dr. Allen French was stationed in San Diego with the Navy when he first discovered the seed of a passion that he would later bring to the Emerald Coast as Trees Destin.
"I would use my lunch hour to jog two to four miles on paths through Balboa Park and then shower at the clinic at the Naval hospital," French recalls. "The park was loaded with hardwoods and palm trees, and I realized I would like to do anything I could to duplicate the beauty of Balboa Park."
French founded Trees Destin in January 2015. (The name borrows from Trees Atlanta; French previously lived there.) The new nonprofit organization has already produced some impressive projects consistent with its mission: "Enhancing the beauty of Destin, one tree at a time."
For the record, in its debut year, Trees Destin planted 23 trees. Seventeen of those were palms in the median on Main Street — one large Sylvester date palm and 16 Sabal palms. Five were Mary Nell hollies at the entrance of the Mattie Kelly Cultural Arts Village. One was an elm at Destin Middle School.
As an advocate and former environmentalist of the former Greening of Destin that beautified Destin's Downtown Harbor District highway median, Mattie Kelly Arts Foundation CEO Marcia Hull was especially appreciative when French approached the foundation on its greenspace project.
"We were delighted and honored to be chosen as the first recipient of Trees Destin," Hull says.
"I've been really impressed with Mr. French," says Greg Kisela, Destin's city manager. "What he told us he's going to do, he's done. He's far exceeded the city of Destin's expectations with the projects he's worked on for us. What he's done on Main Street has really enhanced that corridor. It looks like he's the real deal."
Costs of planting trees vary depending on the species used, plus the services of a contractor and irrigation. The Sylvester date palm on main street cost $3,000, and the Sable palms in the median were tagged at $200 apiece.
Courtesy of Destin Middle School
Principal Charlie Marello, Dr. French and sixth-grade teacher Britny Ellsworth
"I think we're looking at continuing our partnership with a lot of opportunities," Kisela says. "You can never have enough parks, and you can clearly never have enough trees. I think Allen is committed to working with us to achieve that."
At Destin Middle School, Principal Charles Mariello was impressed with the planting event, which involved teacher Britny Ellsworth and 22 students in her sixth-grade Advanced Science class.
"They did a really nice educational piece with it," Mariello says, smiling at the memory. "It was really cool because they let the kids participate, filling the dirt back in. They were really into it. They all wanted a piece of the shovel." 
Ellsworth says she believes the value of the lesson involved will keep on maturing.
"Sure, they can read about it in a textbook all day long, and they can do a worksheet, but when they can see with their own eyes why the hole has to be 8 inches bigger, or why pine straw needs to go on top, this brings it to life," she says. "And once it's all said and done, months later they see how the tree is changing with the seasons, how it's reproducing, and that's when it brings the science to life."
This year, Trees Destin has plans for more visible and exciting projects. French has been contacting local businesses for a median project on Airport Road.
But the big one would involve the Holiday Isle Improvement District and Gulf Shore Drive, with a timetable of 24 to 36 months. At this writing, the district is planting the first 14 Sylvester date palms with uplighting.
"It would have a significant impact on the entrance and main road of Holiday Isle," says Karen Shelton of the improvement district. "The canopy effect with the palm trees will not only have an aesthetic value but will also provide shade for the many daily walkers, add a calming effect to slow traffic and add a sense of pride for the community."