Transform Your Home into the Future with Hue Lighting
Colored bulbs create ambience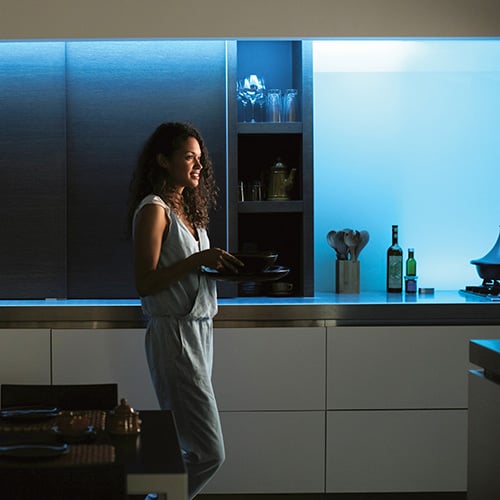 Feeling blue? Stressed? Tired? Imagine banishing a gray day by turning on a lovely sunrise, a romantic glow for dinner or a music-synced show for a party. If that sounds appealing, then you might be interested in a new web-enabled light technology, called "Hue" lighting.
First introduced by Phillips, the Hue lighting system uses 600-lumen (50-watt equivalent), color-changing LED light bulbs that can replace any standard light bulbs. The starter kit, which is around $200, includes three of these color-enabled "smart bulbs" as well as a hub that connects to your Wi-Fi router. Ron Bower, general manager of Gulf Coast Electric, Destin, says installation is a piece of cake: If you can screw in a light bulb and navigate a smartphone or iPad, you can do Hue.
Here's the way it works: After installing the Hue lighting system, you can set color preferences for your light via an app on your smartphone or tablet. This allows you to create special moods for certain times of the day. You can wake up to a sunrise glow or wind down after work with a lounge-y blue. There is a wide range of brightness options, from "Energize" to "Nightlight," as well as a spectrum of 16 million shades, so you can program different colors to kick in daily for such activities as homework, dinner and bedtime. You can also choose from preset lighting "scenes" with names like Savanna Sunset, Tropical Twilight and Arctic Aurora. Because Hue is compatible with Amazon Echo and Apple Home Kit, you can even use voice commands to control the lights.
Convinced that Hue is the way to go? Many manufacturers are now producing Hue-type lighting, so Bower recommends that you Google "mood lighting" to compare products and costs before you make your purchase.
---
Color Your Mood
Color deeply affects our moods, says the American Lighting Association; so program your lighting thoughtfully.
Yellow is sunny, and, therefore, perfect for starting the day. It could be just right for the breakfast area.
Red is festive and warm, and since it's supposed to stimulate the creative side of the brain, consider it for the home office or studio. Its lighter versions, rose and coral, are romantic, easy on the eyes and perfect for bedrooms.
Green is restful — a nice color to come home to — and blue, which is serene and quiet, will soothe commute-weary souls. Brown, too, is earthy and comforting.
Orange can sizzle and be too stimulating for most living areas, but peach, which increases the appetite, might be tempting for the dining room.
Beige and taupe, along with the many shades of white and gray, suggest wide-open spaces, wind and clouds; they can enhance rooms with their pristine simplicity.
It all sounds so exciting, but Terry McGowan, director of engineering for the American Lighting Association, warns that even though people are used to seeing colored light in public places, it can seem unnatural at home.
"We don't all react the same to color intensity," he explains. "In the face of saturated colors, some of us may find that familiar things look distorted and even disturbing."