Trail Running Hits Its Stride in South Walton
In case you go a little off the beaten path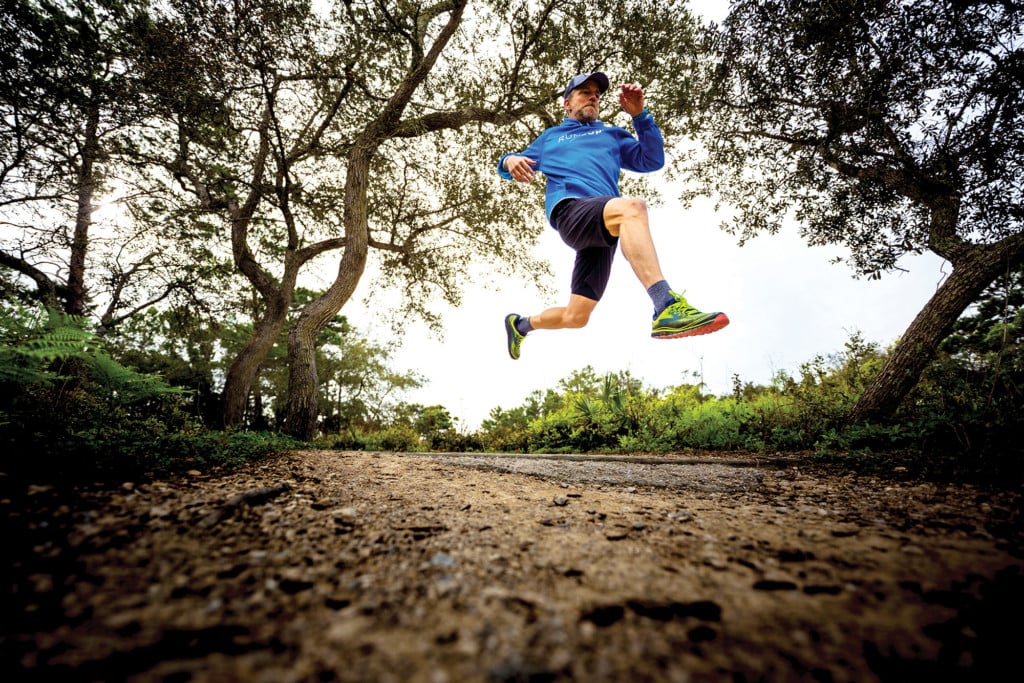 Tom Losee recalls a time when, at the mere mention of "trail running," his community of fellow runners leaped to thoughts of precipitous terrain and alpine climbs that show even the most athletic types no mercy.
But today, trail running has expanded to encompass essentially any trek that doesn't occur across pedestrianized pavement.
If your morning workout includes a detour through your neighborhood park, or a jog along the beach, then you are an active participant of one of the world's most in-vogue fitness movements.
According to Losee, The Running Event (TRE) Trade Show — a showcase of America's premier running apparel and equipment — established trail running as its own category just last year.
As hiking isn't exactly groundbreaking, why did it take so long for us to add running to the mix?
"Running and nature are like chocolate and peanut butter, a solid combination, yet no one thought to combine them until Reese's," Losee said.
"But now that our world is getting smaller through social media, people are seeing these influencers on Instagram running these amazing places around the world. They've realized it's a quick ticket to a better workout and a great way to escape to nature."
Losee, a New York City native, is something of a trail-running hipster, having, in his youth, traded his treadmill for the lush, looping trails of Central Park.
You know, since before "trailing" became something other than falling behind.
Now he prefers the solace and solitude afforded to him by the winding, wooded trails of his new home in Santa Rosa Beach.
"There are certain trails around here that transport you to a place you feel is undiscovered and as if you must be a hundred miles inland," says Losee.
"The white, sandy ground reminds you you're still near the beach, but you're surrounded by canopies of pines and all variations of wildlife. It makes for a nice change of pace that anyone can enjoy."
Gearing Up
Located in Seagrove Beach RUN/SUP, owned by Losee and wife Darla, is an athletic supply store and fitness experience that marries the Losees' love for trail running and YOLO Boards, a brand of stand-up paddleboards that Tom co-founded.
It's both haven and hub for the runners and SUPers of Highway 30A. The Losees are always prepared with cutting-edge equipment, and invaluable insight into the local topography.
Losee stresses to all customers that before you begin planning where you want to go, make sure you are both mentally and physically prepared for your journey.
While Walton County boasts some of the highest elevations in the state of Florida, you're often working with relatively flat, sedimentary terrain.
As a result, Losee said, local runners will opt for their go-to pair of running shoes, instead of the waterproofed, traction-enhanced sneakers a trickier terrain would demand.
Altra, Brooks, Mizuno and ON Cloud brand running shoes are popular sellers at RUN/SUP, but the traveling trail runner may benefit from a pair of Salomon Sense Rides or Speedcross 5's.
"Stick to a mid-ankle or crew trail sock, because we have plenty of sticker burrs and brush out there that'll get ya," advises Losee.
As will the insects. OFF Deep Woods or Cactus Juice insect repellents keep even the most dogged and determined mosquitoes, ticks, chiggers and yellow flies at bay.
And, while you're at it, don't neglect a coat of sunscreen that's SPF 30 or higher.
Light, moisture-wicking shirts and shorts in brands such as lululemon and Salomon work to absorb sweat and cool the body.
And because you'll be sweating up a storm, hydration is key.
"You need to drink around 18 ounces of water an hour," Losee advised. "Nuun or Hammer Nutrition tabs replace the electrolytes you use while running in the humidity."
He recommends Skratch Labs Sport Energy Chews or Hammer Nutrition raw energy bars to replenish calories.
All of this can be contained in a SPIbelt for runners, or a Nathan Hydration Vest, which holds up to a liter of water in the back, and offers spacious compartments for your fuel and phone up front.
You're better off safe than sorry. First-time trailblazers should embark with either a knowledgeable tour guide or a companion to learn the ropes, but if you're going to go it alone, always let someone know where you're going.
Pack a physical map. Apps such as "All Trails" are convenient, but not entirely reliable.
"Garmin watches are also very good in that most models not only have GPS and heart rate capabilities, but mapping modules as well," says Losee.
"There are also some bread crumb features on a Garmin that will back track your steps in case you get lost on the trail."
Finally, consult your local running store. They'll be able to recommend the best times to hit the trail based on how far you wish to run and disclose which areas may be cordoned off or impacted by obstacles, such as standing water.
Runner's High
From the marked nature paths of Grayton Beach State Park to the unmarked fire trails of Point Washington, there's no shortage of environments to explore.
Losee aims to spread the word and, through interval-style RUN/SUP classes, build upon 30A's niche running community by providing "fitness experiences," which occur several times a week at the BoatHouse in WaterColor.
From there, Losee leads a moderate paddle across Western Lake to the trailhead of his choosing, where the workout will wrap up with a 2- or 3-mile run.
He and Darla also spearhead a weekly, Wednesday-morning run club, whose members range from the novice trotter to the marathoner.
"Another reason people are getting more into trail running is because they're coming to realize how much better it is for you than just consistently pounding the pavement," says Losee.
"Each step is different, so you're utilizing different muscles and taking a much shorter stride."
Building one's stamina and sense of topography is especially crucial to those fit enough to undergo Losee's training program for the newest trend in "Ultra" races, which are 50-100 K in length, and a contributor to trail running's rise in popularity.
"Spartan races with longer distances require a slower pace, and I think that's what people like about trail running in general. It doesn't have to be high intensity. It's okay to slow down or maybe stop to take a picture."
For Darla Losee, trail running is a "spiritual experience."
"So much of our life is multi-tasking, but trail running requires you be present," she explained.
"You can't be distracted, or you're going to trip over a root. Our minds aren't used to focusing on the here and now, so while you're getting a workout, you're also experiencing catharsis."
Consult the Experts:
Run With It
170 Miracle Strip Parkway SE
Fort Walton Beach
RunWithitfl.com
Love to Run
12805 U.S. Highway 98 E, Ste.R103
Inlet Beach
ThirtyAvenue.com/love-2-run
Running Wild
3012 E. Cervantes St.
Pensacola
WeRunWild.com
RUN/SUP
20 Gardenia St., Cottage 2
Santa Rosa Beach
RunSup.com