Tour Brings Fort Walton Beach's Spooky Past to Life
Ghostly Encounters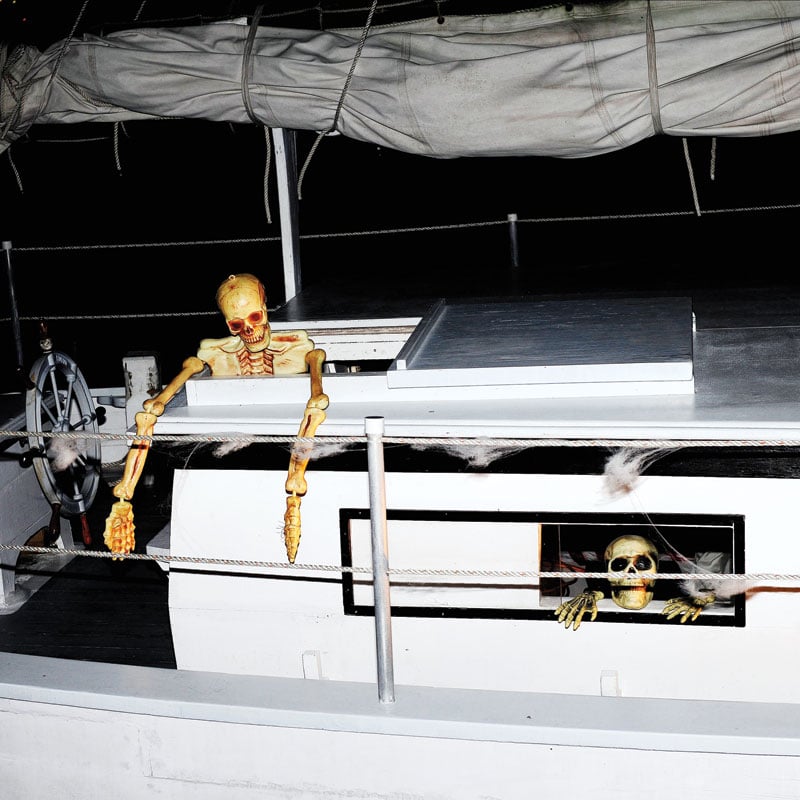 If you're craving fun spine-tingling encounters with ghosts and other haunted happenings, mingle with the macabre this Halloween on a guided twilight tour of Fort Walton Beach's ghostly past.
In its sixth year, the Fort Walton Beach Heritage Park and Cultural Center is inviting families to venture downtown this Halloween for an up close and personal encounter with a headless woman, a haunted restaurant and a blood thirsty pirate, just to name a few. A mix of history and folklore guide the walking Haunted History Tours featuring 10 to 13 landmark stops, said Jennifer Lamott, the museum's former program coordinator.
"It's a great way to experience the main history of the city and have a little fun," she said.
The tours began in 2008 as a fundraiser for the center and a way to give locals an educational look at the city's heritage and ghostly past. Volunteers dress in period clothing and role play in skits that bring to life characters like the Ghost of the French House, which is now the Magnolia Grill. For decades, the ghost of an old lady who used to live there has haunted the building with many eyewitness accounts of her paranormal activity, most notably washing the dishes during a dinner party. According to reports, an artist resident named Sandran experienced the ghost taking over her paint brush for 40 minutes, covering her canvas with pictures of bunnies.
While on the tour, participants will meet French sea captain, adventurer and privateer Pierre Le Moyne d'Iberville whose ships sailed the Gulf Coast waters during his expeditions to colonize along the Mississippi River. He stopped in the area in the 1690s to trade and resupply. In the process, he established some of the first settlements.
Hear of pirates pillaging and plundering in search for hidden treasure, and learn about the legend and exploits of Billy Bowlegs, the inspiration for the annual Billy Bowlegs Pirate Festival at The Landing Park in Fort Walton Beach.
Meet another scallywag named Hunter Thompson, a former U. S. Air Force Airman First Class at Eglin known for his rebel attitude. Thompson's shenanigans include sinking ships in the harbor, diving nude on a crowded beach and finding mischief at the Indian Mound Saloon. His insubordination cost him his military career but gave him freedom to pursue his passion for writing. He became a journalist at the local paper and went on to gain notoriety as author of "Fear and Loathing in Las Vegas" and "The Rum Diaries."
The 90-minute tour includes new skits every year and ends at the Camp Walton Schoolhouse Museum, built in 1912 and restored in 1976, where participants can enjoy refreshments with former teacher Minnie Tippins.
Lamott said that while the content of the tour is appropriate for children, it is geared toward adults. Participants are encouraged to wear comfortable shoes and costumes are encouraged but not required.
Tickets are $10 for adults and $7 for children and are available for cash only purchase in advance at the Indian Temple Mound Museum or on the night of the tour at 6 p.m.
Tour times are
6:30 p.m.,
7:15 p.m., 8 p.m.
and 8:45 p.m. on Oct. 25–26, beginning at the Heritage Park and Cultural Center at 139 Miracle Strip Pkwy. SE. For more information, call (850) 833-9595 or email hpcc@fwb.org.