Toast of the Coast
More than just bread and butter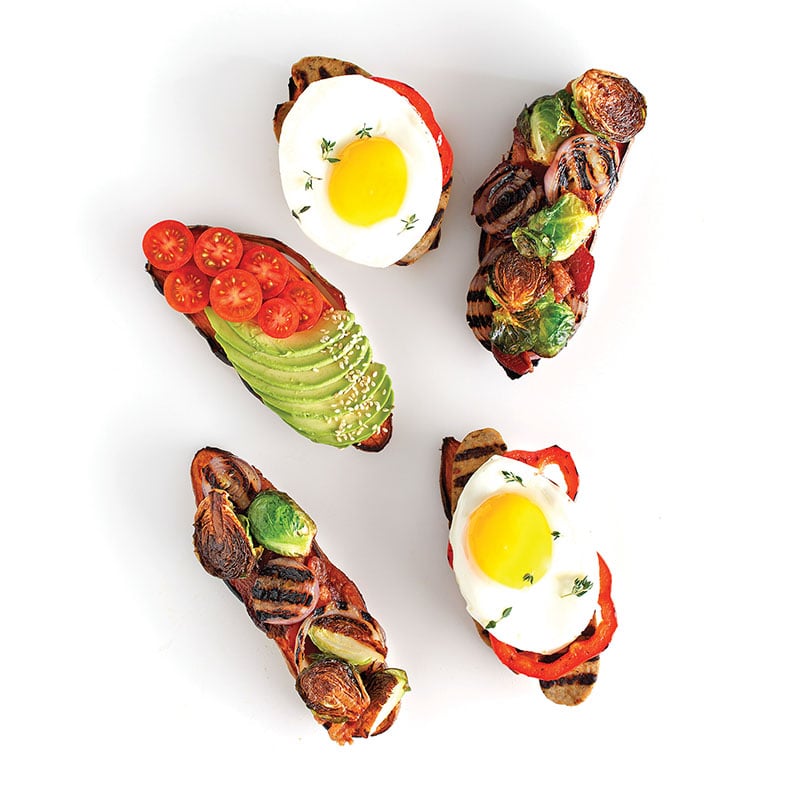 Do you smell something burning? Yes! It's toast — a food trend so hot you may just scorch your buttery fingers picking up on it. The carb police had just better slow their roll (pun totally intended), because any way you slice it … bread is back, baby.
The word "toast," which means, "sliced bread singed by heat," comes from the Latin word, "torrere" — "to burn." Call it what you will — bruschetta, crostini, tostada or just plain "toast" — it's roasty, toasty, finger-food goodness.
Restaurants, café, delis and bakeries across the nation have embraced toast as a comfort food. Chalkboard menus feature artisan breads paired with flavored dairy butters and creative toppings that range from all kinds of nut butters to sweet fruit spreads and savory veggie "shmears."
Here on the Emerald Coast, new toast-topping combinations are being created every day, and each is worth a taste.
Avocado appears to be one of the most popular toast toppers; but there are variations on this veggie-lover's fare. The Local Market in Destin serves up their rendition on wheat toast with garlic, cilantro, salt and pepper and a side of pico de gallo ($5). Bud & Alley's Pizza Bar + Tratorria in Seaside tops country sourdough with avocado and layers of shaved radish, fresh herbs and a hint of chili ($9). If you're craving a salty fix that will transport you to the Mediterranean, but you aren't a fan of avocado, try Bud & Alley's sourdough toast with sardines, lemon, herbs, Calabrian chili and oregano-butter ($11).
If you are craving old world European, the house-made bruschetta at Clemenza's Uptown in Fort Walton Beach will transport you straight to Italy with one bite. The Caprese features fresh Roma tomatoes and mozzarella cheese finished with fresh basil, extra virgin olive oil and a drizzling of aged balsamic vinegar. They also serve up bruschetta topped with roasted peppers and Gorgonzola, and a version with grilled Eggplant Caponata ($8).
The yearning for the taste of toast goes beyond the munching of hot bread. The Republic of Tea has introduced Cinnamon Toast Tea to its list, bringing the flavor and aroma of the popular kids' breakfast cereal to your morning cup of caffeine. Speaking of breakfast cereals, General Mills has buttered up to the toast trend by launching Tiny Toast cereal, its first new brand since 2001. Tiny Toast comes in strawberry and blueberry flavors.
B.T. McElrath Chocolatier, based in Minneapolis, proved it was sweet on the toast trend when it launched its Buttered Toast Bites chocolate bars ($6). You may find it jarring that even cookies are being baked to look like toast; but Almondina has this trend in the bag with its toast-shaped cookies, called, quite simply, Toasties. These sweet treats come in multiple flavor combinations, such as cranberry-almond, coconut-orange-almond, lemon-poppy-almond and sesame-almond. A variety pack allows you to sample one of each ($3.49 for 5.25 oz. bag).
For those of you who want to snuggle up to the trend with zero-calorie consequences, you can do so with an adorable plush pillow in the shape of a slice of toast topped with a pat of butter (squishable.com, $19.50).
---
Sweet Potato 'Toast'
Here in the Southeast, we have long loved another trending food: sweet potatoes. These marvelous vegetables are gluten-free and are a terrific source of fiber and vitamins. While you can certainly substitute cooked, mashed sweet potatoes in some bread recipes, you don't have to use any other ingredients aside from sweet potatoes to make a simple sweet potato "toast."
Here's how you do it:
Scrub a sweet potato clean (you can leave the skin on!) and cut it lengthwise into 1/4-inch slices.
Pierce each slice with a fork to help steam escape during the cooking process and to improve the texture.
Par-cook in the microwave for 3 minutes, flipping halfway through.
Toast on the highest setting in your toaster until tender when pierced with a fork.
Top with whatever sweet or savory foods you love!