Tim's Story
Pensacola man finds his footing with Pathways for Change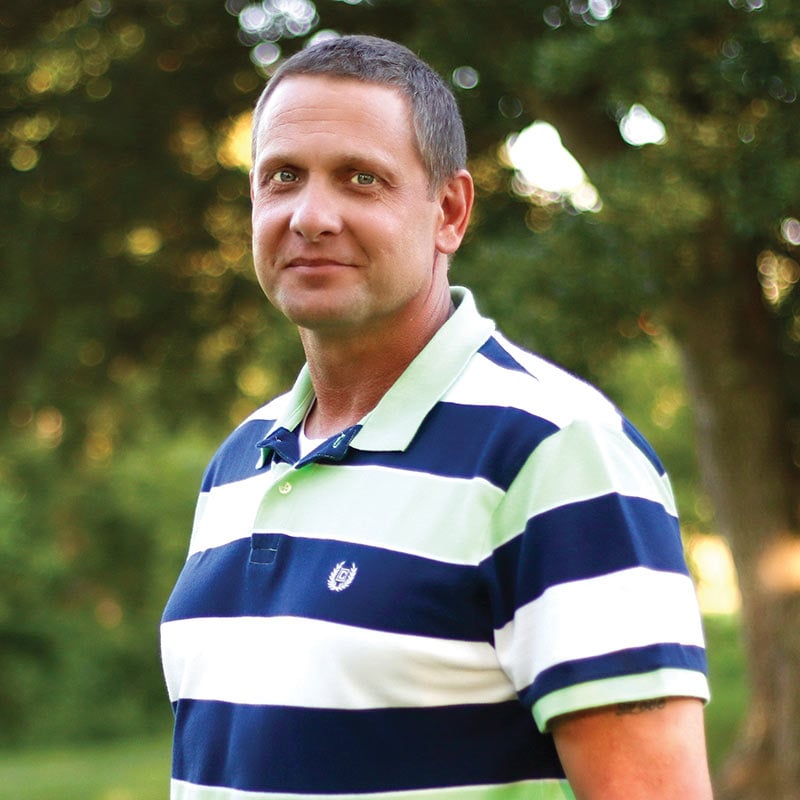 In 2006, the year the Destin Charity Wine Auction Foundation (DCWAF) was created, Chan Cox, DCWAF founder, lost his 30-year-old son, Clinton, to the devastating effects of addiction. To create a legacy for his son and to promote addiction awareness, Cox created the Clinton Cox Memorial Fund from the proceeds of the "paddle raise," a now-traditional part of the DCWAF's annual live auction. The memorial fund supports Pathways for Change, which is a faith-based organization that was initially funded by Baptist Hospital in Pensacola.
---
Since 2005, Pathways for Change has served hundreds of men who are undergoing intensive substance-abuse treatment. Their mission of "Changing Lives, Reducing Crime, Building Futures" is actively preventing heartbreaking losses. Since 2007, DCWAF has raised more than $1.2 million for Pathways. It operates a Residential Treatment Program at the Clinton Cox Residence, and it runs The Family Center in Pensacola — a site that served approximately 600 people and families during 6,885 visits in 2016.
Pathways for Change has put the money from the Clinton Cox Memorial Fund to good use, and many people have taken notice.
"The impact of dollars has brought statewide recognition not only because of the Residential Treatment Program, but because of its success rate, which is twice as successful at half the cost of any other program in the state," says Pathways for Change founder Connie Bookman, who has operated Pathways for Change for 13 years. Bookman, 58, says her program has a 67 percent success rate with 33 percent recidivism, whereas the state is the opposite: a 33 percent success and 67 percent recidivism. Needless to say, the program is being looked to for replication by four other counties.
Bookman says Pathways' success is due in large part to private funding from organizations such as DCWAF. "These donations bring eyes and ownership to the community," she says. Funds from DCWAF enabled Bookman to "adopt" six men into Pathways' Residential Treatment Program.
The intense 18-month, court-ordered, faith-based treatment program is administered in a secure facility and hinges on structure and discipline. There are six phases to the program: For the first six months, the men enrolled are on lock-down. By nine months in, they will have completed a 27-class curriculum. Then, they are given liberty to do supervised community service projects. During the final portion of the program, they begin to gain independence. They go to work or school, easing into reintegration under the supervision of the reentry director while also attending 12-step meetings and other rehabilitation activities. After treatment, the men live at home, but they can receive up to a year of re-entry treatment.
The program started in 2007 with one graduate; today it has graduated 220 men. Although the program boasts a 100-percent employment rate, it's not for everyone.
"This program is harder than prison," Bookman says. "We lose at least one man each quarter, I'd say."
Everyone is up at 5:30 a.m., and it is expected that each will follow the policies and procedures that are in place for every action. "They have to complete a pink slip to get a Tylenol," Bookman says.
They also are asked to write a monthly letter to the Chan Cox family and the DCWAF foundation to demonstrate accountability and to discuss the progress of their treatment.
Not surprisingly, the men who are referred to Pathways are individuals who have had a tough go of things. According to Bookman, they are typically fatherless, have a history of substance abuse and have little means. "The program looks at barriers to get these men out of poverty, so we can break that cycle," Bookman says.
The Good Fight
As a former firefighter, Tim Zoulek, 45, is one man who knows a little something about fighting. But right now, he is fighting for his life — fighting to break his cycle of downward spirals.
Zoulek, a strapping man with bright blue eyes, lost his footing along his life's path on Dec. 3, 1978. That day, a homicide detective came to his Kansas City home, because his father had shot and killed his mother and then himself. Zoulek was just seven years old.
He was sent to Chicago to live with his uncle, who abused him mentally and physically. When he was 12 or so, Zoulek found relief and a welcome sense of structure at a military academy in Illinois; but his uncle moved to Gulf Breeze and enrolled his nephew in a public middle school, which proved to be a bit of a "culture shock" to Zoulek. The abuse continued.
"My uncle would talk bad about my parents," Zoulek recalls. "He handcuffed me to furniture. He beat me and spit on me. Sometimes he didn't give me silverware and made me eat like a dog."
So Zoulek ran away, hitchhiking with truckers. He got as far as Montgomery, Alabama, returning to Gulf Breeze only when he ran out of money. He "couch surfed" with friends to avoid going to his uncle's house, but eventually, the police picked him up. Threatening to kill himself rather than return to his uncle's house landed Zoulek in and out of hospitals, group homes and the court system.
Eventually, he got an apartment and tried his luck as a junior fireman in Escambia County. He was good at it. He completed the first-ever fire academy at Pensacola Junior College, was hired by the City of Pensacola in 1994 and proudly served as a fireman until 2000. He worked up to Acting Battalion Chief and served as a SWAT team medic for five years. Life was pretty good, and Zoulek wasn't the only emergency responder who liked to relax with a beer after a shift. But in 2013, someone at a party offered him a hit on a crack pipe. It offered an escape … before becoming a near-deadly trap.
"It numbed my emotions, and I didn't have to worry about stress or work," Zoulek says.
The drug use continued, until he failed a random drug test and was suspended. That's when Zoulek's downward spiral began. Around the same time, a fellow firefighter, who was also a close friend, committed suicide. Zoulek relied on drugs to try to ease his depression. His lowest moment may have been when he was shot in a police standoff.
After surgeries and rehab, Zoulek experimented with more drugs, snorting bath salts, smoking crack and eventually shooting up. After still more trouble that arose from leaving the scene of an accident, he violated his probation and was ordered to Pathways for Change. That was Oct. 15, 2015. It wasn't the first program he had tried, but it was the first he stuck with.
"I'm looking forward, not back," Zoulek says. "Your past doesn't define who you are. The future can trigger fear, so its enough to live for today. Just for today."
It's been just over a year, now, and Zoulek credits the strict, step-based educational program and group sessions with helping him to heal his "deep-seeded wounds."
He finds motivation in something he didn't have growing up: being a father. "I made a vow to myself and my son to do this," he says. "I want to show him that no matter what we do in life, we can come back. We can learn from others and learn from our mistakes, and we can make the right choices."
But Zoulek's son, Austin, isn't the only person Zoulek hopes to help. He succeeded in landing an on-site job at the Residential Treatment Program as the Pathways office coordinator, so he is one of the first people new enrollees meet when they walk through the door.
"I help them fill out paperwork and talk to them," Zoulek says. "I can relate to them and they to me."
Soon, he may help even more. His goal is to complete a degree in social work so he can begin to pay his blessings forward. "I want to give back and help others," he says. "I want to give hope. I know the despair. Maybe, if I touch one person, I will have done what I have been called to do."
---
Author's Update: During the holidays in Dec. 2016, with just four months remaining to his treatment, Tim Zoulek left the Residential Treatment Program at the Clinton Cox Residence. The court will now determine whether he can return to Pathways to try again. "We may love him more than he can love himself right now," says a tearful Bookman. "This is the reality we deal with. If he wants to come back, we're here for him. We are here to help him get his footing when he's ready."