This Unexpected Cocktail is a Perfect Drink to Impress Guests
They won't believe you when you bring out the basil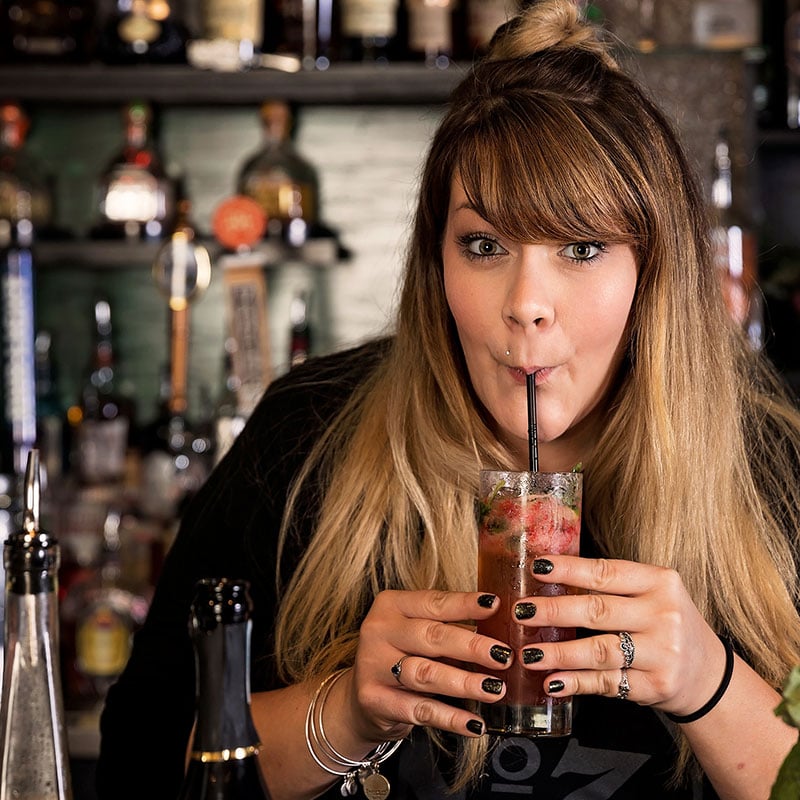 Bartenders are unique characters, and they love to show it by serving up their own specialty cocktails.
So it is with bartender Christina Vona, born and raised in the Village of Addison in western New York, population 2,500.
After moving to the Emerald Coast several years ago, Vona quickly signed on with Giovanni's ONE89.
Nestled between Brooks Street and Santa Rosa Sound in Fort Walton Beach, the 1925 building was a residence and then became the town's first doctor's office, housing the practice of Dr. Henry C. White.
Much later it became Caffe Italia ONE89 — being located at 189 Brooks Street — and was renamed Giovanni's ONE89 in 2016 by new owners John and Janie LeBlanc.
"Christina is one of our best bartenders," said the LeBlancs' daughter and Giovanni's General Manager Jamie Beth LeBlanc. "She's just so personable and helpful with the guests. She's very informative with them."
Giovanni's features almost five dozen cocktails on its specialty menu, but it didn't take long for Vona to find one that would become her favorite: basilico. The cocktail was created by Julia LeBlanc, Jamie's younger sister and the restaurant's bar manager.
"I like the combination of basil and strawberry to begin with," Vona said. "It's just so refreshing, and when you add the fresh-squeezed lime that's perfect. During the summer I make at least 10 to 15 a week."
And muddling doesn't slow her down. Vona estimated a basilico would take 2 to 3 minutes to prepare, and she proved it when Emerald Coast Magazine stopped by for a drink.
"Well, after you make a certain amount it just gets easier and easier as time goes on," Vona said with the hint of a smile. "I was surprised myself, because I had never tasted muddled basil and strawberry."
Vona's basilico proved to be everything that the bartending pro advertised, with all the elements in perfect balance. But those who have yet to taste basilico can sometimes be wary.
"Just the look on their face when I tell what's in it," Vona said. "I tell them basil and strawberry and some people, they're just dumbfounded that I'm going to put basil in a cocktail."
Tasting is believing.
"It's just super refreshing," Vona said, "so I enjoy that wide-eyed look on their face — they're so surprised.  Honestly, I've never had anybody that didn't like it, and I've made more than 100 in two years."
Last year, Vona was invited to mix cocktails at the famous motorcycle rally in Sturgis, South Dakota. "I enjoy the stories, I enjoy the different personalities, and I enjoy making people happy," she said.
Basilico recipe
➸ Start with a 12-ounce "tall glass"
➸ Using simple syrup, muddle fresh basil and strawberries
➸ Add 2 ounces of Bacardi Silver Rum
➸ Add an ounce of "Strawberrycello" liqueur (made in-house)
➸ Shake and add a splash of soda water
➸ Top with half-ounce of Prosecco and garnish with a lime wedge