This Trailblazer Has a Passion for Helping Others
Lead With Passion, Heal With Heart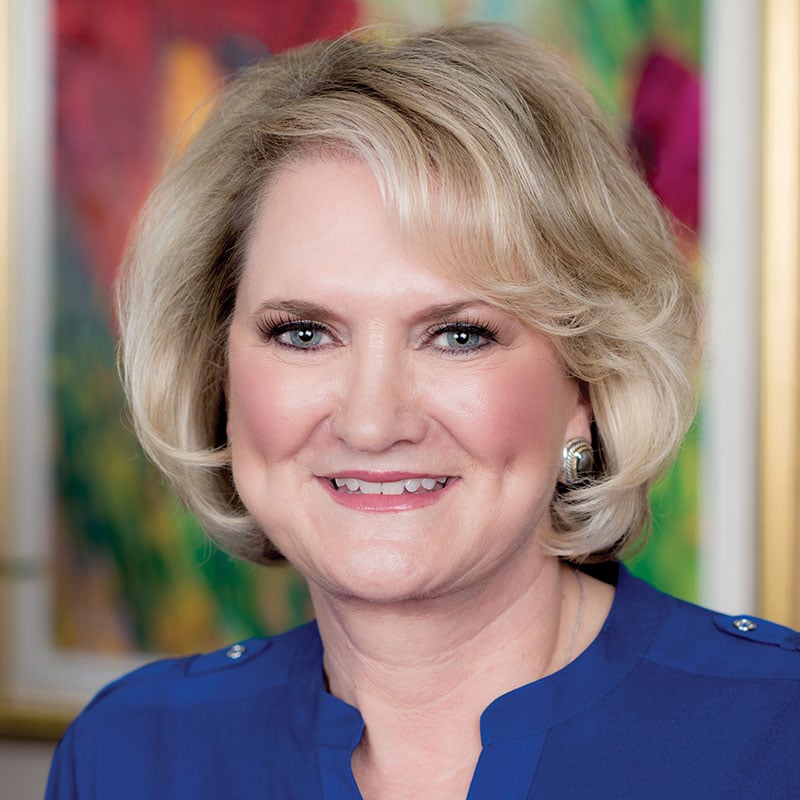 When Carol Carlan is having a tough day, she leaves her office and takes a short walk across Pensacola's Sacred Heart campus to a special place: the Children's Hospital.
Carol Carlan
There she walks the halls, greets nurses, looks in on the tiny to toddling patients, talks to anxious parents, consults with staff on their needs. Gradually, once again, the world is put back into perspective.
Because she is passionate about helping others, Carlan knew it would be a natural fit for her when she was offered the job as president of the Sacred Heart Foundation, which raises funds for Sacred Heart's health-system entities from Pensacola to Port St. Joe.
But that isn't what she has spent most of her life doing. Before joining the foundation in 2012, she spent 36 years in the banking industry in Pensacola, starting with Citizens & Peoples National Bank and ending with Wachovia/Wells Fargo as the first female president of a large regional bank.
Her interest in banking was sparked early in life. Carlan, now 61, lived in a series of foster homes and had little money of her own but was fascinated by it and loved working with numbers.
"I loved to read how the bank worked. I loved the professional environment," she says. "I thought I would dress up, talk to people and sit at a desk. But my first job was going out talking to people, and I found out I was a good salesman."
A founding member of the Escambia/Santa Rosa PACE Center for Girls, she is no stranger to nonprofit work, having served on 35 boards over the years. She is currently chair of the board of directors for the Greater Pensacola Chamber of Commerce and sits on the board of trustees for Pensacola State College and the board of directors for the Institute for Human and Machine Cognition, among others.
Grateful for her current post, she says the Sacred Heart Foundation has given her "the opportunity to use my business acumen to raise money for the children's hospital, the elderly, and I'm having a great time doing it."
Her mission is to always seek out the positive, "even if it seems to be a horrific situation."
The best advice she ever got came from her dad, with whom she eventually was reunited. "'Love everyone for who they are, and be your own unique person.' I practice that. I don't judge others. I try to find something good in everyone."
The Early Years
Carlan was born in Cairo, Georgia, to parents who married relatively late in life. They had five children in seven years and in 1958, when she was only 3, her mother left the family for another man. Her father, needing help in raising five children, turned to foster care services for help.
Although one of the toughest challenges she faced growing up was explaining to friends why she was living in foster homes and not with her parents, Carlan said she learned much from the experience and it helped shape the person she has become.
"I ended up living in six homes until I graduated from high school. They were all good people — the salt of the earth," she remembers. "I never regret having those experiences. That made me open to the world. I value others because of those experiences."
One family actually took in Carlan and her four siblings, whom they raised alongside their own children. That's when she said she learned out of necessity how to do a lot of things, including how to sew.
While bouncing around foster homes early in her life, she never felt sad about moving from one to another, instead looking to find good in each opportunity.
"I'm a faith-based individual," Carlan says. "When we're given the opportunity to grow, sometimes it's hard to find the reason why, but it leads us on to the next thing."
She went to what is now Pensacola State College on a clarinet scholarship and after earning her Associate of Arts degree entered the Florida School of Banking, a three-year program at the University of Florida. When she graduated and started to work in banking, she loved it. She started out as a collector on delinquent accounts and found "if you treat them well, they'll pay you before anyone else." She remembers dealing with customers who couldn't afford a $10 bill. In one case, she referred a man to a job opening she knew about. He got the job — and paid his bill.
"I went through six mergers," she recalls of her banking career. "I learned I could grow and not have to leave the region. I learned how to be a good change agent, be resilient."
Sacred Heart Comes Calling
Carlan left banking in 2007 after her husband, a civil engineer with a large regional firm, retired. She started a consulting business in leadership development, working with companies on behavior assessment, team building and training. She was admittedly "having a ball" when Sacred Heart reached out to her about taking over the foundation.
"I looked at it and felt it was a perfect fit. I had been on the board, so I had a real passion for what they were doing," she recalls.
And the need is great. Last year, Sacred Heart spent $40 million on the care of uninsured patients because no one is turned away. At least 70 percent of the children admitted to the Children's Hospital are on Medicaid.
The foundation's job is to be a connector to the community, to begin the conversation of philanthropy. The major focus right now is on raising money for two big projects: building a five-story expansion of the children's hospital, which is estimated to cost $95 million, and a $40 million expansion of services, including more operating rooms, at Sacred Heart on the Emerald Coast in Miramar Beach.
Walking through the existing Children's Hospital in Pensacola — the only one of its kind in Northwest Florida — the need to expand is obvious. Families crowd into the various care levels of the Neonatal Intensive Care Unit (NICU), watching over their premature or ill babies, some for months. The hospital wants to give parents more space and privacy to be with their children and at the same time address the growing numbers of children seeking medical services at the hospital.
Each year, more than 5,000 critically ill and injured newborns are cared for at Sacred Heart. The plan is to construct a new Children's Pavilion that will combine all aspects of outpatient care for children under one roof and then undertake extensive floor-by-floor modernization of the current Children's Hospital. The project will consolidate all pediatric services — including pediatric operating rooms — in a central location.
"Foundations are becoming more and more important," Carlan says of the existing needs and the importance of knowing how to reach out to those who can help. "We have millenials who want to make a difference, and philanthropy is going to become very important to them. And the baby boomers have trillions of dollars that are available to do good."
She began giving to charities in 1978, starting with "a little" and then over time increasing her participation. "There are so many individuals in need in our community," she reflects. "It really makes you feel good at the end of the day to know you did something."
Pace Center For Girls
You never know you can do it if you don't try: that's Carlan's motto.
And that's how the Pace Center for Girls Escambia/Santa Rosa got its start. She had an idea and ran with it. She was particularly motivated by her own childhood memories of being thankful for being in a safe place. And she didn't want to think of girls and young women in need going without the guidance, education and counseling essential to helping them succeed in life.
"It was a dream," she happily recalls. "I used my imagination, reasoned with the people around me and had a will to focus on the problem."
She was able to get a $250,000 loan to build a 4,000-square-foot facility on the Pensacola State College campus. Her husband donated the building plans and a contractor built it at cost on land the college leased to PACE for $1 a year. Since 1994, more than 2,000 girls have been served, and today the program occupies another facility more than three times the size.
Her efforts for the PACE center echo her work in other areas and reflect her attitude toward life.
"We can do some powerful things if we are unafraid," she says.
Asked what the best advice is that she could pass along to young women of today, Carlan said it's important to take time to discover what you are passionate about and think about what life will look like 10 to 20 years down the road.
"I tell every young woman that the choices we make today will determine what tomorrow will be like," she reflects. "It's very important to think about what really makes you happy."