This "Magic Mineral Broth" Keeps You Armed and Nutrient Rich
Healing herbs and spices are a delicious essential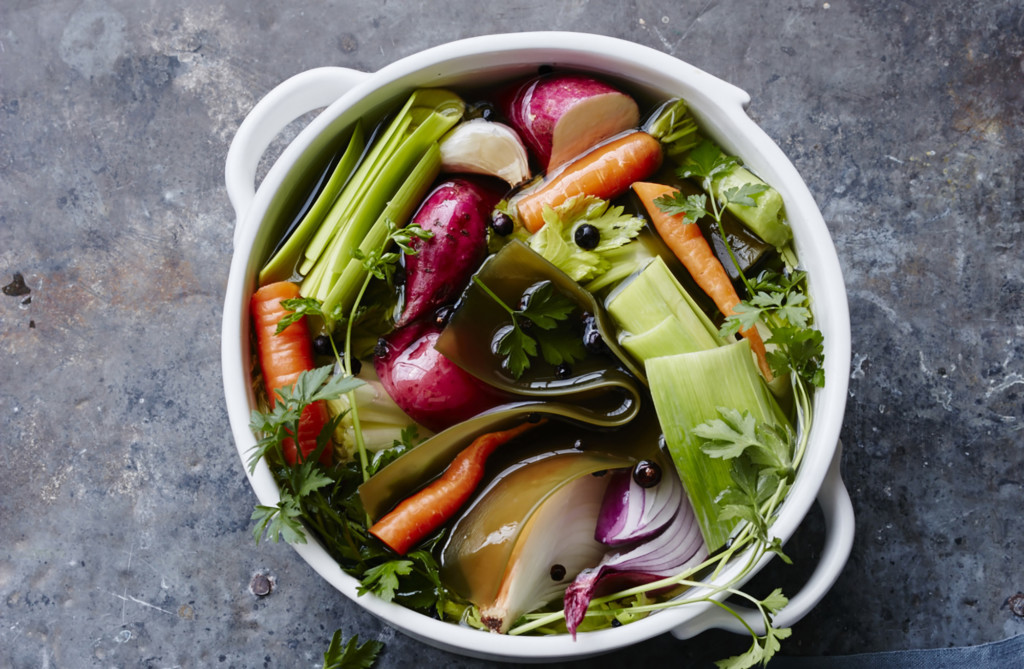 Chef Rebecca Katz, author of "The Cancer-Fighting Kitchen: Nourishing, Big Flavor Recipes for Cancer Treatment and Recovery," says that nothing increases the "yum factor of food" better than herbs and spices.
Everyone knows that herbs and spices kick up flavor in any dish, but you may not realize that some of them also have powerful healing properties.
Inflammation — the body's natural ability to fight an injury — is thought to play a role in many diseases. Studies show that turmeric, basil, rosemary, cloves, ginger and fennel help to regulate cellular inflammation. Other tasty spices work hard for your body, too. Cinnamon not only improves memory but also helps to stabilize blood sugar levels.
Cumin is good for stimulating an appetite, and the herb cilantro relieves nausea and anxiety.
To maximize the "healing powers" of dried herbs, take a tip from Katz and add them to your recipe at the beginning.
The heat combined with fat, like olive oil, helps to release the herb's oils that deliver not only flavor but also healing benefits. Fresh herbs, on the other hand, should be sprinkled in at the end of the recipe to yield the most health benefits.
Stock up on these 20 ingredients, and your spice rack will surely pack a healthy punch: allspice, anise, basil, cayenne, cilantro, chives, coriander, cinnamon, cloves, cumin, garlic, mint, nutmeg, oregano, parsley, saffron, sage, black pepper, sea salt and turmeric.
Katz says her recipe for Magic Mineral Broth is her "Rosetta Stone" of soup. It can be sipped like a tea or used as a powerful base for more hearty soups and stews.
Either way — being chock full of magnesium, potassium and sodium — it will provide a nutritional boost to any diet. Here's to spooning into a virtual restorative tonic that will help you feel tiptop. 
With permission from The Cancer-Fighting Kitchen 2nd Edition, copyright by Rebecca Katz with Mat Edelson, 2016. Published by Ten Speed Press, an imprint of Penguin Random House LLC. Photographs copyright © 2009, 2017 by Leo Gong
Magic Mineral Broth
Ingredients
6 unpeeled carrots, cut into thirds
2 unpeeled yellow onions, cut into chunks
1 leek, white and green parts, cut into thirds
1 bunch celery, including the heart, cut into thirds
4 unpeeled red potatoes, quartered
2 unpeeled Japanese or regular sweet potatoes, quartered
1 unpeeled garnet yam, quartered
5 unpeeled cloves garlic, halved
½ bunch fresh flat-leaf parsley
1 8-inch strip of kombu*
12 black peppercorns
4 whole allspice or juniper berries
2 bay leaves
8 quarts cold, filtered water
1 teaspoon sea salt
Directions
Rinse vegetables well and place in a 12-quart stockpot filled up to 2 inches below the rim, cover, and bring to a boil.
Remove the lid, decrease the heat to low, and simmer uncovered for at least 2 hours.
As the broth simmers, some of the water will evaporate; add more if the vegetables begin to peek out. Simmer until the full richness of the broth can be tasted.
Strain the broth through a large, coarse-mesh sieve (remember to use a heat-resistant container underneath), then add salt to taste.
Let cool to room temperature before refrigerating or freezing.
*Kombu is a long, dark brown to black seaweed that is dried and folded into sheets. It can be found in the Asian section of many grocery stores.
Notes: The longer the simmer time, the better tasting and more nutrient-dense the broth will be. You also can cut the recipe in half and make it in a slow cooker.