This Dog Happened for a Reason
Abandoned lab kick-starts an entrepreneurial dream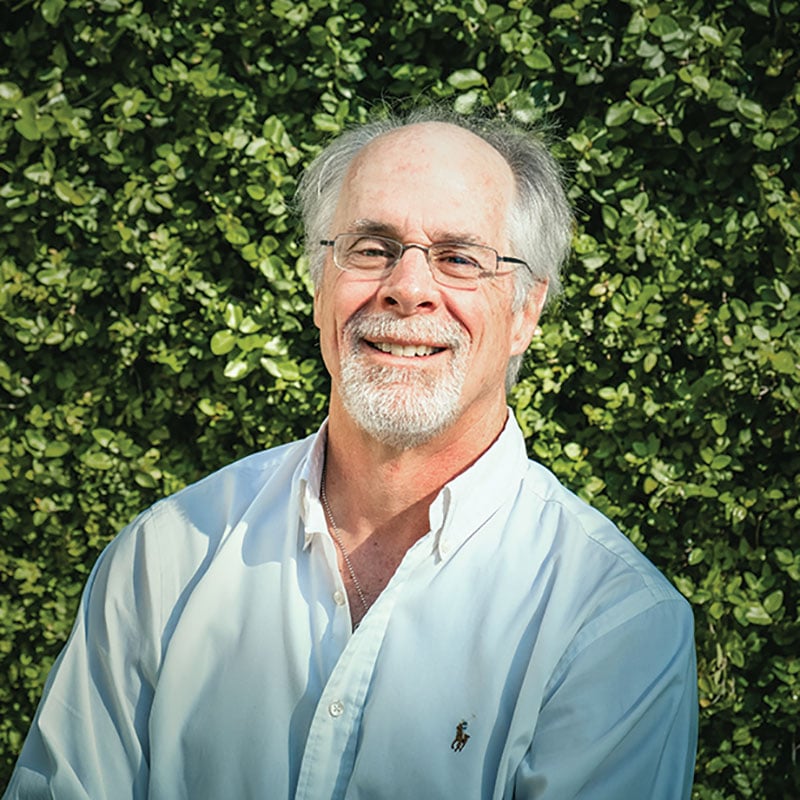 There is a reason that Matt Anderson looks like he may have eaten a couple of windshields.
But, these days, he says, he has taken his hands off the wheel. No longer does he approach life as if it were a contest and he is a perennial underdog. Oh, he's still driving, but he has learned to trust that good things will happen if you just permit them to. Sometimes, it's best not to force the action and to rely on faith, instead.
This transformational softening has been influenced by an abandoned black lab that presented itself one day three years ago at the gate to Anderson's property in Callaway, near Panama City, and hung around. Perhaps the animal somehow sensed that Anderson had owned labs before.
"After two or three days of me eyeing him and him eyeing me, he approached me while I was sitting outside on the phone and he sniffed me and I touched his nose and he backed off and then he came back to me and I petted the top of his head and he hopped in my lap and gave me a kiss and it was all over," Anderson said.
Some months prior to the dog's arrival, Anderson hunted on safari in Africa. (Few living rooms feature a whole-body mounted baboon along with a Cape buffalo head, but Anderson's does.) In so doing, Anderson traced the steps of his father, who had hunted in Africa with Baron Werner von Alvensleben, a German aristocrat who escaped imprisonment in Zimbabwe during World War II, hiked to Mozambique and later founded the renowned Safarilandia hunting company.
Because the dog had a regal look about him and given Anderson's connection to Africa, "Baron" came to mind as the name most fitting for his new pet.
Soon, this black dog began to lead Anderson from the shadowy side of life he had inhabited for many years as a private investigator into a new light of possibility.
Anderson had begun to think about taking to market a shrimp marinade that he created after first experiencing barbecue shrimp in the Big Easy some 25 years ago.
"I was working a case over there, and a sous chef let me in on some shrimp seasoning basics," Anderson recalls. "I played around and developed my own marinade and recipe. I served it to friends for years and everyone who had it raved about it, so I figured either I was doing something right or a lot of people were lying to me."
In the spring of 2015, Anderson decided to find out if he could compete with Old Bay, Cavender's, Emeril, Prudhomme and the like. He hooked up with a manufacturer in Texas, Pendery's, and determined that his product would be known as Baron's BBQ Shrimp Marinade and would feature a photo of his dog on the label.
He dove into shoe-leather marketing, going door to door. And he met with enough success — the Tarpon Dock Seafood Market and Howell Tackle, both in Panama City, were his first customers — that he decided to go after much bigger game.
In January, he landed Publix stores as a "Florida local project" and Baron's is now in 322 locations — from Pensacola to Jacksonville to Key West. He has landed the holy grail of wholesalers, a Walmart vendor number, and has his eye on Lucky's Markets and Bass Pro Shops.
"Ever since Baron came into my life, the blessings have kept on coming," Anderson said. "He showed up for a reason." He likes to refer to the dog as his seasoning company's CEO and has found him confidence-inspiring.
"I'm not afraid of the big boys," Anderson said. "I don't take anything away from them and I have to charge a little more because I don't enjoy the economies of scale that they do — I mean Emeril is a gazillionaire — but my product is worth it. Its richness and complexity (it is made up of 14 different spices) distinguishes it from the rest."
And there is this: Anderson donates a percentage of proceeds from the sale of his product to Lucky Puppy Rescue in Bonifay, Florida. The CEO wouldn't have it any other way.
Anderson, a one-time hard-ass if ever there was one, now serves to remind me that:
Well-calculated risks pay off.
Giving begets getting.
People can change.