They Came to stay
Snowbirds become sandpipers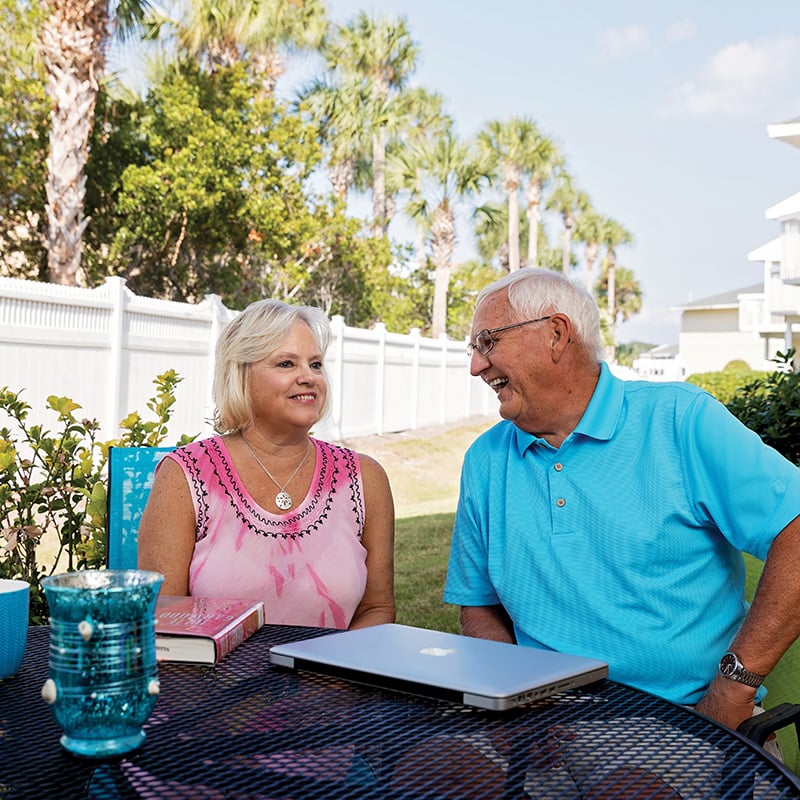 Wintertime on the Emerald Coast brings the annual migration of Snowbirds — visitors from the frozen north who come here for sun and fellowship. But, as it turns out, not all of them head back home. We recently visited with three couples who have come to plant their feet in our sugar-white sand on a permanent basis.
Weldon and Barb Brinkley
The Brinkleys' road to living in Destin's Sandpiper Cove started in Spencer, Iowa, and ran through Milwaukee, Wisconsin, and Cleveland, Mississippi.
Weldon Brinkley's study to become a Lutheran minister took him and his family to Wisconsin; his "first call" meant relocating to Cleveland, Mississippi, located about 100 miles south of Memphis.
Taking daughters Jodi and Sara and son Marc to Disney World, in the early 1980s, meant discovering Destin.
"It was not like it is now, but we were quite intrigued," Weldon said.
"I fell in love with it the first time," Barb said.
"Barb started coming for visits with friends, then after that, we started coming with our family for a week," Weldon recalled.
Sometime around 2007, "the dream" took hold, so the Brinkleys rented in Chateau La Mer for the month of November.
"Just to see, long term, if we would like it," Weldon said. "Then, four years ago this October, we bought here and moved here. We wanted to be on Scenic 98, but we couldn't find anything we wanted until Barb found Sandpiper Cove."
What she found had two bedrooms, two baths and 1,132 square feet of space with "a nice patio."
When the Brinkleys first walked in, they had a special feeling.
"We got to about where we're sitting right now and said, 'This is the place,'" Weldon said. "We liked the looks of it, but we had no idea of all the benefits that were here. We found that out later."
Those benefits are the nine-hole, par-three golf course laid out between the condos. "So you have to be careful," Weldon said with a laugh.
Sandpiper Cove also features five swimming pools, three hot tubs, six tennis courts and one pickle ball facility.
"And we're by the beach; that's what I wanted," Barb said. "And there's a lot of nice restaurants here. Plus, we're centrally located, and that means a lot.
"In the summer, when the traffic's so heavy, we have Winn-Dixie, we have Target and we're not far from HarborWalk Village. Plus, a water taxi comes here and we can take it to HarborWalk, so we don't have to drive in that traffic. And when the traffic is bad, all we have to do is go across the street to get what we need."
But the Brinkleys agree that the prime benefit of living in Sandpiper Cove is the natural surroundings.
"That's what started it," Weldon said. "It's an awesome sight coming over that (Marler) bridge and seeing that water."
Moving to Destin in October meant getting involved with the Snowbirds, who proved very willing to share their local knowledge as well as play darts.
"We became real involved with Snowbirds, and it was through them that we got to know Destin, really," Weldon said. "We would've gotten to know Destin, but not nearly as fast as we did, and they welcomed us just as if we were Snowbirds."
Which made Barb smile. "Now we're what? Sandpipers," she mused.
Moving here was not complicated for the Brinkleys. They sold everything but their clothes, a desk and a daybed. Their condo was furnished when they bought it.
"Barb had been wanting to come this way forever," Weldon said, "and we had a big house with a big yard, and one day I came in hot from working, and I said, 'Let's sell and move to Florida,' and away we went.
And they've been having fun ever since.
"There's always something to do here," Barb said. "In other places we've lived, there was nothing to do."
Weldon said one of his favorite events is the Tuba Christmas concert presented at Baytowne Wharf. He also still practices ministry at Good Shepherd Lutheran in Shalimar.
Barb's mother, Norma Breidinger, lives in Westwood Retirement Resort in Fort Walton Beach. Barb's sister, Jo Albright, and her husband, Don, from Nebraska, spend the month of October here. And the Brinkleys' three children have a total of five children who look forward to their respective annual trips to the Emerald Coast to see their grandparents.
"They all come and visit," Weldon said.
"Everybody likes it here," Barb added.
Individually and together, the Brinkleys are not shy when asked about living here.
"We have people talk to us about coming here, and my advice to them is always, 'Come down here and spend a month or two in the wintertime when the rates are low, and get the feel of it.' Because September, October and November here are fantastic."
"We have about five couples that we know that own condos here but just come part time," Weldon said, "and we keep saying, 'You need to retire completely and come here full time.'"
Not long ago, someone asked the Brinkleys where they spent their vacations.
Weldon's reply was, "We're on vacation 365 days a year. Why go anywhere?"
Anne and Gary Olson
The Olsons live in Hammock Bay, near Freeport, and both of these Illinois natives celebrated their 67th birthday in January.
They met at Rockford-Guilford High School, where Anne played clarinet and Gary played French horn in the school orchestra. Gary was a dentist for nearly 40 years and Anne was his bookkeeper and accountant.
"I was familiar with Florida because my grandparents had a place down at
St. Pete beach," Anne said, "but this section of Florida I really hadn't visited until we came to see some very good friends of ours who were at Eglin Air Force Base."
That trip occurred in the 1970s, and visits to Florida became more frequent over subsequent decades. The Olsons didn't discover Freeport until several years ago.
That happened after their daughter, Marcella Stefani, moved to Hammock Bay with her husband, Tom, and their six children. He owns Emerald CFM (cabinet, fixture and millwork), and she is a Realtor with ERA American Real Estate.
"We were living in Washington, Illinois, … we were struck by a tornado in  November 2014, and we needed to either rebuild or move on," Marcella said.
"We used a headhunter, and the choice was either L.A., New Jersey or here," she recalled. "It was a leap of faith, but my husband got a job running Marquee Cabinets in Santa Rosa Beach. I had never heard of Freeport, but I was actually pleasantly surprised."
With Marcella's professional expertise, the Stefanis and the Olsons wound up living right next door to each other.
"The transition was easier for my mother than my father," Marcella said of her parents' retirement. "He was used to working 40 to 50 hours a week."
Today, Gary volunteers at Children's Volunteer Health Network in Santa Rosa Beach. He does school dental checkups for low-income students in Walton and Okaloosa counties.
Molly, an 8-year-old black Labrador retriever mix, is the newest member of the Olson family. They live in a condominium that has three bedrooms, two bathrooms and measures 2,800 square feet. It includes a Florida room and a pool.
"The reason we wanted to not Snowbird is we tried it a little bit but I really like the sense of belonging," Anne said.
"And I wanted to have friends and be active in church and be part of the community and not just a visitor. I think it's very hard to live a divided life."
Both Olsons are enjoying Hammock Bay, because it is not far from South Walton's famous beaches and there are golf courses nearby.
"It's a community, and they have lots of gatherings," Anne said. "There's a lot of opportunities to meet your neighbors at the pool complex. Everybody is so friendly, and many of the people here are not from this area, so it's made the transition very easy."
Two of the Olsons' three children still live in Illinois, and Anne visits "back home" on a regular basis; but there's no doubt about where her focus lies. They recently purchased several small condos nearby so people can come visit them.
"The beaches are a huge draw," Anne said, "and the restaurants here — this is a foodie capital. We haven't been to a bad one yet."
Recently, the Olsons were part of the Prime Timers Lunch Hunt at Magnolia Grill in Fort Walton Beach.
"They just treated us like royalty," Gary said.
"I think this is just a wonderful area," Anne said, "and I like the fact that it's still an area where a no-chain restaurant or an artist can thrive. It's a place where people can come in and do what they do and have a shot, without having to be part of a big organization. Individual expression is rare in today's world, and I just really appreciate that uniqueness."
Gary mentioned being able to see grandson Michael playing in Tuba Christmas at Baytowne Wharf during last year's holidays.
"There's just a lot of cool things happening," Gary said, "and even though this place is growing, we've got so many state parks and so much open land — it's always going to be a nice part of Florida. You have to have both commerce and beauty, or else people might decide they don't need to come here for vacation."
Tom and Mary Ellen Franklin
The Franklins hail from eastern North Dakota, near Grand Forks and the Red River Valley. For the past two years, they have been leasing a condo at Seascape Golf, Beach and Tennis Resort in Miramar Beach.
Tom is 69 years old and Mary Ellen is 70, and each spent nearly 35 years in elementary education. Mary Ellen is a talker, while Tom maintains a sort of classic cowboy quiet.
"Who ever thought retirement could be so wonderful?" Mary Ellen said of their present situation. "The people, the environment — it's just hard to beat."
Their condo has two bedrooms and two baths and measures 1,200 square feet. It is also home to Kramer, the eight-year-old border collie known to his owners as "The Seascape Dog."
It all started six years ago, when the Franklins decided to visit their daughter, Andrea Notley, who lives in Tallahassee with their grandchildren, Tyler and Nicholas.
"We were going to stay for two months," Mary Ellen recalled, "and we were staying in an extended-stay motel. And while we were there, a high school classmate of mine, Nels Tangen, and his wife, Myra, called us."
The Tangens were living in Seascape and invited the Franklins for the weekend.
"We just couldn't believe how beautiful the area was," Mary Ellen said. "So we went back to Tallahassee and said to the kids, 'Well, what do you want? Do you want to see us for a few minutes every day (because teenagers are busy) or would you like to come to the beach every weekend?'"
Turned out to be an easy choice, which made the Franklins more than happy. They eventually joined the Destin Snowbirds, and Tom recently served as president.
"We love it," Mary Ellen said. "There's so many people you can meet and so many activities that you can do. And being here year around now, we've met locals, too."
Tom didn't hesitate when asked about the best part of being involved with the Destin Snowbirds.
"The people," he said. "They come down here to have fun, and they do. We've made lifetime friends through the Snowbirds. I guess that's the best part."
When asked about the natural challenges of adjusting to their new lifestyle by the Gulf of Mexico, both Franklins just smiled.
"Well, actually, you don't think you have an accent," Mary Ellen said, "and I happened to be walking the dog the other day, and I ran into some maintenance guys and we stopped and visited."
Which led to some humorous mention of the North Dakota accent.
"And I said, 'You all heard how you talk?'" Mary Ellen said with a laugh.
And, of course, there's words the folks back home might use, but locals don't.
"The easy one is 'soda pop,'" Mary Ellen said.
"Then there's 'supper' and 'dinner,'" Tom added.
Recently, at the water aerobics class she leads, Mary Ellen ran into a mystified reaction when she used the term, "hoosegow."
"And three-fourths of them said, 'What is a hoosegow?' And I said, well, ' jail,'" Mary Ellen said.
Overall, the Franklins are more than pleased with their decision to relocate here.
"We figured out before we came, it's cheaper to live down here than in North Dakota," Mary Ellen said. "And we have the beach and we're not driving on ice. The first year we were here, we went to Tallahassee for Thanksgiving, and as we were driving we were saying 'Wow, isn't this something? We don't have to worry about the weather. No blizzards.'"
The Franklins refer to living in Seascape as "a social event with a little bit of exercise. Tom bowls and plays golf, while Mary Ellen has her water aerobics.
"We can't tell you how much we love it here," Mary Ellen said with a big smile. "I wake up in the morning and pinch myself and say, 'Yep, we're still in Florida.'"
Which also involves a fair amount of convenience.
"We're a mile from the outlet mall and five minutes from eating," Mary Ellen said. "We can even go right down the street and get groceries. Everything we need is right here."
Family ties to North Dakota exist in the form of sons, Casey and Troy. Daughter Sasha lives on Long Island.
"It's gotten to, 'If you want to see Mom and Dad, you come here,'" Tom said.
"The kids didn't understand until they came to visit," Mary Ellen said. "Now they've all been here. My cousin, Audrey, from New Hampshire, spent six months. And my brother, Jim, and his wife, Marlys, will be coming for six months."
Mary Ellen recalled with a smile that people kept asking, "What do you do all day long?"
So she finally came up with, "Nothing we don't want to do."