"They All Played A Part"
Dedicated crew turned plans into reality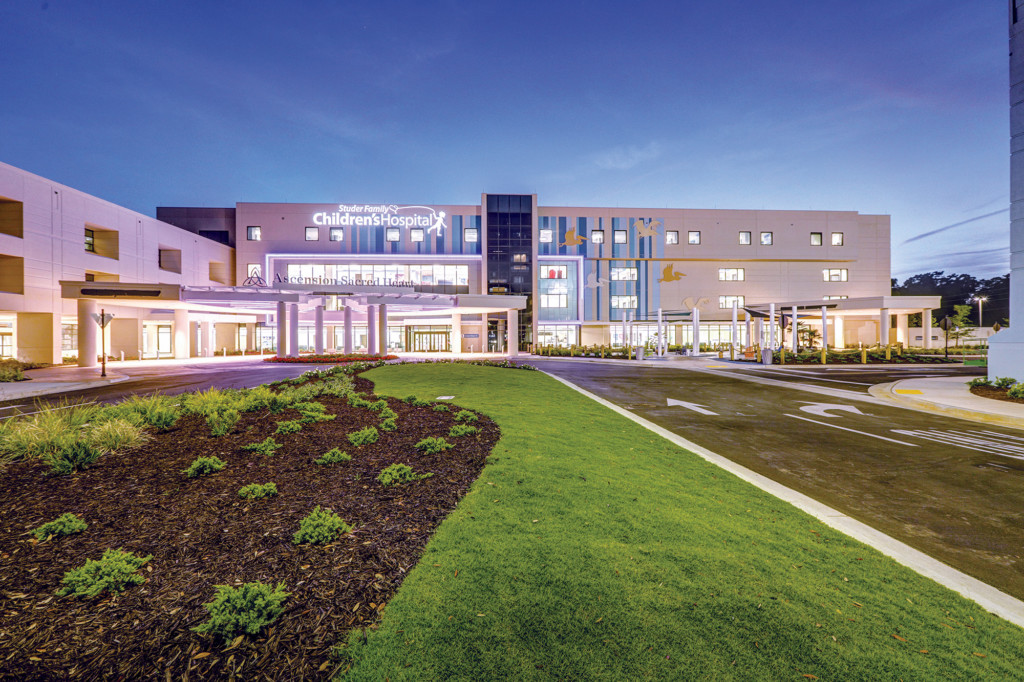 Before overseeing construction management for the Studer Family Children's Hospital, Hoar Construction senior project manager David Roberts took his team aside and gave them a key piece of advice: "You're working at a hospital that is under construction — not a construction site that just happens to be a hospital."
That, he said, made a monumental difference in how Hoar Construction approached the project, where "safety for patients, staff and visitors, and ensuring the hospital can provide the services they need to" took top priority.
For Hoar, that meant copious planning around infection control, maintaining a gold standard of cleanliness, minimizing noise and working through mechanical, electrical and plumbing interruptions.
And all of this was done while the existing children's hospital remained fully operational throughout the entire 25-month construction period.
The fact that the project finished two months earlier than anticipated was a "huge accomplishment," Roberts said, and would not have been possible without the unwavering efforts of their "incredibly skilled and talented trade partners."
"We were in constant contact with the hospital when working on building systems; shutting down these systems to tie in new areas affects all staff and patients," said Roberts
. "Our project team and the hospital partnered well together throughout the construction process, as working in, on and around an existing and very active campus always presents its challenges and opportunities."
The project's most momentous challenge, however, was outside of anybody's control.
Over two years, two tropical storms, three hurricanes and numerous bouts of rain dropped over 14 feet of water on the site and halted productivity for a total of 137 days.
"One of the biggest challenges we faced was getting the foundations and underground utilities installed during one of the rainiest years in recent history," Roberts recounted.
"This was particularly vexing because we had already excavated nearly 25 feet of existing soils out of the entire building footprint, including areas below the existing building to install the foundation system."
In just two years, Hoar Construction completed a single-story, vertical expansion to the hospital's pre-existing structure, a new four-story tower and basement space.
The project, designed by HKS Architects, birthed around 175,000 square feet of brand-new construction and 13,000-square-feet of renovations, furnishing the new Children's Hospital with a pediatric emergency room and trauma center, neonatal intensive care unit (NICU), pediatric imaging department, playroom facilities and a family-friendly dining area.
Sacred Heart's Regional Perinatal Center, which provides specialized care to women with high-risk pregnancies, also received a significant spatial renovation.
Hoar places high priority on its quality of work and superior stewardship, and Roberts gives much credit to Hoar's senior superintendent Mike Broadaway, who he considers to be the face of the SFCH project.
"Mike is a 22-year veteran with Hoar Construction and has been building hospitals for 26 of his 29-year career," Roberts said.
"This project would not have had the same results without the relentless determination, drive and perseverance that Mike sustained day in and day out. Mike thrives in a construction environment and loves getting in the details. He is a forward thinker and planner and the individual that I believe deserves the most credit for the overall outcome of this project."
Broadaway and his family have lived in Pensacola for the past 20 years, which Roberts believes fueled his drive and made this community-based undertaking all the more meaningful.
"Mike's daughter, Megan, was also our on-site field office administrator," Roberts added.
"As a family-oriented company, it was great to see that Mike was able to include her in the overall success of the project."
Families, after all, laid SFCH's foundation.
"The Studer Family Children's Hospital has been an exciting project to work on since day one," said Roberts.
"It is an incredible feeling knowing that this facility will be so beneficial to the children and families of Pensacola for decades to come. This is a state-of-the-art facility, and Hoar Construction is incredibly grateful to have been a part of seeing it come to life over the past two years."