These Sport Fishers are the Kings of the Gulf
The latest sportfishing yachts expand the strike zone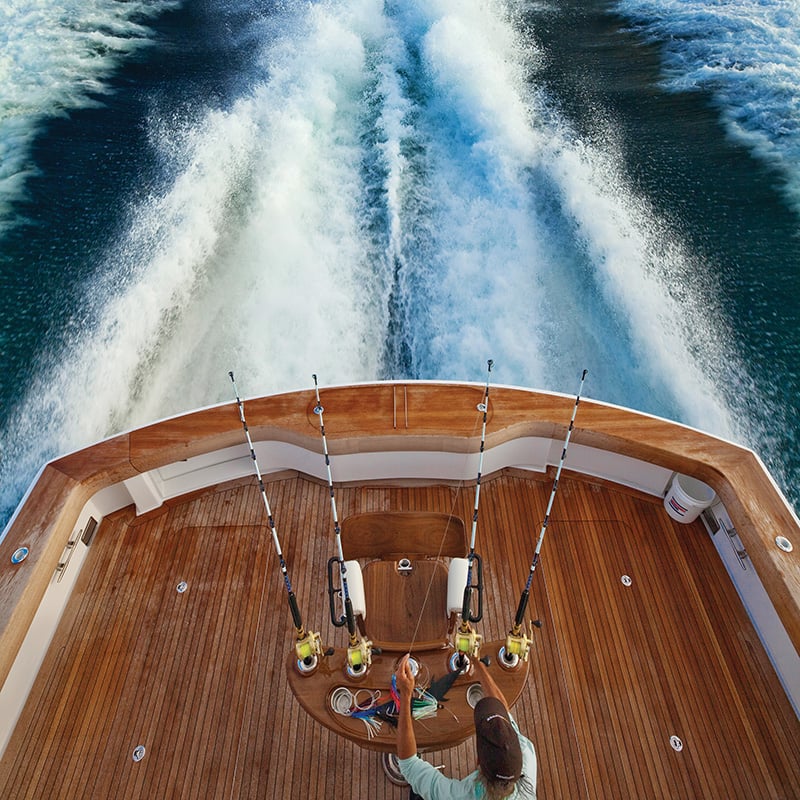 The captain and crew of the "Rise Up" had what they believed would be a place-winning yellowfin tuna on ice, but had yet to boat a marlin, and time was running short. Fishing off Louisiana, the "Rise Up" was a long way from the Orange Beach (Alabama) Billfish Classic's tournament scales. Capt. Jason Hallmark, boat owner Rusty Skalla and the others on board had resigned themselves to the near certainty that they would be weighing in a "meat fish," but no billfish.
Billfishing in the northern Gulf of Mexico tends toward long stretches of monotony interrupted by brief, unpredictable periods of pandemonium. With 30 minutes left in the OBBC's fishing hours, pandemonium happened. The "Rise Up" was tied up with a contender.
Twenty-three minutes later, the 120-inch fish was on the deck and occasioned a celebration that was cut short by the need to immediately ready the boat for the run home. The "Rise Up" had another deadline to meet — getting to the scales before they closed at 7 p.m. — and doing so would require hauling, well, keister.
"We were running pretty hard and had boat trouble," Hallmark said as he summoned a difficult memory. "The electronic sensors on the motors detected a problem and de-rated them," limiting the maximum number of RPMs at which they could be run.
Hallmark had no choice but to shut the engines down, let them cool and then hope he would be able to resume normal operation. He would prove able to do so, but not for long. Three times, the "Rise Up" would de-rate on the way in.
"If it had happened twice, we would have made it," Hallmark sighed. The "Rise Up" reached the Intracoastal Waterway, slowed to observe "No Wake" signs and arrived at the scale 100 seconds late.
"It was a tough pill to swallow, but that's why they have rules," Hallmark philosophized. "The tournament officials felt bad for us, but if they had bent the rules in our favor, what would they do if another boat had come in 10 minutes late?"
The tournament weighmaster, as a courtesy, put the tardy marlin on the scales.
"Seven hundred and seventy-one pounds," he announced. That is, it weighed 120 pounds more than the tournament-winning blue marlin. The "Rise Up" had missed out on $150,000 in prize and Calcutta money by a matter of less than two minutes.
Was there a silver lining?
"I guess you could say so," Hallmark concluded. "We got more notoriety out of coming in a little bit late than we would have if we had won. It made for a good story."
Hallmark is a member of a new generation of billfish specialists who captain a new generation of sportfishing yachts. Hallmark and his rivals, including Patrick Ivie and Miles Colley, are to big game fishing as Bubba Watson, Rory McIlroy and Dustin Johnson are to golf. Like big hitters who easily reach par-5s in two, Hallmark et al, cover distances previously unheard of.
"Fishing tournaments, we may run 300 miles one way," Hallmark said. "There are a handful of captains that make those long runs."
That is, if owners are willing. Some may not wish to ride that far or pay for the added fuel expense to get there.
"The fuel-tank capacity on this boat is 1,800 gallons," Hallmark noted, referring to his current office, a 60-foot Hatteras, the "Gunnslinger," berthed at The Ships Chandler marina in Destin. "And we've got bladders that hold another 400. We'll run for four or five hours and then pump the fuel from the bladders into the tanks. It gives us even more range."
Fuel supplies evaporate quickly when a boat cruising at 30 knots burns 125 gallons an hour — and Hallmark favors long runs to waters that he first fished at a time when he was piloting his own boats.
"In the winter months, after the tourist season, I would commercial fish for tuna in Louisiana from my charter boat — fishing with kites, mostly — and we would catch and release marlins, nice ones, accidentally from time to time," Hallmark said. "I wasn't targeting marlins, but I learned they were there."
Large fuel capacity notwithstanding, Hallmark finds it necessary to make pit stops in Port Eads or Venice when fishing tournaments.
Speed, too, distinguishes today's boats from their predecessors.
"Not that long ago, 18 or 20 knots was fast," Hallmark said while relaxing in the galley of the "Gunnslinger." "Now, there are boats that are pushing 50 knots. This boat, we top out at 40 knots and cruise at 30 or 31. They're making 90-footers that can do 40."
The greater speed results from bigger engines. The "Gunnslinger" boasts two C32A Caterpillar engines, each of 1,800 horsepower. Other new-era boats feature 2,500-hp motors for a total of 5,000 horses. The Detroit 1271, once a standard among sportfishing yachts, generated maybe 1,000 horsepower. Ernest Hemingway's boat, a 38-foot Wheeler, was powered by a 75-hp Chrysler engine (and an even smaller Lycoming motor) and cruised at 10 knots.
Does all of this mean that the little guy no longer has a chance?
"Not necessarily," Hallmark said. "They're building big center-console boats — Nor-Tech is one manufacturer — that have a lot of range and can handle big fish." (Not that he would trade the "Gunnslinger" for an open boat.)
New fishing tactics have come along with the enlarged capacities of today's boats.
Hallmark explained: "The older guys go maybe 50 or 60 miles offshore, put lures out and hope for a bite. We're not looking for a bite; we're looking for the bite."
To attract big blues, Hallmark relies on large live baits, preferring, above all others, yellowfin tuna of up to 30 pounds. He catches them, typically at night, on metal, diamond-shaped jigs. If no yellowfin are available, he will resort to blackfin tuna, skipjack tuna, bonitos or even hardtails.
Hooks of up to 22/0 in size are lashed to the tops of the heads of the baits with Dacron line threaded through the eye sockets. They are then trolled behind the boat at a speed of 1.5 to 2.5 knots — slow enough so that the baits swim naturally versus being dragged through the water. When a bite occurs, Hallmark will give the fish up to 10 seconds to eat the bait (depending on the aggressiveness of the strike) before setting the hook.
All of this activity is conducted pursuant to a game plan devised by captains who are likely to consult the fishing charts available at hiltonoffshore.com or oceanographic analyses constantly updated by Roffer's Ocean Fishing Forecasting Service (ROFFS). Those sources offer data on water temperatures, water clarity, tidelines, color lines, even upwellings — currents that bring nutrients to the surface that ignite food chains high in the water column where fish can be reached.
Billfishermen used to hire pilots to fly out over the Gulf and locate desirable cobalt blue water right before tournaments got under way. But the reports now easily consulted online have obviated the need for that, in Hallmark's estimation.
Too, Hallmark monitors dock talk and consults a network of fishing associates.
"Some of the information you get, you take it with a grain of salt," Hallmark has learned. "Some talk is just talk. But some guys you know to be reliable. I've got friends in Louisiana that I made during my commercial fishing days that help me out a lot. The experience I've had and the people I've met have a lot to do with my success."
For Hallmark, the fishing experience began in Alabama where he grew up and demonstrated such passion for bass angling that his mother predicted that he would one day be a "professional just like Bill Dance."
The family moved to Destin when Hallmark was in high school and Hallmark began working as a deckhand when he was 17. He knew about himself that he had no desire to go to college and instead ascended the fishing hierarchy, moving from mate to captain to owner of a share in a boat to outright owner. In recent years, he has made his living as a captain for hire. He joined the employ of James Adams, the owner of the "Gunnslinger" — a boat named for Adams's son, Gunner — toward the end of the 2016 tournament season.
For Hallmark, billfishing is the apex of the fishing universe.
"This may sound arrogant," Hallmark said, "but I got to the point where I had nothing to prove without moving to this level. I had won my share of cobia tournaments and I had won different divisions in the Destin Fishing Rodeo. I like what I am doing now. I don't think you can ever really conquer it. You may have the best plan possible, but it doesn't always work out."
That having been said, Hallmark and the "Rise Up" were crowned King of the Hill in 2016, an honor that goes to the boat whose biggest Gulf marlin and biggest Atlantic marlin combine to weigh more than anybody else's pair.
But no victory may have been sweeter for Hallmark than the "Rise Up's" triumph in last year's Emerald Coast Blue Marlin Classic at Sandestin.
On Friday, the tournament's first fishing day, Chad Postle, fishing aboard the "Breathe Easy" with Capt. Ivie, cranked in a blue that weighed in at 835.8 pounds. Ivie and team were so confident that the fish would hold up in first place that they stayed at the dock on Saturday when Team "Rise Up" and angler Scott Poppell boated a big one of their own.
Ivie, hearing about the catch, called Hallmark seeking assurances that he had nothing to worry about. Hallmark told him that he was sure the fish was bigger than the no-count marlin he had weighed in earlier in the tournament season at Orange Beach.
"It may not beat yours," Hallmark said to Ivie, "but it for sure is gonna scare the hell out of ya."
Ivie's fears were justified. Hallmark's blue, at 838.2 pounds, bumped Ivie to second place.
Those two blues — the 835 and the 838 — were the two largest marlins caught by boats fishing out of the U.S., including Hawaii, in all of 2016.
What will Hallmark do to top all of that this year?
He began by practicing.
The "Gunnslinger" left out of Destin for Isla Mujeres, Mexico, and Key West in January and was due back as this edition of Emerald Coast Magazine was going to press.
"It's like spring training," Hallmark said.
---
Big Baits in Search of THE Bite
For many years, billfish captains in the northern Gulf trolled large, skirted plastic lures as their preferred method for attracting blue marlin. But of late, the use of live baits has enjoyed a resurgence. Captains slow-troll baits that may range to 30 pounds in the case of yellowfin tuna. Other baits include blackfin tuna, skipjack tuna, bonitos and even hardtails. Captains tend to jig for tuna at night, when the fish are less finicky. Lighter lines and finesse techniques are required to fool them after the sun comes up.
---
Beefy engines, greater range
A new more powerful, faster generation of sportfishing yachts has dramatically expanded the range that crews can cover in the course of a tournament. Such boats, according to Capt. Jason Hallmark of Destin, whose current "office" is a Hatteras 60GT, may travel 300 miles one way when fishing events including the Emerald Coast Blue Marlin Classic.
Hatteras 60GT Specifications
Length Overall (LOA): 62 feet, 2 inches
Beam: 19 feet
Draft: 4 feet, 9 inches
Displacement: 90,000 pounds
Fuel Capacity: 1,800 gallons
Water Capacity: 200 gallons
Power: 2 x 1,800-hp Caterpillar C32 ACERT diesels
Base Price: $2,500,000
---
Gulf Coast Triple Crown Billfish Championship
Five tournaments comprise the championship. Participating boats
earn points for place-winning blue marlin in kill and catch-and-release categories and earn bonus points
for taking part in all five events. The 2016 Triple Crown winner was the "Breathe Easy," based in Orange Beach, Alabama, and captained by Patrick Ivie.
Orange Beach Billfish Classic
Orange Beach, Alabama
May 17–21, 2017
2016 winning marlin: "Share-E," 651.2 pounds
Cajun Canyons Billfish Classic
Venice, Louisiana
May 30–June 4, 2017
2016 winning marlin: "Click Through," 672.2 pounds
Mississippi Gulf Coast Billfish Classic
Biloxi, Mississippi
June 5–June 11, 2017
2016 winning marlin: "Cotton Patch," 633 pounds
Emerald Coast Blue Marlin Classic
Destin, Florida
June 21–25, 2017
2016 winning marlin: "Rise Up," 838.2 pounds
Blue Marlin Grand Championship
Orange Beach, Alabama
July 11–17, 2017
2016 winning marlin: "You Never Know," 806.8 pounds