These Flexible Designs Will Transform Your Typical Kitchen
Kitchens Go Organic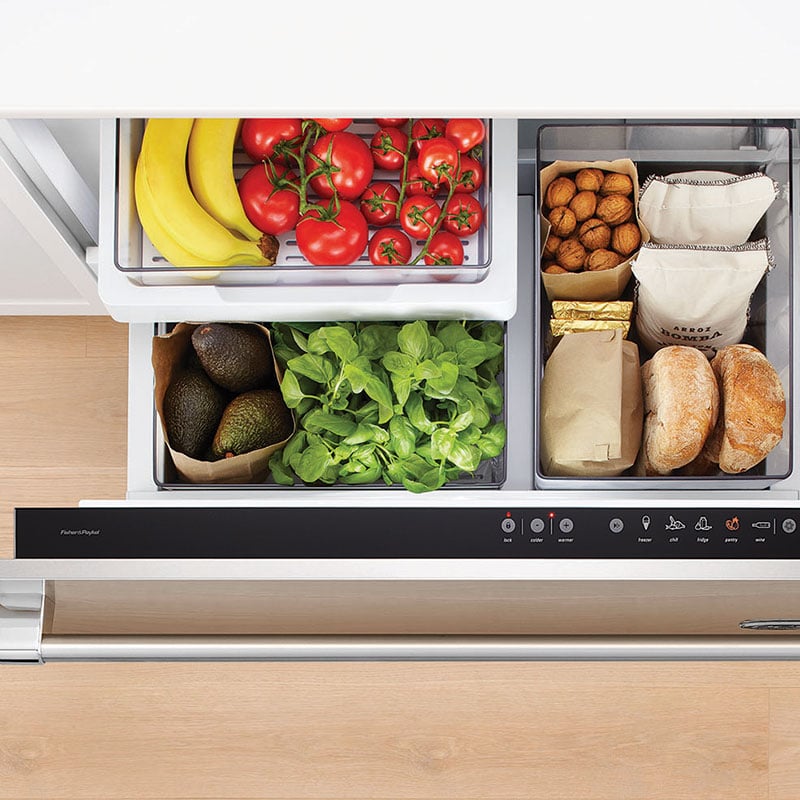 The organic kitchen is the new buzzword among designers. Understandably so. For the first time in half a century, they can create kitchens unfettered by strict guidelines for space planning and kitchen concepts.
"It's exciting," says designer Jill Bosworth of 30A Kitchens in Santa Rosa Beach. "We can now design more convenient, comfortable kitchens that also promote healthier lifestyles. For example, we now have refrigerator and dishwasher drawers that slide into under-counter cabinets, so we no longer have to put up with bulky appliances and the cumbersome work triangle that has stood in our way for forever."
The work triangle, she explains, is the standard system of placing stove, sink and fridge in a triangular pattern. It dates back to the 1940s when kitchens were very small, but even as kitchens grew, the system stayed in place. Until now.
"With appliance drawers, the kitchen immediately becomes sleeker and more functional," Bosworth explains. "They also allow us to leave out those massive banks of wall cabinets. Often, we use that freed wall space for windows. Here, along the coast, where we enjoy such marvelous views, clients love that idea. Besides, natural light is an important part of living greener."
Healthier Kitchens
"We stress environmentally friendly cabinetry," says Nick Zargari of Marquis Kitchens & Baths of Santa Rosa Beach and Gulf Breeze. "That means it's formaldehyde-free, no polluting lacquers are used, and only LED lighting is used as part of the cabinet designs. We do use hard plastic legs to raise cabinets off the floor so flood water can't damage the wood."
The steam oven has become today's hottest appliance, according to the National Kitchen and Bath Association, but water and air purification are also becoming important. Water-saving faucets are also gaining popularity among eco-conscious homeowners.
Courtesy of DCS by Fisher & Paykel
Steam oven
Many of Bosworth's clients even grow their own vegetables and herbs, she says. They'll often grow herbs on counters below the windows, or they garden just outside the kitchen door.
"It's all part of the organic lifestyle," she says. "Style-wise, I would call organic design 'crafted modernism.' It celebrates the natural beauty of materials, and nothing is overdone. You could almost say that function becomes the design. This is the 'barely there' kitchen. And, by the way, kitchens are getting way smaller again. People are downsizing; they don't want a lot of 'stuff.' This is all part of the organic movement."  
---
Appliances for Healthier Living
We Americans love our appliances, but with the emergence of the organic, eco-friendly kitchen, we have new favorites. Here are some of them:
The steam oven. Every health-conscious cook loves the way this oven retains the flavor and vitamins of fresh veggies. It can also poach fish and eggs.

↓

The speed oven is a hybrid between a convection oven and a microwave. It can cook everything from popcorn to turkeys. You can roast, defrost and reheat in it, and it's super-fast. After a busy day, a healthy homemade meal can be on the table in no time.
Appliance drawers. With dish drawers you can run half loads; fridge drawers below the cutting board provide easy access to veggies; warming drawers keep meals toasty; and wine drawers keep bottles at the perfect temperature.
The Urban Cultivator lets you grow nutritious, pesticide-free veggies right in your own kitchen. It looks like a refrigerator but actually feeds families.
The food dehydrator uses heat and airflow to reduce moisture in food. This process amplifies flavor and preserves foods longer. It can be used to dry fruit, vegetables, herbs, meats and flowers.
The bullet blender offers all the benefits of a full-size blender but takes up minimal counter space. It'll quickly whip up your favorite smoothie or blend homemade veggie soup and is easy to clean.
The ice cream maker lets you whip up something less caloric than Chunky Monkey. Try puréed fruit with yogurt, for example.