There's More to a Couch Than You Would Think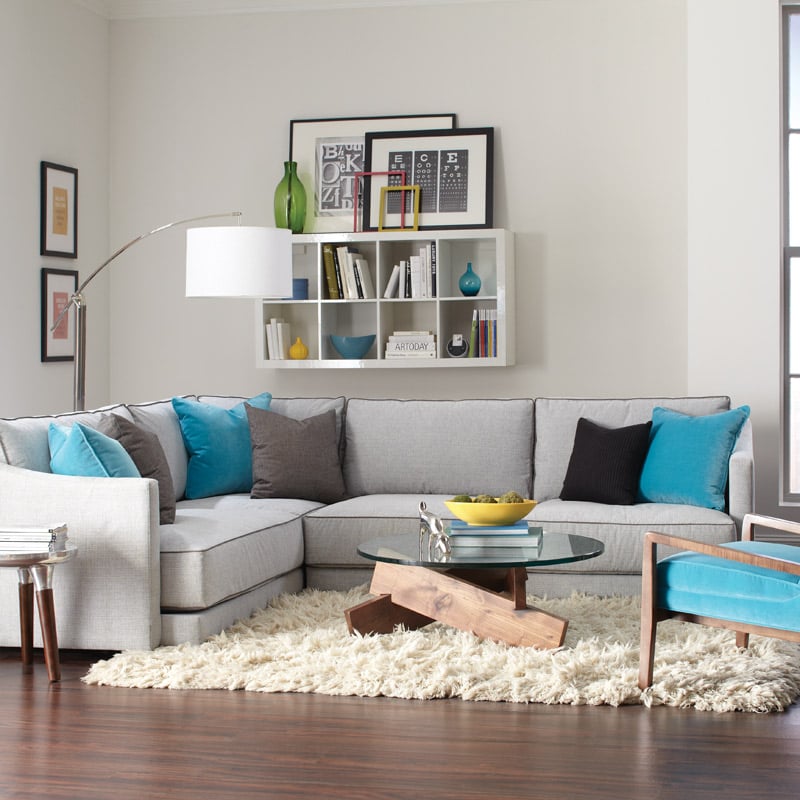 AMERICANLEATHER.COM
Low profile armless sections of sofas invites guests to be seated on either side and allows for unobstructed views.
The sofa — also known by such names as the davenport, divan or couch — is the physical and emotional centerpiece of the most important room in your house. Freud built psychoanalysis around it, it's a prop in many a TV sitcom and it has spawned a slew of social phenomena, including the "couch potato."
Considering how indispensable we consider it today, it's hard to believe that it's a fairly recent addition to the home. It didn't make it into the parlor of the average home until the late 1800s. It was a stiff, uninviting piece of furniture, and it stayed pretty much that way until the late 1900s. 
"The sofa was a perch where people sat and drank tea, conversing politely with Aunt Mildred," says Michelle Rosson, marketing director of Thomasville. "Kids hated it, so now that they have homes of their own, they come into furniture showrooms and tell us that they definitely don't want their 'mother's sofa.' "
---
Analysis Required
"It's a lifestyle issue, but also an emotional thing," notes Robin Wright, an interior designer with Sugar Beach Interiors, Miramar Beach. "Most of us lead hectic lives and want to come home to a sofa that we can sink into and leave the slings and arrows of the day behind. The problem is that so many decisions go into finding the sofa that'll do that. In fact, many in furniture sales observe that we spend more time choosing a sofa than a car. There are that many options.
When a room has a lot of texture, a neutral sofa is a good choice, because it is easily updated by changing the color of pillows and throws.
"Some solid analysis is called for. If you have back problems, you'll want a sofa that's firm, and if you're older you'll want one with some spring so you can get out of it easily. Are you long-waisted or short-waisted? Long-legged or short-legged? Is your TV screen placed high on the wall so you need to lean back and look up to watch it, or is it on a low stand so you just need to look straight ahead? Do you like to take naps on the sofa?"
"Really, the only way to determine the answers to such questions is to sit on a variety of sofas," she continues, "and probably lie down on them too. So that's precisely what we do at our showroom. Once we've determined what makes a client most comfortable, we can change out fillings, cushions and upholstery. For example a three-cushion sofa will be firmer than a two-cushion one. If entertaining is part of your lifestyle, a three-cushion sofa is also better because only two people tend to sit down on a two-cushion version. Or you might go for one long cushion. For entertaining purposes, also consider arms that are flat and large enough to perch on, so a stray guest can join in the conversation if the sofa is full."
Emotional Connections
Famed furniture designer Barbara Barry says that if a sofa is right it'll become "a member of the family."
"A sofa can be tremendously sexy if it sends the body a message to come sit in it," she explains. "And there's nothing nicer than falling asleep on a sofa. It takes us back to our childhood where parents were home and you got to take naps feeling very protected."
Her preference goes to a "neutral" sofa with a very architectural exterior, but a soft, inviting interior. "It should be deep enough for a nap or even to make into a comfortable bed, just by removing the cushions," she says. "Yet, such a sofa, with a clean rectangular frame, never looks messy and it goes well with antiques."
Decisions, Decisions
It used to be easier to select a sofa, says Todd Reeves of Modern Interiors, Miramar Beach. People went looking for a Chippendale, a Queen Anne, a Tuxedo or whatever. No more. Now the lines are so blurred that you can only refer to a style as traditional, transitional or contemporary. 
"And within those categories there are hundreds of styles," he explains. "For example, in our showroom you"ll see sofas that are linear or curvy, low or high-backed, long or short, deep or shallow, skirted or not, and with metal or wood legs that may be straight or decorative. In addition arms may be narrow or wide, curved or straight, and there are different kinds of wood frames, springs and innards ranging from foam to down. Now add hundreds of upholstery choices, which include color and pattern options, and it's easy to understand why buying a sofa is a traumatic experience for so many people."
To combat such angst, Modern Interiors will make home visits, but even so Reeves recommends a showroom visit so customers can try out 10–11 sofas to determine, which one is most comfortable for them.
Florida Preferences
Maneuvering shoppers through the selection process, designers and store personnel have a very good idea what sofas Emerald Coast homeowners are buying. Clean-lined, transitional styles that complement designs of many eras and origins are best sellers, they say, and leather upholstery still sells well but is losing some ground. "Suntan oil and leather don't mix well," warns Robin Wright.
Sectional sofas provide a lot of seating, can easily "surround" a TV or fireplace, and are best suited for those that do not like to rearrange furniture often.
Another regional concern is voiced by Lucy Haas of Furniture Outlet, Fort Walton Beach. She warns against particleboard frames. "A while ago we had to contend with flood water in our area," she says, "and particleboard won't last through that. Go with wood."
Haas and Reeves say that sectionals are still quite popular, but emphasize that such sofas do have a "dead zone." "It's the corner section," notes Reeves. "It's great for watching movies, but a disaster for a party."
"But just right for a big family," says Haas and laughs. "I had a mom here with 10 kids, and a big sectional was obviously right for that family."
For families with children and pets, Haas recommends one or two washable slipcovers, and Wright mentions that many of her clients like slipcovers for different seasonal looks. 
Neutral colors such as gray and white, are best sellers in the Emerald Coast area, and linen, cotton and cotton blends are the preferred upholstery materials. Bamboo, however, is gaining ground, according to Wright. "It's very soft and washable," says Wright, "and its vibe is casual, very coastal."
But whatever the style or color preferences, consumers all want the same thing from a sofa, agree Wright, Reeves and Haas. They want it to provide a welcoming hug when they plop down and a comfy respite from work, traffic and worries.