The Wright Fishing Holes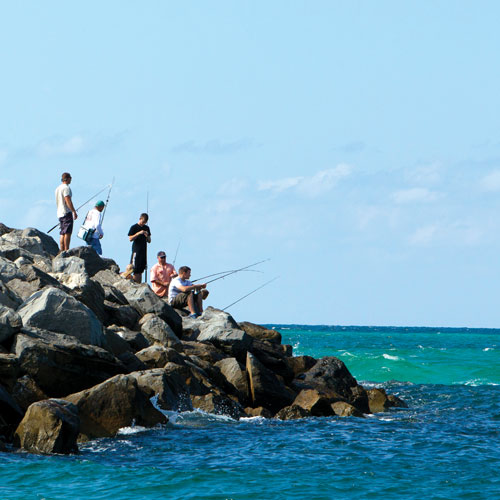 eudaimonia*
When searching for adventure on the Emerald Coast, want not for power boating along the Gulf Stream or tacking the briny waterways of the Intercoastal. The angler's paradise lies on the shores in between. Like your father's salty tales of the "big one," the definition of a great fishing hole on our coastline stretches the imagination.
The Wrights would know. Peter Wright opened The Ships Chandler Marina Complex 40 years ago in the heart of "The World's Luckiest Fishing Village." His son, Peter Wright, Jr., who runs the marine supply and tackle shop, confides, "Fishing the eastern and western jetties is always good for pompano, redfish, black drum and the occasional bluefish."
Any fisherman worth his (sea) salt knows that fishing holes are about two things: luck and knowing something good awaits those who cast into the moment. And … that there are no guarantees for either.
Anglers who sojourn to the north side of Highway 98, letting their sandals lead the way to the lesser-known grass beds west of the U.S. Coast Guard Station, will be rewarded as well. Wright assures that in these shallow waters of the Santa Rosa Sound, flounder, trout and … absolute serenity await.
How lucky, indeed.
*happiness is …