The Wonder of Allison Wickey
Harnessing her personal power to create original art plus much more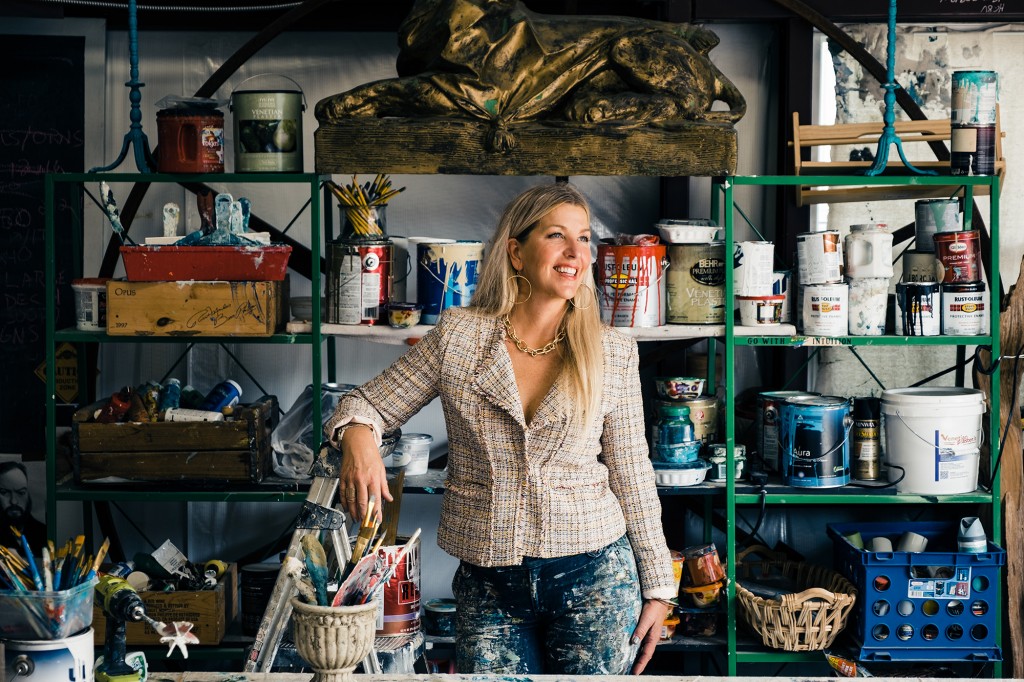 Allison Wickey is an award-winning artist known for austere landscape paintings depicting her "made-up idea" of the Northwest Florida Gulf coast of yesteryear.
But this Blue Mountain Beach resident also is a single mother of two teenagers; a scrappy, straight-shooting stargazer; and stalwart community organizer who dreams of an arts center that would serve as a haven if not a monument to local artists.
Clearly, this passionate 47-year-old is as layered as her 13-step glazed Venetian plaster process … and then some.
Eager to branch out beyond the Midwest, this Illinois native put roots down on the Emerald Coast in 2007.
Local art advocate Mary Derck, who owned Lilly Pads in Grayton Beach at the time, was first to retail Wickey's work.
World Six Gallery in Rosemary Beach elevated her presence in the market, and in 2011 she was named South Walton Artist of the Year.
She soon developed a loyal following throughout the country — among them chef and television personality Emeril Lagasse, whose wife bought an Allison Wickey painting to hang in the kitchen of their New York home.
A decade later, this scuba-diving artist made a worldwide splash, literally.
In 2017, she led the charge to galvanize local, state and national support and funding to curate a collection of sculptures on the floor of the Gulf.
The Underwater Museum of Art (UMA) off Grayton Beach in South Walton is the first of its kind in the nation.
Today, Wickey takes commissions and her work is carried at Amavida in Rosemary Beach, Lovelace Lifestyle Store in Inlet Beach and at Mary Ellen Dimauro Designs at The Hub in WaterSound.
Swaddled in a heather gray hoodie and charcoal knit tights flecked with cream paint, the fresh-faced, blue-eyed blonde welcomed Emerald Coast Magazine into her Santa Rosa Beach studio to give readers a glimpse into just what makes Allison Wickey, a citizen of style.
On the art of business:
"A typical business person and me are the furthest two things. My idea behind having a gallery is to make a raw connection with people through art. I just feel doing that is so much more important than the bottom line."
Life philosophy:
"I live my life with complete creativity. I'm not in business to be in business. I do what feels good. I don't understand why everyone doesn't."
Personal style:
"A classic, structured beachy look. A white loose shirt, with a fitted jean and a heel. Maybe sexy tomboy or Carolyn Bessette-Kennedy meets Edward Scissorhands."
Are you conscious of expressing yourself through your appearance?
"I now understand my appearance is power. I noticed when I stepped up my appearance game, doing my hair, wearing makeup, choosing outfits that represent who I am, things changed for me, and I felt people were respecting me and listening to me."
Closet must-haves:
"I wear a lot of button-down blouses, mostly white and off-white, and long wide-leg jeans — those are the staples, and I love a Chanel-style tailored jacket."
Does what you paint reflect who you are?
"Absolutely. I'm known for doing what I love, and I identify with my core buyers and clients. We align on so many different levels. They are open-minded, eco-friendly, nature-loving, curious people who listen to NPR."
Favorite color:
"I love all the greens. My favorite is an aged green-brown color. It makes me feel good. When I look at the color green, I feel an openness and opportunity."
Home style:
"It's eclectic, yet timeless. I have a black leather couch, a fluffy white carpet, 10-foot tall neutral white walls with original art everywhere. I collect vintage maps, which reflects my passion for travel. One whole wall is a 15-foot National Geographic map I put up as wallpaper. It's fun to walk into the hall to answer a question, and the colors are beautiful."
You grew up in the Midwest. Have you transitioned into a beach girl?
"I was always a water person. I feel better around water. When you are underwater, all the ion rays and radiation are blocked by the water. You're in silence. Nothing makes me happier or makes me feel more refreshed than snorkeling."
On the Emerald Coast:
"We're living on a healing quartz crystal. This place is special, and it has a certain mysticism to it. It's like a portal; it pulls you in and makes you want to fight for it and protect it."
Hopes for the Emerald Coast arts scene:
"I envision a true community center that is geared toward the arts. An arts center that is very well-funded, well-structured and supported. A place for all levels of skills to go, that offers all kinds of classes for all ages with a beautiful gallery. We need to protect our heritage, and our heritage is in the arts."
As a response to the pandemic, shops and pop-up galleries may not be open. Please check with the artist or gallery directly for inquiries on business hours or operations during this time.