The State of Real Estate
Have we reached a turnaround?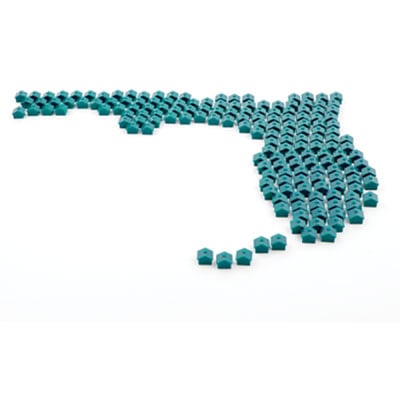 Remember the real estate buying frenzy of 2003? Homes were being built and purchased by buyers who thought they would always be able to sell their houses for more than they paid for them. Real estate was a solid investment. Or so we thought.
"By the end of 2004 and by mid-2005, the handwriting was on the wall and sales began to drop significantly," says Judi Rutland, president and board chairman of the Emerald Coast Association of Realtors. "The last few years have been quite challenging."
U.S. regulators and the Federal Reserve didn't contain toxic mortgages, while policymakers seemed to lack an understanding of the financial system, Rutland explains.
"Financial companies were managed poorly and took huge risks," she says. "There was a failure of accountability and ethics throughout the government and financial system and much blame was spread around by all. On top of the mess, locally, we were hit with a major oil spill."
Many potential homebuyers are wondering if we are finally on the rebound. The answer, according to statistics and local real estate agents, is yes.
The general state of real estate in Northwest Florida is trending upward, as the market is gaining some breadth, according to real estate agents. "Previously, it seemed that there were pockets," says John Paul Somers, a Destin-based realtor who has specialized in luxury residential and commercial properties for the past 25 years. "But the traction is phenomenal now."
If you are in the market to buy, the abundance of inventory and reduction in home prices means now may be a great time to shop for a home, based on realtors' predictions.
"In the past, we didn't have first-time home buyers," says Thomas Williams, a broker for Pelican Real Estate who specializes in foreclosures and other types of distressed properties. "I have worked with first-time home buyers now more than I have in the last 10 years."
Williams says investors who have been hesitant in past years are now gaining confidence in the housing market. "I hear from investors who said that five years ago things didn't seem right. Now they don't want to miss it," he says. "As a rule, real estate investors are either too late or the property is priced too high, but people who are not buying today are missing out."
Florida Realtors Chief Economist John Tuccillo offers advice to someone looking to buy a single-family investment home now. "Investment properties in Florida will pay off well, but only after a longer investment period (5–10 years)," he says. "So first of all, have a relatively long time horizon. Second, buy based on feasible rental income and calculate an expected rate of return (including the cost of any rehab necessary). Third, have a sound property management plan in place, preferably done by a professional, and include that cost in your rate of return calculation."
Somers, who sells homes in the 30A area, Fort Walton Beach, Destin and Panama City Beach, says the psychology of the market is like that in 2003. "There is a lot of enthusiasm and anticipation of a great time to invest in a lifestyle," he says. "From 2003 to 2005, acquisition was based on flipping property for short term gain. There is a solid foundation emerging from the downward trend we faced in '07, '08 and '09."
Cash buyers are aggressively acquiring real estate, Somers adds. "For buyers who have had cash parked on the sidelines and been fearful of the investment market, patiently waiting for this opportunity, they seem to be in an aggressive posture to move rapidly," he says. "It's not uncommon to see multiple offers on good quality properties in Destin and on 30A."
According to Realtor.com's Top 10 Turnaround Town Report, which tracks those markets that are leading the nation towards a general recovery and stability of the housing sector, six Florida markets are on the list based on third quarter 2011 data.
Miami, Orlando, Fort Myers-Cape Coral, Fort Lauderdale, Sarasota-Bradenton and Lakeland-Winter Haven experienced positive year-over-year median price appreciation, reductions in inventory and lower unemployment rates. So what does that mean for Northwest Florida?
"Florida real estate is viewed as a profitable and secure investment and is viewed by a majority of foreign buyers as a desirable location," says Rutland. "Canadians are the largest segment of foreign buyers in our area and are contributing to the market's turnaround."
While Northwest Florida doesn't currently have as many foreign buyers as Central and South Florida, Somers sees the new Northwest Florida Beaches International Airport playing a key role in an influx of international buyers. "It will be a big engine for the area," he says. "We're seeing a considerable amount of people who are from South Florida who fall in love with the Gulf Coast and now want to reinvest in what they deem to be a more value-oriented investment."
Foreclosures are in demand
In Florida, one in every 363 housing units received a foreclosure filing in January 2012. This, according to RealtyTrac.com, an online real estate agent network and foreclosure listing firm. One in every 624 homes in the U.S. got a foreclosure filing.
Florida was the number one state in terms of foreclosures in 2011, with a rate of 11.9 percent, almost twice that of New Jersey — the state with the second-highest rate. Homes lost roughly half of their value during the last five years and have a foreclosure processing period of 135 days. That, added to the 9 percent unemployment rate (March 2012), means the state's mortgage payment delinquency rate is 17.4 percent — the nation's highest.
"Foreclosures affect the market, the economy and people's lives," Rutland says. "I have seen family units dissolve and disintegrate due to this economic crisis. The greater social effect and financial recovery for this tragedy is unknown."
Now some home shoppers are seeing the tragedy as an opportunity for investment. "People have mixed emotions about foreclosures," Williams says. "Some people can look at the foreclosure problem as a disaster, but it's a free market economy that is stabilizing itself for the next generation of real estate buyers. It's the re-stabilization of our market and the long-term re-stabilization of our economy."
Tuccillo says the distressed property market is alive and well, although it seems to be stabilized. "The window for real bargains in the residential market is closing," he says. "The market is tight in lower price ranges, still a buyer's market in middle ranges and extremely active among luxury properties."
Williams sees the foreclosure market as a way to turn things around economically. "We're selling foreclosures as fast as we can get them, because buyers understand that this is an opportunity they'll never get again."
Help for homeowners?
In his January 2012 State of the Union address, President Barack Obama laid out a plan he says will provide much-needed financial relief to a lot of homeowners. In his "Blueprint for an America Built to Last," Obama says he will help responsible borrowers and support a housing market recovery, which could, in turn, boost the economy. While he admitted the government cannot fix the housing market on its own, he said that responsible homeowners, especially the middle class, should get some relief, allowing them to save thousands of dollars by refinancing at today's low interest rates.
In February 2012, five major U.S. banks accused of foreclosure abuses agreed to a $26 billion settlement with the government, making it the largest payout from banks arising from the financial crisis. Obama says the landmark settlement will speed up relief for those hit hardest, reducing their principle and also refinancing their loans. It does not mean homeowners who lost their homes to foreclosure will get them back, nor does it apply to loans held by Freddie Mac or Fannie May, which make up half of all mortgages. With this settlement the hope is that the housing market stops backsliding even further.
But some say the government should stay out of the free market.
"Foreclosures will go away but they have to run their course so we can get rid of the inventory," Williams says. "And if the government gets in the way it creates a problem."
As the peak home buying season approaches, the numbers will show whether homebuyers are really getting some of the best deals since the housing boom. Local Realtors are optimistic.
"Real estate sales are as strong as they have been since 2004," Williams says. "Have prices dropped? Yes, but that drop has created an opportunity that we'll never see again in our lifetime."
States with highest foreclosure rates in the nation (homes that received a foreclosure filing in January 2012):
Nevada
1 in every 198
California
1 in every 265
Arizona
1 in every 325
Georgia
1 in every 328
Michigan
1 in every 354
Florida
1 in every 363
Illinois
1 in every 369
Delaware
1 in every 373
Colorado
1 in every 523
Indiana
1 in every 555
Source: Realtor Magazine and CNN Money
Know the terms
MLS — Multiple Listing Service
Foreclosure — The legal process by which a borrower in default under a mortgage is deprived of his or her interest in the mortgaged property
Deed in lieu — Short for "deed in lieu of foreclosure," this conveys title to the lender when the borrower is in default and wants to avoid foreclosure
Refinance transaction — The process of paying off one loan with the proceeds from a new loan using the same property as security
Underwater on a mortgage — A homeowner owes more than the home is worth
Source: Realestateabc.com
Setting the Stage to SellHow to make your house stand out in a crowded marketBy Andi Mahoney
It is more important than ever to stage your home to sell if you want to close the deal. Competition along the Emerald Coast is fierce, and it is crucial that a home has a competitive edge when it first enters the real estate market. Staging a home goes far beyond decorating — it is showcasing the home's best features while creating a space that potential buyers can see as theirs. Staging your home will help it sell quickly by attracting more serious, qualified buyers.
According to an article published in REALTOR Magazine Online, staged homes typically sell 50 percent faster and for 6 to 10 percent more than homes not staged.
"Whenever we stage a home, the property sells almost immediately," said Susan Lovelace, certified interior designer and owner of Lovelace Interiors. "In many cases, the properties have been on the market for a year or more prior to staging."
The first things sellers should do when putting their home on the market is clean-up and de-clutter. The home should receive a "deep clean" by removing everything from stains on walls to dust on ceiling fans. Sellers should keep all surfaces clear, from bedside tables to the kitchen counter. There should be no bags, stacks of mail or cluster of kitchen appliances on the counters.
"A designer cannot stage a space until it has been de-cluttered. If you want to show off the space, it starts with the garage, pantries and closets," said Lovelace. "I almost always redo bookshelves by putting half of the things away. Shelves should be spread out, asymmetrical and have big books and large statement pieces. Too many small items can be a visual distraction."
If buyers perceive a home as clean and well organized, it gives them the impression that the home has been cared for.
Next Lovelace recommends that sellers freshen up the space. This includes painting, re-grouting, landscaping, updating light fixtures and buffing the floors. Bedding, shower curtains and drapery should all have a contemporary, updated look.
"When buyers see dingy paint or outdated fixtures they focus on the amount of work a home needs," said Lovelace. "This is especially true along the Emerald Coast, where so many properties are vacation homes."
There are many different levels of home staging services, which range from a simple consultation to fully furnishing and staging a vacant home. According to the National Association of Realtors (NAR), the average staging investment is between 1 and 3 percent of the home's listing price and will generate a return of 8 to 10 percent.
An initial consultation is usually between two and four hours and should range from $200 to $500, depending on the size of the property. During the consultation, the designer walks through the property to assess its strengths and weaknesses and makes recommendations on ways to make a positive impression on buyers.
As with a builder's model home, vacant homes can also be fully furnished, and there are firms that have options to lease furnishings and accessories for various budgets. Adding furniture to a vacant home takes away any speculation on the purpose of the space.
"Some years ago, a builder had a high-end home on the market for 18 months, and the buyers were concerned that the rooms were not functional," said Cathy Jones, certified interior designer and owner of Interiors by Cathy Jones. "After staging, buyers were able to visualize each room's potential, and the property sold in six months."
Staging is not just about placing furniture, it is about conveying a lifestyle. Jones recommends folding a beautiful beach towel by the pool, setting the dining room table and placing candles in the bathrooms.
But don't get sidetracked by the design details. Kelly Murphy-Redd, Certified Economic Developer, a realtor and marketing director with Ruckel Properties, Inc., says if you have a limited budget, priorities matter. She advises sellers to focus staging efforts on the kitchen, great room, dining room, master and study, if you have one. "If you don't stage the smaller bedrooms, that's OK," she says. "The important thing is not to get too cute, too specific or too personal with your choices. You want your final result to appeal to the most people and the broadest market."
For Murphy-Redd neutral palettes are still on trend and still work. "People can veer from creams and tans and try a gray. It's still a neutral. As long as you have warmth you will be OK. All white is a choice, and it's pretty, but it doesn't have much warmth," she said.
"While home staging is not a new concept, it has grown in both acceptance and popularity in the down economy," said Jones. "It is one of the least expensive options to consider when marketing your home."
Murphy-Redd is one real estate professional who does not see home staging as a fading fad. "It is legitimate and will be continue, because it is a practical tool — buyers need help visualizing," she said.
Another NAR survey found that the longer a house is on the market, the lower the selling price will be. The survey reports that homes sold in the first four weeks averaged 1 percent more than the listing price while homes sold after 24 weeks averaged more than 10 percent less than the listing price.
"The old saying that you only have one chance to make a first impression holds true in real estate," said Jones. "The primary goal of home staging is to present a property in a way that entices buyers to make an emotional connection."
Tips from the Pros:
» Give your home a "deep clean." There should be no sign of that old smudge on the floorboards.
» De-clutter the space. Closets and countertops should be organized and appear spacious.
» Depersonalize. Buyers can visualize themselves in a space when personal effects are removed.
» Freshen up! New paint can go a long way in attracting buyers.
» Create curb appeal that will welcome buyers. Polish the front door fixtures and put some time and money into the landscaping.
» Use neutral colors for major finishes like walls and floors. Pops of colors can be used on accent furniture pieces, lamps and pillows.
» Give your home a coastal feel. Buyers on the Emerald Coast like their homes to be light and airy. Pull colors from nature, like the blues and greens of the ocean. Mango, orange and coral are also very tropical.
» Make sure that the furniture in the room is the right size. Furniture that is too large can leave a space looking cramped. Removing unnecessary items will make a room feel larger.
» Add contrast throughout the space. Driftwood is very popular right now and adds interest to a space, making it less predictable.
» Give your space rhythm by using varying heights and textures. Your eye should bounce around the room from a hard object, like a mirror, to something soft, like an upholstered fabric.
» Appeal to all of the buyers' senses! Play soft music and bake cookies during the open house.